Armor All
For over fifty years, Armor All has worked to make products that aid cars in looking better inside and out.
As the number 1 car care brand in the USA, Armor All were the first to bring innovations such as Armor All Protectant, tyre foam and car wipes to the car care industry.
After five decades of production, Armor All have always been striving to expand their product line, becoming a complete resource for car enthusiasts.
Armor All products have led innovation across the car care industry by developing effective, easy-to-use and time-saving products, such as waterless solutions.
Protect your investment, using Armor All to keep your car looking it's best, delivering high quality cleaning, shining and protective solutions quickly and easily for your vehicle.
Discover the range of Armor All products available at Halfords below.
Armor All Shield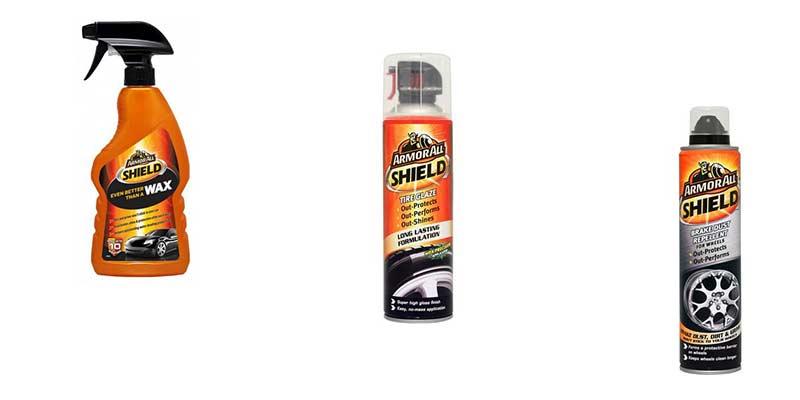 The Armor All Shield collection makes a hard task simple, with its easy application and usage.
From Armor All Shield Wax to tyre protectors, the Armor All Shield collection is a must-have for all car enthusiasts.
Discover the Halfords Armor All Shield collection Kits over on the right. below.
Armor All Shield Better Than A Wax
This Armor All Shield spray works to repel dust and dirt particles from sticking to your car and delivers outstanding water beading protection on your car body's surface
Rather than a wipe on wax, the Armor All Shield Better Than A Wax is now available in this easy trigger spray format, to help save you time when protecting your car.
Shop Now
Armor All Shield Tyre Glaze
This Armor All Shield for Wheels is a specially formulated glaze which works to coat the tyres with a high-protective shield, that dries to a showroom finish quality.
A tyre needs to be looked after and cared for, and the more you care for your tyres the longer they will last - if not treated and maintained, your tyres will end up appearing brown and cracked.
Shop Now
Armor All Wipes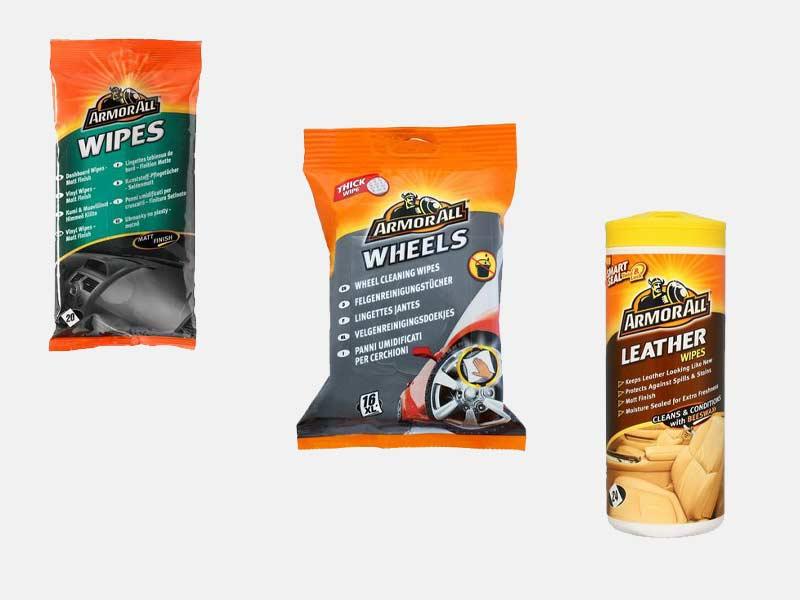 Wipes are convenient when you're cleaning both the interior and exterior of your car - and with Armor All Wipes, you'll get convenience combined with incredible quality.
Check out our favourite Armor All Wipes for your car over on the right. below.
Armor All Wheel Cleaning Wipes
Armor All Wheel Cleaning Wipes are a quick and easy, one-step solution to cleaning and shining your wheels.
To get that Armor All Tyre Shine, these thick and textured wipes work to grab and hold dirt and are specially formulated to remove soil and brake dust with one wipe.
Shop Now
Armor All Leather Wipes
Revive your car's leather interior, with Armor All Leather Wipes.
Preserve the soft, supple feel of your car's leather by using Armor All Leather Wipes - cleansing agents within the wipes work to remove dirt safely from the seats, without damaging them
Shop Now
Armor All Dashboard Wipes
Keep your dashboard looking brand-spanking new, with Armor All Matt Dashboard Wipes.
These Amor All Dashboard Wipes are quick and easy to use, and leave a streak-free, pristine finish that will leave your car gleaming.
Shop Now