GoPro
GoPro Cameras allow you to celebrate the moment, inspiring others to do the same and get on an adventure too.
GoPro Cameras provide a range of GoPro products that are geared towards helping you to capture life and share your experiences as you live them.
Sharing your experiences makes them more meaningful and way more fun, therefore with a GoPro Camera, you can really work to capture those exciting moments with ease.
The company was founded in 2002 by surfer, skier and motorsports enthusiast Nick Woodman.
GoPro was created in search of finding a better way to film Woodman and his friend's outdoor adventures.
What started with a 35mm camera and a wrist strap has grown into an international company, selling over 26 million products in over 100 countries worldwide.
Explore our favourite GoPro Cameras below.
GoPro Hero 7 Black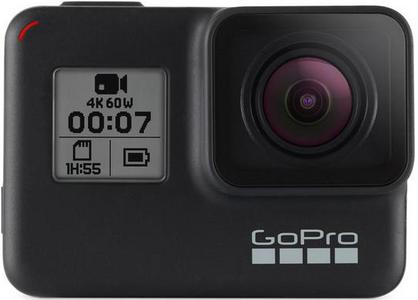 The GoPro Hero 7 Black is the most advanced GoPro ever.
With a 4K60 video resolution, auto low light and exposure control, the GoPro Hero 7 is an action-packed camera to capture the outdoors in a new way.
With live streaming capabilities via the GoPro app, you can share every amazing moment as you live it, and with WIFI and Bluetooth connectivity, this GoPro Hero 7 has never been easier to use.
Waterproof up to 10 meters, the GoPro Waterproof allows you to get into the ocean, swimming pool or lake and capture incredible moments with ease.
With a range of modes, from burst, night photo, time lapse, slow motion and more, the GoPro Hero 7 is a small 116g, to make it easy to strap onto a GoPro Helmet Mount, handle bars or GoPro Chest Mount.
Find out more about the GoPro Hero 7 online at Halfords today.
Shop Now
GoPro Hero 7 Silver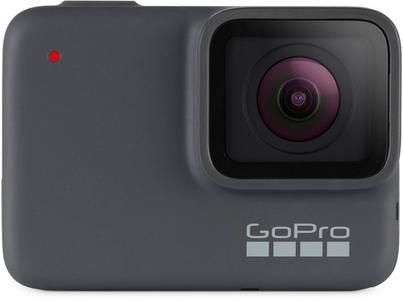 Meet the perfect cameras for all adventures, the GoPro Hero 7 Silver.
Smooth 4K video and vibrant WDR photos make every moment look incredible, and with a range of photo modes, you can capture a range of shots in a range of styles.
GoPro Mounts allow you to mount your GoPro Hero 7 Silver onto a chest, wrist or helmet strap for a range of adventures, and with waterproof protection up to 10 metres, you can take your GoPro Hero 7 anywhere.
All of your photos and videos are saved directly to the GoPro app as soon as the media is captured, making it easy to share your photos straight to your social media apps.
The GoPro Hero 7 Silver has a GPS element which allows you to track how high, fast and far you went on your adventure, especially if you're walking, hiking or running – a GoPro Cycling Camera can help you capture your journeys.
Explore more features available with the GoPro Hero 7 Silver online at Halfords.
Shop Now