At one with the trail: introducing Voodoo's new range of bikes
---
Voodoo have been around for just over 20 years, and in that time, they've made a huge impact, scooping lots of awards and winning the hearts of reviewers and riders alike.
For 2021, Voodoo have built on this award-winning pedigree to produce a range of bikes that's more capable than ever before.
To find out just how good the new bikes are, we asked professional riders Davi Roberts, Katie Purvis and Riley Scott to test them out – and it's fair to say that they were blown away with what they experienced!
Meet the riders
Katie Purvis
Katie has been competing in downhill mountain biking since 2016.
Competing across multiple events – most notably the British National Downhill Series – Katie won the English Championships back in 2019 at her local bike park, Hamsterley Forest.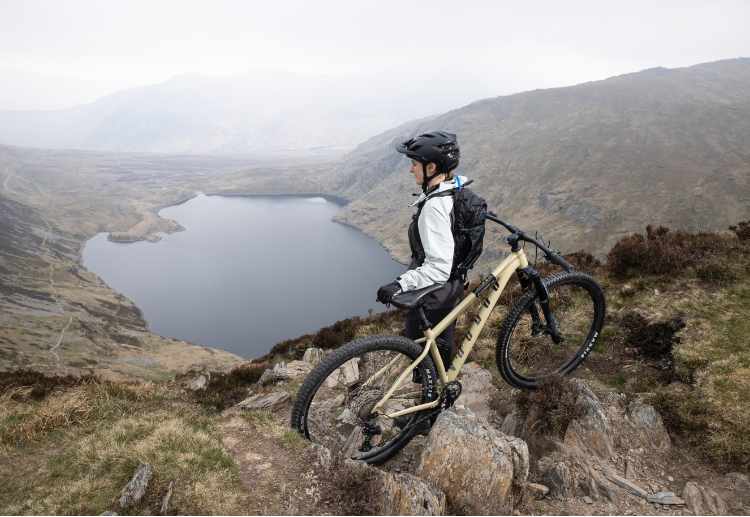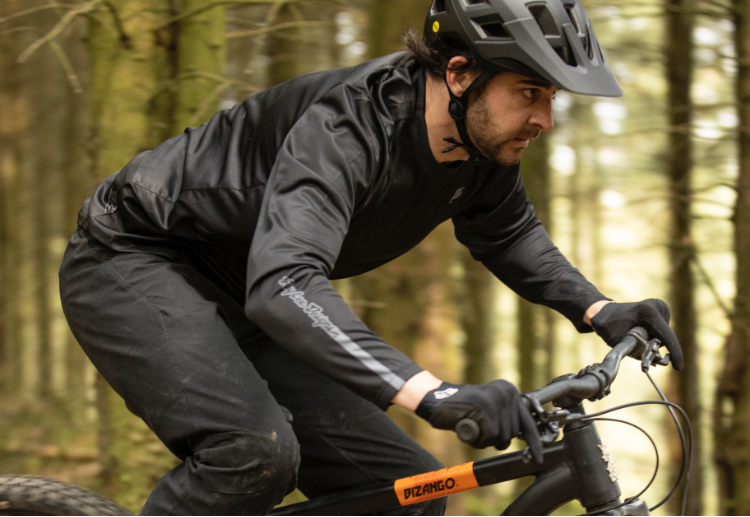 Davi Roberts
David started riding when he was 6 years old, building bike tracks and jumps in his back garden.
Since then, he's gone on to compete across multiple disciplines including downhill, 4x enduro downhill and even some 24-hour cross-country events – with a highlight of a third place on the 4cross World Cup Circuit.
Riley Scott
Although he only started riding competitively five years ago, Riley Scott has already racked up some impressive achievements.
A three-time Welsh champion, he also came second in the British rankings for the junior category and bagged a top-20 finish at the Croatia round of the Junior World Cup back in 2018.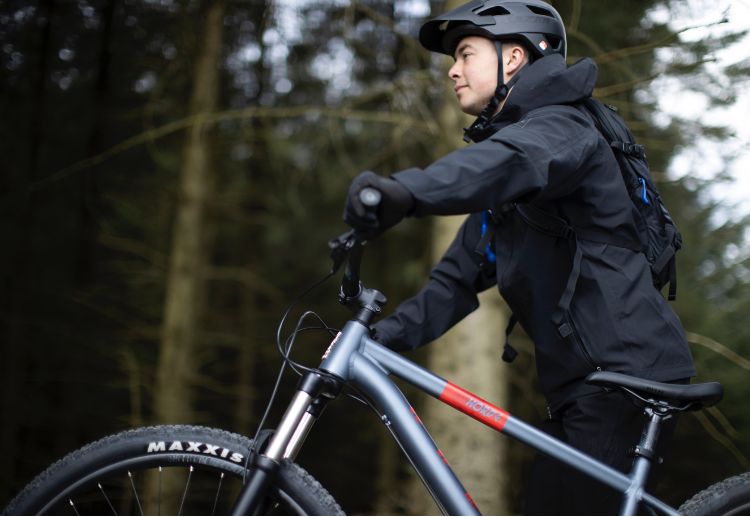 ---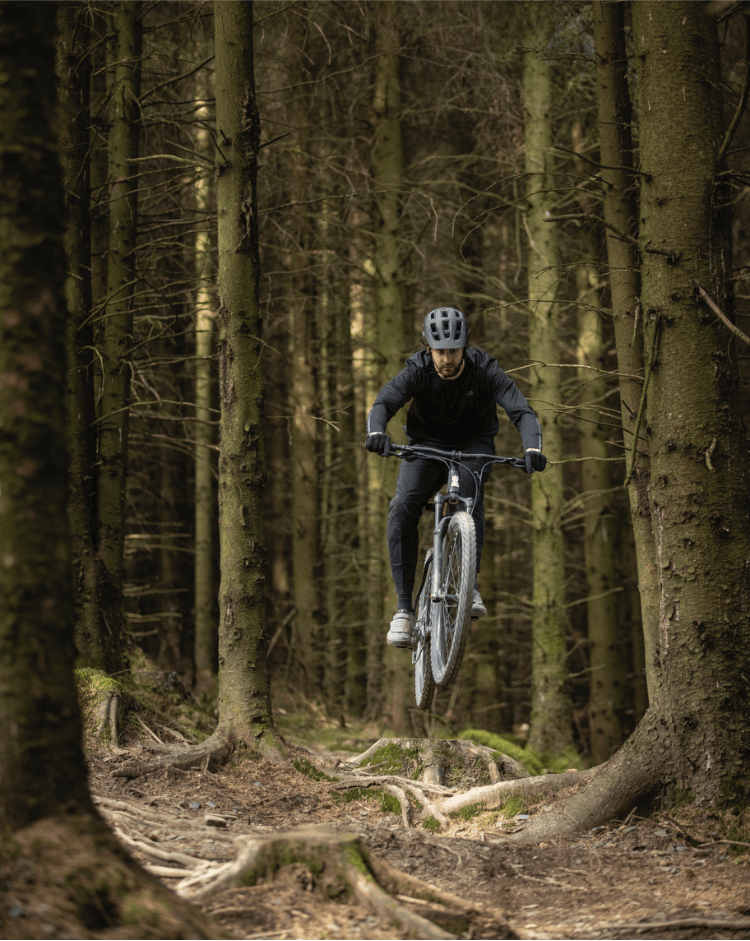 The Voodoo philosophy
Before delving into the new range of bikes, it's important to understand the philosophy that provides the foundations for every Voodoo bike – a desire to create bikes that connect us to the outdoors. It's a simple philosophy, but it ensures that every Voodoo bike provides an immersive experience that helps you feel at one with the trail.
This philosophy is one that Davi relates to, having first picked up a bike at the age of six before becoming a regular fixture on the 4Cross World Cup Circuit.
'For me, the feeling of being on a bike and riding around any corner at the limit of the bike is the best feeling out there - it can be at the pump track, dirt jumps, BMX tracks, 4x tracks, in a field with a few grass corners or on epic single-track in the mountains – basically, anywhere outdoors!'
---
Voodoo's new range of mountain bikes
With this in mind, what exactly does the new range of mountain bikes have in store?
All the bikes are hardtail, ranging from the entry-level Braag to the newly developed Bizango Pro, a bike ready to reach new limits. Hardtail bikes are perfect for honing your skills on the trail and Katie believes any aspiring rider should start on a hardtail.
'In my opinion, hardtails are the best starting point for anyone wanting to get into mountain biking. You need to learn the basics on a bike, including how to handle and control it down a trail before trying anything too extreme. As hardtails have no play in the back, there is a lot more work that needs to be put in by the rider to get it down the trail. After you can smash it on a hardtail, a full-suspension bike will feel like a walk in the park!'

Davi also believes hardtail bikes are a great place to start your riding adventure. He said:
'Hardtails are a great way to learn how to get the most out of the terrain beneath you and allow you to improve key skills like how to pump on the bike, which essentially gives you free speed. With the bike having to work harder you will also naturally pick better lines on the trail too'.
---
Designed and tested on UK trails
Every bike within the range is also designed and tested on UK trails – so the bikes feel connected to the trail from the first pedal stroke.
This includes carefully chosen componentry, modern mountain bike geometries and every bike is easily upgradeable, so the bikes will grow with you as your skills develop.
---
First impressions
Text BoxAnd if our riders' first impressions are anything to go by, Voodoo's selection of hardtail mountain bikes will provide everything you need to develop your skills and push your limits.
Braag
The Braag steps up the game from the outgoing Bantu with a trail-ready bike that'll help you hone your skills out on the trail. An updated frame uses a modern mountain bike geometry while the Advent 1x9 gearing, hydraulic disc brakes and Maxxis Ardent tyres provide the performance you need to develop your skills and find new limits out on the trail.
'I think the whole package is great. As soon as you sit on the bike, it offers a real confidence-inspiring feel.'
Davi Roberts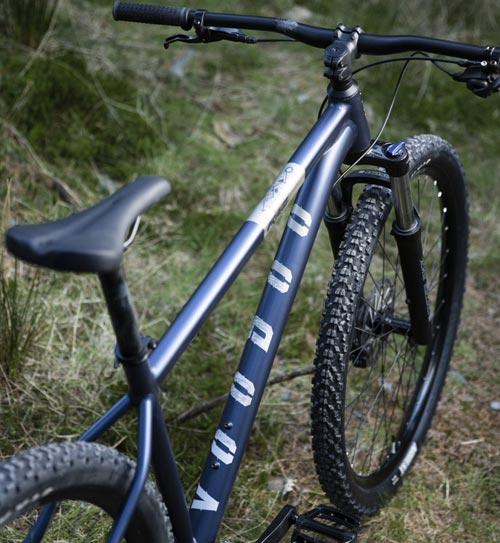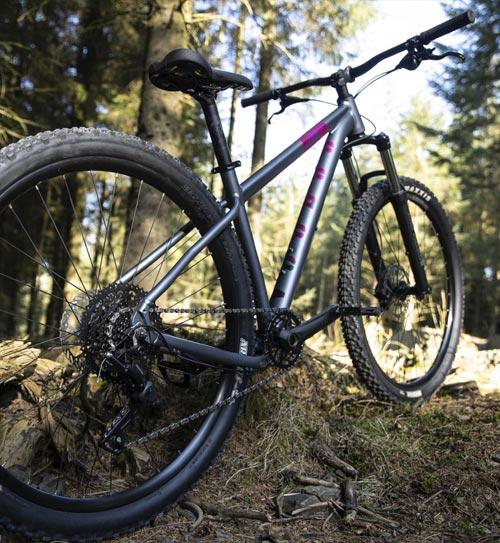 Soukri
Improved for 2021, the Soukri women's bike returns with a trail-ready design. Like the Braag, the Soukri adopts a new trail-orientated geometry and is packed with the same carefully considered componentry including the Advent 1x9 drivetrain, hydraulic disc brakes, Maxxis Ardent tyres and a women-specific saddle.
'Considering the Soukri was the lower spec hardtail, I was surprised at how well it handled the different riding terrains. This bike was a perfect size for me, and I felt so comfortable riding it at high speeds. And they smashed it with the colour… I'm a sucker for anything with a dash of pink.'
Katie Purvis
Horde
The Horde replaces the Hoodoo in 2021 and benefits from larger 29" wheels, meaning it's more capable than ever before and is ready to help you conquer new challenges. Upgraded from 10-speed to 11-speed and with a huge 11-51-tooth cassette, you'll never be short of a gear and the bike is also supported by hydraulic disc brakes and a modern cockpit.
'Nimble to ride, the frame felt trusting and cornered well. It's my favourite bike out of the new range as it had all the ingredients needed to go fast and to have fun on the trail. If I could have, I would have liked to of spent more time riding it!'
Riley Scott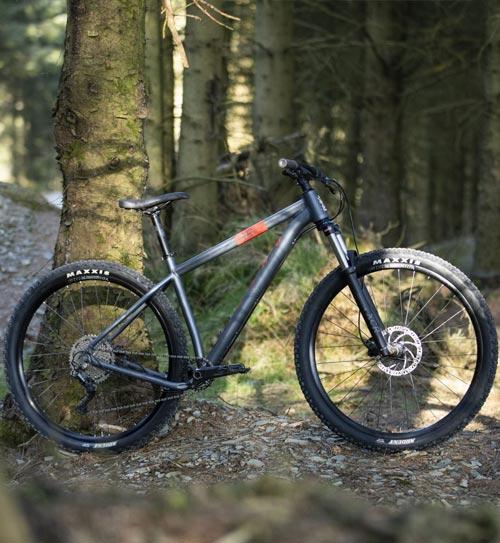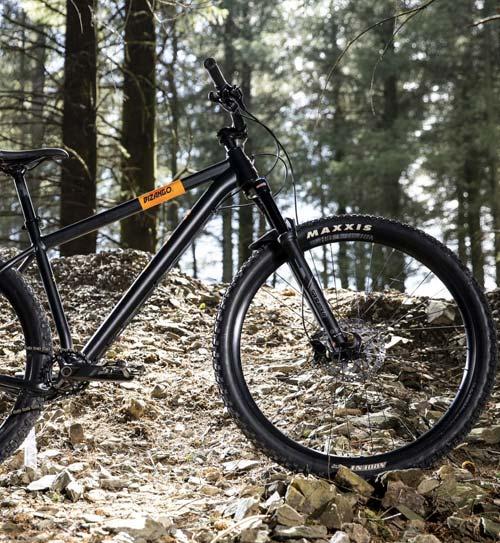 Bizango
The previous Bizango won numerous awards for its unbeatable spec and incredible ride quality. Unbelievably, the 2021 version has built on this design, raising the bar to the next level!
'Having ridden the 2019 version of the Bizango, I was expecting the new model to feel similar. When I sat on the bike, it instantly felt more aggressive and a more capable bike over the previous model. It offered a stable and confidence-inspiring feel and then, when pushing the bike at a faster pace, it stuck to the ground with the front fork far outperforming what I expected. Overall, the package is great!'
Davi Roberts
Bizango Pro
Loved by reviewers and riders alike, the Bizango is Voodoo's most successful bike to date, and for 2021, the Bizango Pro takes it to the next level with a design that'll allow you to push your riding to new limits. This is achieved through key upgrades including a Shimano Deore 1x12 drievtrain (renowned for its high performance and reliability), MT 400 disc brakes, and front and rear thru axles that provide added strength and durability.
'You could definitely tell a lot of work had been put into making this a high-performance bike, including the RockShox fork and the bigger 29" wheels. It made a huge difference when riding down the trails.'
Katie Purvis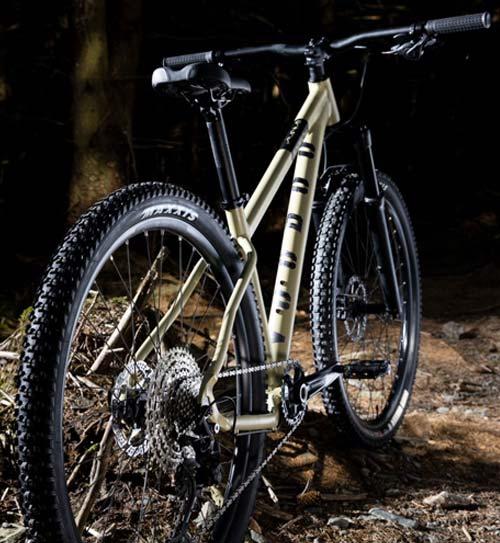 ---
New hybrid and adventure bikes
Voodoo's impressive new range doesn't stop with their mountain bikes, and for 2021 they've also developed new and upgraded adventure and hybrid bikes.
Sharing the same considered and high-quality design as their range of mountain bikes, every bike provides an amazing riding experience whether you're exploring gravel roads, commuting or enjoying a ride along local canal paths.
Nakisi
Every Voodoo adventure bike is designed to excel both on and off road - whether exploring off the beaten track on gravel trails, heading out on a touring adventure, or commuting on smooth tarmac. The Nakisi uses a gravel-specific geometry and componentry to provide an unforgettable and confidence-inspiring ride, whatever the terrain.
'The Nakisi was unbelievably smooth to ride, from changing gear to braking. I was honestly so impressed with how well this bike rode over the rougher surfaces. It stayed planted to the ground the whole time which was great as I find some gravel bikes can be a bit jumpy due to them being such a light build. The drop bars were great for aerodynamics, trying to reach those higher speeds!'
Katie Purvis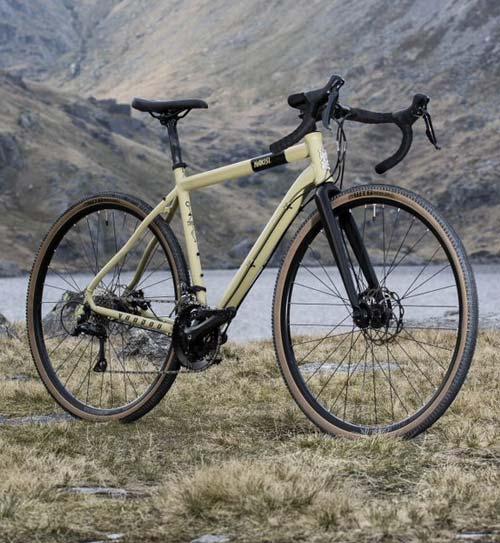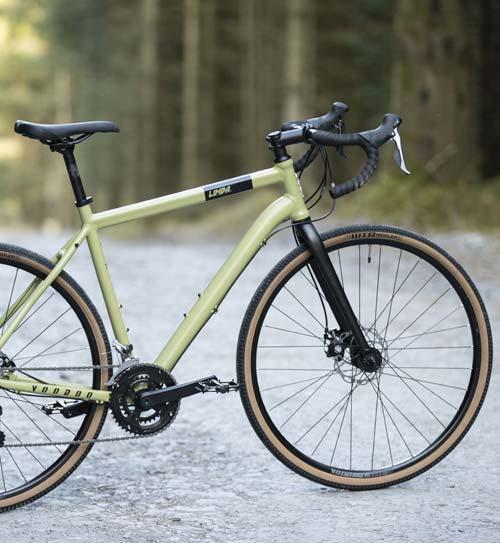 Limba
With a gravel-specific geometry and componentry, the Limba is designed for off-road comfort and stability.
It has everything needed to experience a pure off-road adventure, including bottle and mudguards mounts plus rack mounts for those who like to explore the world on touring adventures – although these features make the bike equally as practical for commuting!
'The Limba immediately caught my eye with its amazing colourway – but it also backs this up with the ride quality. It provides a smooth ride and is a great option for those who are into gravel riding.'
Riley Scott
Marasa
Available in both a men's and women's version, the Marasa hybrid bike is optimised for everything from commuting to enjoying a steady ride along your local canal path. The bike perfectly blends comfort, performance and practicality with reliable Shimano gearing, hydraulic disc brakes, a range of mudguard, bottle and pannier mounts, plus a WTB Volt Saddle.
'The Marasa was an all-round great bike to ride. It was extremely versatile, and I would recommend it for anyone wanting a bike for everyday leisurely use. The geometry along with the wider tyres and gears meant that the bike could easily be ridden in all weather conditions.'
Katie Purvis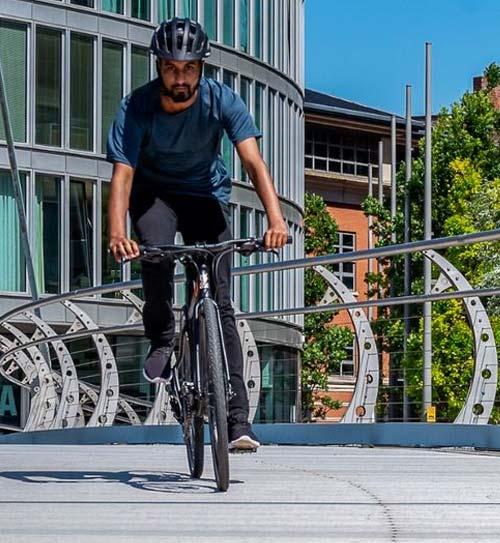 We're incredibly excited about Voodoo's new range of bikes! You can learn more about the Voodoo brand here.
Back to Expert Advice