Trade in your old bike for a gift card, trade up to a new bike or save by buying pre-pedalled. We buy, we restore, we sell. You save. 
At Halfords, we offer customers the ability to not only trade in their old Halfords bike for a gift card worth up to £1000/€1300, but also to buy second hand, pre-pedalled bikes for a great price.
Looking to trade in your
old Halfords bike?


Get a Halfords gift card worth up to £1000/€1300 to spend on the things you love when you trade in your old Halfords bike*.
The gift card is valid for two years and can be spent on a new bike or any other Halfords products or services. With everything from roof boxes and car servicing to bike helmets or accessories to choose from, you're sure to find the perfect purchase for you**.
Spend on what you love
If you are interested in trading in your old bike, visit our trade in page to check your bike is eligible and book a free valuation today.
*Saving is calculated on the overall comparison between the RRP of new similar bikes and pre-pedalled bikes, which is dependent on the make, model and grade of the bike. For further information on pre-pedalled bike grades and prices visit Halfords.com.
**Excludes gift cards and car parts fulfilled by Car Parts Express
Looking to buy a
pre-pedalled bike?


Enjoy savings of up to 50% when you buy one of our pre-pedalled bikes rather than buying a new bike.
These bikes are a range of second-hand models that have been expertly restored by our trained technicians. They:
Are built ready-to-ride with great savings off the retail price.
Are fully safety checked by our experts, including comprehensive checks of the frame and components so you can have peace of mind that your pre-pedalled bike is in full working order.
Come with a 12-month warranty, so if anything does go wrong then you can bring your bike back to us.
These bikes are only available to buy in our stores and are subject to availability.
Find out more
Xtending every bike's journey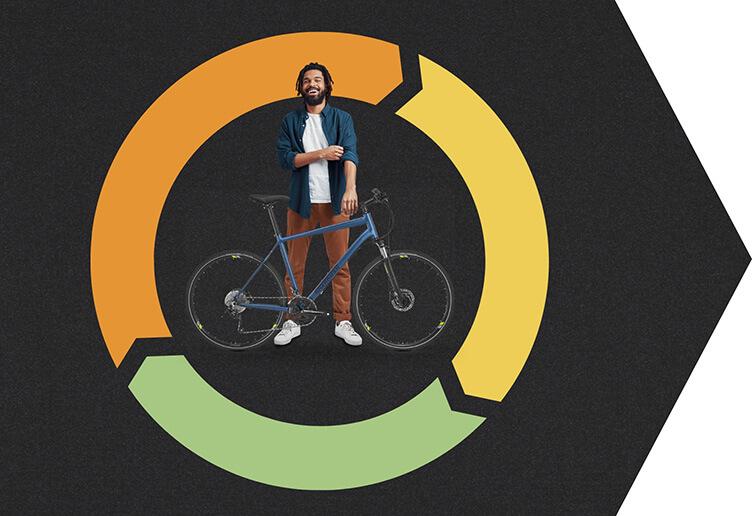 At the Halfords Bike Xchange, we're committed to reducing both our waste and our CO2 emissions. Here's how:
Each bike that's expertly restored and sold to our customers results in an estimated 157.7kg CO2 emissions saving (versus buying a new bike).
If we restore 100,000 bikes, this will lead to an estimated 15,770 tonnes of CO2 saved!
If a bike can't be resold by Halfords, we'll share this with our charity partners who repair and donate bikes to African communities.
If a bike is unrepairable, the valuable materials and components will be recovered instead.
Find out more about one of our charity partner Recycle >>
Read our report on the environmental benefits of giving bikes a second life >>