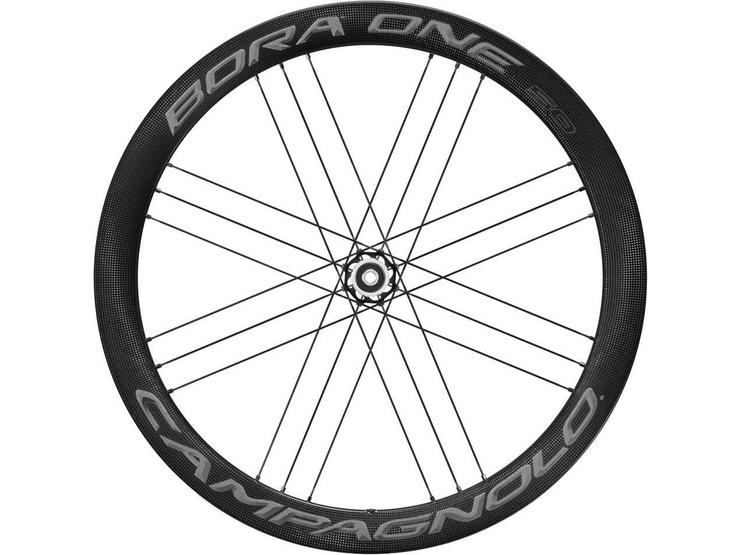 10 people are viewing now
5 purchases during last 48 hours
Campagnolo Bora One 50 DB Drk BT12 AFS Wheelset, 700c, Campagnolo
The Campagnolo Bora One 50 DB Drk BT12 AFS Wheelest 700c, Campagnolo Disc brake is the perfect answer for cyclists searching for deep profiles capable of offering significant aerodynamic advantages while remaining lightweight and reactive for the steepest climbs. Its extremely sophisticated carbon fibre 24.2mm rim offers a rim & tyre interface optimized for the use of both 25 and 28mm tyres, by creating a more aerodynamic complete unit and a more efficient and sure-footed structure.
USB Bearings are ceramic which vastly reduces the weight and greatly improves the smoothness of the bearings. The ceramic ball bearings inside also mean that maintenance will be far less common and it has a much higher resistance to corrosion than standard bearings.
The Mega-G3 Spoke pattern is a type of spoke assembly that improves energy transfer between the hub, which reduces stress on the right-hand side which in turn increases the rigidity of the wheel. This is achieved by having twice as many spokes as the left-hand side.
The Bora One 50 Disc represents the same quality, performance and reliability that made its rim-brake predecessor such an iconic wheel. While it incorporates any technologies used in the rim brake version, this wheelset has been specifically designed for the unique demands that come with disc brake construction. The wheel has been engineered to optimize the distribution of forces caused by disc brakes.
Features & Benefits:
Full Carbon high profile 50mm rim, clincher only.
RDB (Rim Dynamic Balance) exclusive technology engineered into the rims, assures perfect balance even at high speeds
Advanced resin and carbon fibre technology, for superior finish, durability and protection from UV rays
Aluminium hub with oversized flange, cup and cone USB bearings and aluminium axle
Aerodynamic spokes with black anodized self-locking nipples which eliminate spoke rotation
Modified versions of the famous Mega G3 Spoke pattern on both the front and rear wheel, for equal spoke tension, stiffness and increased braking torque resistance
Adjusting lockring with micro-setting, for precision hub adjustment
Aluminium hub shell for improved torque transfer across the hub during braking
New AFS Disc specific flange design to allow perfect integration with the Campagnolo AFS
Freehub: CA 9/10/11/12x, SH 11x or 9/10x with spacers
Weight:1507g (Clincher only) , Campagnolo, (SH) for Shimano
Bolt-Thru Axles
Additional Note:
Assembly
The Bora One 50 Disc Brake Wheel is entirely hand built by a specialised Campagnolo technician and is checked in every tiny detail with electronic tools. This ensures that every wheel conforms to the high standards that Campagnolo pride themselves and will have unbeatable reliability.
Tech Specs
Spokes
Spoke Count: 24 Front & 21 (G3) Rear
Bladed aerodynamic stainless steel with aluminium nipples
Rims
Profile Height: 50mm
Rim section (height/width): 24.2mm
Material: Carbon
Hubs
Aluminium hub
USB Bearings
Width: 100mm (Front) / 142mm (Rear)
Cup and cone bearing system
Disc Fitment: AFS/Centre-Lock (Lockring included)
Freehub: CA 9/10/11/12x, SH 11x or 9/10x with spacers
What's In The Box
Valve Extender
User Manual
Warranty Booklet
Campagnolo Wheel Identification Card