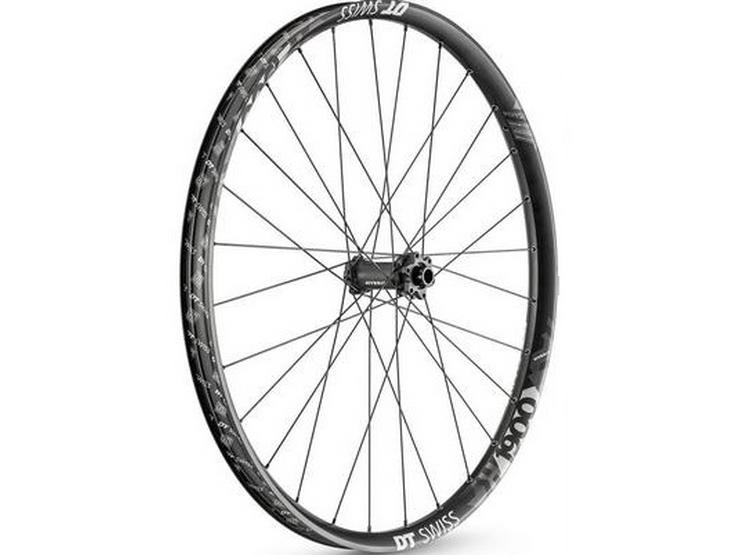 10 people are viewing now
5 purchases during last 48 hours
DT Swiss H 1900 27.5" Front Wheel 35mm Rim 15 x 110mm Boost
E-MTB's are a whole heap of fun but they can but they can make short work of components not designed to handle the added strain and basic original spec wheels are often the first things to crack under pressure.
The H 1900 wheel is a great value option to get you back out on the trails again on wheels built for the task but without breaking the bank E-MTB's are tough on wheels, really tough, not only is there the added weight and higher maximum drive torque but E-MTB riders tend to ride further and more frequently, this adds up to a real challenge for anyone looking to design a truly durable wheel for long term E-MTB use.
The result is DT's mission Hybrid, the first wheel engineering project to look specifically at the challenges of heavy duty E-MTB use for wheel Hybrid specific 3-Pawl hubs feature reinforced hub shells, oversized bearings and steel freehubs to prevent marking under extreme torque.
The rims have reinforced spoke beds to resist fatigue and handle high loads for long periods of time,
The straight pull spokes are custom made for Hybrid with an oversized 2.34 mm hub interface designed to protect one of the key points of stress on a wheel that's being used for E-MTB.
In order for a wheel to pass as Hybrid certified in DT's inhouse testing lab it has to survive 50% more lifecycles, its spokes and rims have to endure 20% higher load tests and the bearings must be able to handle almost twice the maximum load of standard wheel. Whilst intended for E-MTB use, the Hybrid range is also ideal for larger riders, bike packers or anyone looking for a really durable wheelset with a high weight limit.
Includes both Shimano and SRAM XD freehubs, tubeless rim tape and tubeless valves System weight Limit: 150 KG
DT Swiss H 1900 27.5" Front Wheel 35mm Rim 15 x 110mm Boost Extra Info