Bike Helmet Buyers Guide
A bike helmet is probably the most important bike accessory you can buy.
Although you aren't legally required to wear one, it's a pretty smart idea. Why? Well, a bike helmet can be the difference between you feeling a little dazed and suffering serious injuries if you're unlucky enough to be involved in a crash.
Modern helmets can be sleek and comfortable, and they typically include plenty of features and are available in thousands of different styles, so you can look good while staying safe. That said, how do you choose between all the different bike helmets out there?
Choosing a bike helmet
Let's start with the basics. Nearly all helmets are built the same way. They consist of an outer plastic shell, an inner padded liner used to dissipate impacts, extra padding for comfort, air vents and an adjustable fitting system. At Halfords, all our helmets meet rigorous European safety standards.
Getting a helmet that fits comfortably, then, is the top priority. Given that they're adjustable, all of our helmets display a range of head sizes that they can cater to. To find your size, simply take a tape measure and measure the circumference of your head about two finger widths above your eyebrows. It's that easy.
If you're falling in-between two sizes, your best option is probably to pop into store and try both sizes on. You'll quickly realise which size you need. When the helmet is on, it shouldn't be so loose that it wobbles around; nor should it be so tight that it's digging in or pushing on pressure points. A nice, snug feeling is what you're looking for – after all, you're probably going to be getting a lot of use out of it.
Additional protection systems
You may come across helmets with built in additional protection systems which deal with rotational force. Examples of this system are Kineticore, MIPs and WG11. These additional protection systems add an extra layer of protection inside the shell, helping to redirect dangerous rotational forces in the event of an accident.
Kineticore, for example, has unique crumple zones in the form of blocks which are designed to buckle in the event of direct or rotational impact, redirecting energy away from the brain. Explore our range of Lazer Kineticore bike helmets on our website.
Bike helmet types
Whilst every helmet will protect your head, some helmets are made specifically for certain types of riding and offer additional features. Here are the popular types of bike helmets and why you might need one.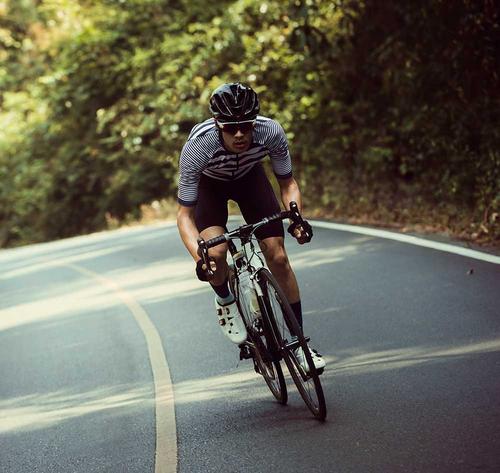 Road bike helmets
Road bike helmets are made with aerodynamics and ventilation in mind. These tend to weigh the least of all bike helmets and the ventilation holes will stop your head from getting too hot and sweaty when you're riding hard.
Shop road bike helmets
Mountain bike helmets
Mountain bike helmets are also lightweight and feature good ventilation, but they often come with visors and extra coverage for the back of your head. For those who need more protection, such as downhill riders, full face helmets are often used.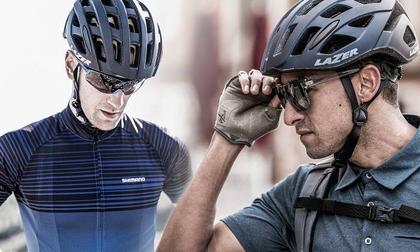 Leisure helmets
Most casual cyclists choose a leisure helmet. Theyre the perfect balance between weight and ventilation. Available in a huge array of colours, shapes and styles, there's something for everyone.
Shop leisure helmets
BMX helmets
If you're skating or BMXing then a BMX bike helmet is an absolute must-have. These helmets have a distinctive shape and a little extra thickness which means they can handle multiple impacts without wearing out too quickly.
Shop BMX helmets
Commuter helmets
For commuting, there are specific light and strong commuting bike helmets available. Many of these helmets come with reflective strips and even rear lights for extra visibility, making them perfect for commuters.
Shop commuter helmets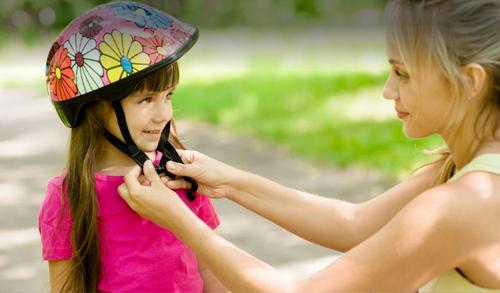 Kids bike helmets
For little ones, helmets for children are often the coolest of the lot! For an in-depth look at these, check out our Kids Helmet Buying Guide.
If you aren't quite sure which helmet would suit you the best, pop into your local store to try a few different types on. Our experts will be happy to help you select the right helmet after hearing about how you'll be using it, and you can always browse our full range online.
Bike Helmet FAQ's
In case you have a burning question that our guide hasn't answered just yet- here are some quick answers to commonly asked questions around bike helmets.
How should a bike helmet fit?
Snugly. A bike helmet should be comfy and not wobble, yet not put too much pressure on your head.
How can I attach an action camera to a bike helmet?
If you're using a GoPro, for example, to record footage of you cycling- you might want to consider getting a vented helmet strap that allows you to mount the camera on your helmet.
Sitting directly on top of your helmet with a strap is probably the most secure way of mounting a camera, and if that isn't an option for you then you might want to explore the option of mounting the camera on your handlebars instead.
Any tips for how to wear a bike helmet?
Our most important common-sense tip would be to make sure you've securely attached your helmet before you start riding. No one wants to have to faff around adjusting the tightness of helmet straps mid-ride – that's one extra pressure that you shouldn't have to worry about on the road.
Also, you might find it refreshing to take your helmet off and let your scalp get some fresh air if you stop for a break, especially if you're long-distance cycling.
Why should you wear a helmet when riding a bike?
For safety purposes. Bike helmets can literally save lives and prevent cyclists from incurring brain damage in extreme circumstances. They're the equivalent of airbags for a car – you wouldn't want to be without them.
In previous years, there might have been a stigma associated with bike helmets not looking too cool, especially amongst younger generations. But, with the huge range of quality bike helmets available today, it's easy to look stylish without compromising on safety.