Cycle Luggage Buyers Guide
Want to carry more than just yourself while cycling? Check out our cycle luggage guide. It's simple, honest advice from the UK's most trusted bike seller.
Whether you're popping to the shops or off on a road trip, there are loads of options for adding carrying capacity to your bike, read on to learn more! Saddle bags, frame bags & handle bar bags.
If you just need to carry a few essentials, saddlebags, frame bags and handlebar bags that strap onto your bike's frame are perfect. They're simple, sturdy and easy to add and remove. If you're carrying a wallet, keys, phone or other everyday essentials these are a great choice.
Click the tooltips below to see key bike luggage points for your bike.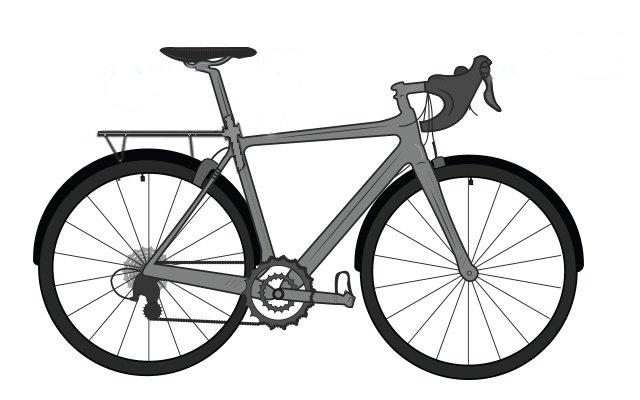 Pannier racks
For heavier loads or for touring, panniers are essential. To use panniers, you'll need a pannier rack that's secured to eyelets your frame. Luggage racks help to keep your panniers stable and distribute weight safely, keeping you safe and steady on the road ahead.
Before purchasing a pannier rack, make sure it'll fit your bike. If your bike has disc brakes, you'll need a special rack like our Halfords Essentials Disc Brake Pannier Rack. If your bike doesn't have eyelets, you can use a rack that attached directly to your seatpost to safely carry up to 10kg of luggage. Be careful as seatpost bags can damage fragile carbon seatposts.
Shop Panier Racks
Bike panniers
Panniers are hard-wearing bags that you can clip on and off your luggage racks. They're essentially sacks that will safely and securely keep your luggage in place while you're on the move. The type of pannier you need depends on how much you want to carry, how far you're going and just how much faith you have in our weather! At Halfords, our water-resistant panniers are perfect for commuting and shorter journeys. If you commute all year round, are planning a long tour or are just worried about the weather, our hardwearing Halfords Advanced Waterproof Pannier Bags are perfect. Our panniers are all built with durable and robust material and with welded seams, that will keep your clothes and belongings dry. As well as our tried-and-trusted Halfords panniers you can also find brands like Vaude and Thule in stock at great prices.
Shop Bike Paniers
Phone bags & cases
If you're using your mobile phone as a GPS or as a bike computer, we've got waterproof phone bags, cases and flexible phone mounts that are super for staying in touch while on the move. All our phone mounts and holders are touchscreen compatible, meaning you can use your phone without having to remove it from the safety of its holder or case. Our Halfords Phone Mount is an excellent choice for the intrepid traveller (or lost commuter), giving you the ability to adjust the screen angle, so it's just right for displaying a map or GPS.
Shop Phone Bags & Cases
Bike baskets
If you prefer to carry luggage the traditional way, a basket fitted to the front of your bike will add some retro-cool alongside carrying capacity. The Pendleton Wicker Style Front Basket is a timeless classic that will carry up to 14 litres – that's enough for a small bag or a tasty picnic.
Shop Bike Baskets
Backpacks & Rucksacks
If you don't want to secure anything to your bike, then strap on our 20-litre

Our complete range of bike luggage and carrying accessories is available online or instore. Check out our fantastic deals to get the best prices on panniers, luggage racks, phone carriers and cases. You can purchase online or use Click & Collect to get everything delivered to your choice of Halfords store. If you need some help choosing the best luggage solution, then speak to a member of Halfords staff who can take the weight off your back in no time.

Shop Backpacks