Personalise a Kid's Bike
At Halfords, we offer the choice of customising your child's bike where you can add their name for only £5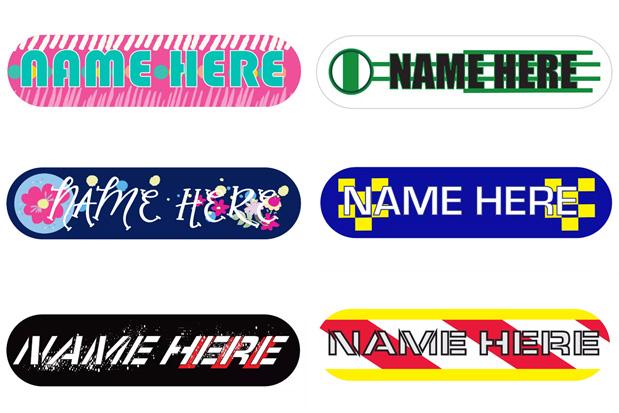 Personalised bike stickers
Want to make your child's bike extra special by adding their name? Just pop into one of our stores and let us know their name, or follow the steps online during checkout if you're ordering your bike using Click & Collect.
We'll add your child's name to one side of the bike on a sticker that perfectly matches the bike's colour and design. Want to see what the sticker will look like? We have some examples on this page or take a look at your chosen bike's product page to find a photo specific to that bike.
It will take 5-7 days from when you order to build and add the name to your little one's bike. We'll give you a call to confirm your order, and will be more than happy to help if you have any questions!


Bike personalisation guidelines
Our personalisation service is available on Carrera and Apollo kids' and junior bikes only. You can tell which bikes are available to be personalised by checking if there is a 'Personalise With A Name Sticker?' option on the product page. We can accommodate up to 9 characters per name.
Our range of kids bikes
Out of the bikes available for custom bike stickers, our range of Apollo kids bikes has lots of different options from firefighter and unicorn bikes for little ones, to junior mountain bikes to more serious riders.
Our Carrera kids bikes range is generally more focused on taller riders, with many junior mountain and hybrid bikes available. Choose between different colours including black, blue, white and red bikes.
Other kids bike accessories
If you want to make your child's bike even more personalised to them, explore our kids bikes accessories from Halfords. We stock bike spoke beads, bike baskets, bells, and styling accessories such as tassels.
Shop kids bikes
Unfortunately we cannot offer bike personalisation in Ireland.