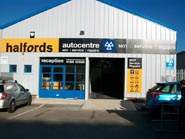 Halfords Autocentre Aylesbury
3 Warren House Gatehouse Way Aylesbury , HP19 8DB
What customers are saying about us
Be careful
Be careful. For A FULL Service, they do very little. They don't for instance change the plugs - surely that's one of the reasons for a service. They also present you with a list of things that you should do, in other words a list of yet more things that they haven't done. So they might be reasonably priced but they don't do much for that.
Very helpful and very honest
Very helpful and very honest. Will defoe have on my fav place to go back again.
Quick service
Quick service, unbeatable prices! Cleaning of air-con costs £20, while on the dealer garage the same service costs £199! Thank you Halfords Team!