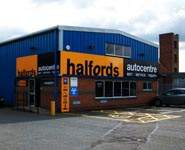 Halfords Autocentre Nottingham (Hucknall)
Unit 4 Christopher Court Watnall Road Hucknall , NG15 6EP
What customers are saying about us
M.O.T
Professional Good value and efficient service.
They go the extra mile!
You know what? These guys are always helpful, very organised and I feel like they know what there are doing and don't rip me off. Iv been taking my car here for a while now and won't be tempted to change.
Halfords (Hucknall)
The staff were very helpful, I had my car back quickly (good as new!), and the cost was competitive; I'll be returning to Halfords!