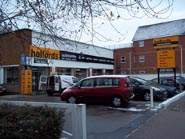 Halfords Autocentre Portsmouth (Fratton Rd)
201-205 Fratton Road Fitzroy Portsmouth , PO1 5EZ
What customers are saying about us
Car MOT
Halfords apparently failed my MOT on my front headlight alignment. Wanted to charge me £30 and another MOT at half price. I said no as the alignment should be done within the MOT anyway. I then phone my car manufacturer and explained so took my car there. They've now told me that Halfords have actually passed my MOT and that my headlight alignment had already been done by the look of it. I am absolutely disgusted by this and they were probably expecting me to just say yeah okay and charge me for work that didn't need doing.
Helpful staff who even stayed after…
Helpful staff who even stayed after their official closing time to explain the work they had done.
Very happy with the service
Very happy with the service. Called them on Monday, had car in for Wednesday morning. Sorted by 1pm, using their brakes for life offer. Friendly,quick, hassle free service 👍🏻