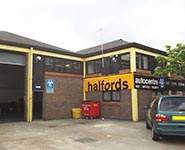 Halfords Autocentre Teddington
2 Teddington Business Park Enterprise Way Teddington , TW11 9BQ
What customers are saying about us
Great Customer Care
Great Customer Care, Speedy Service and a great product! 4 x 275, 45 x 20 Tyres fitted to My ML63 (2014)
Efficient
Efficient, good and polite service. Clearly busy which is a good sign, though staff seemed stretched as evidenced by an empty reception desk and a bit of a wait on arrival. Overall a positive experi Read more...ence with useful advisory notes.
David Goble
Polite staff and professional service
Polite staff and professional service - would recommend.
Took the car for MOT
Took the car for MOT. Excellent friendly service. Fast, was seen on time and completed in an hour. No issues. Trustworthy and good experience. This was the Teddington branch. Would recommend.
Always very happy with the service.
Staff were very knowledgeable, polite, and honest. They managed expectations, kept in communication with me via phone and completed all work to my satisfaction. Cheers
I took my car in for an MOT at Halfords
I took my car in for an MOT at Halfords Teddington on Thursday 16th January 2020. I was received at Reception with a very warm welcome. I sat down to give certain details and discussed points of conce Read more...rn about the car. If the inspection of the vehicle revealed essential additional work the garage would ring to discuss findings and costs. As it so happened, the car passed its MOT but there was a minor defect. The Drive shaft joint constant velocity boot severely deteriorated and should be repaired. The Front inner Brake disc worn but not seriously weakened - to monitor in the future. I collected the car and paid the fee. A very positive experience as you always get a feeling of trust and whenever I have looked into the workshop, everyone is busy. I can wholeheartedly recommend this great garage team. Steve Earl
Excellent service
Excellent service. Great staff. Many thanks.
Mr Hollliday
Great Service!
I have my Smart car serviced every year and this is my second visit to Halfords, Teddington. Very efficient and professional service given by Alistair and Alex. Will continue to use this service centr Read more...e and I do actively recommend and promote it to friends. Regards Malcolm D
Friendly and prompt service
Friendly and prompt service. Made an enquiry to have work done and was able to be booked in and serviced same day. Highly recommend!