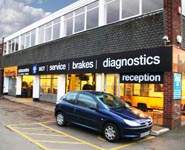 Halfords Autocentre Walsall
Caldmore Road / Mountrath Street Walsall , WS1 3NQ
What customers are saying about us
Manager was Very Unhelpful
Manager was very unhelpful but the technician was efficient. The manager at Halfords walsall autocentre really couldn't be bothered. No customer service at all. He felt inconvenienced by my arrival. Go elsewhere.
Great Servcie
Very professional and the front desk were very informative and friendly, would definitely use the service again!
Excellent team
Excellent team. Very polite and helpful. Every question answered.