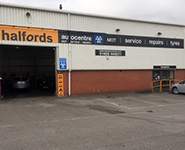 Halfords Autocentre Warrington (Hawleys Trade Pk)
Unit 2 Hawleys Trade Park Hawleys Lane Warrington , WA2 8JP
What customers are saying about us
Fantastic service
Fantastic service - I needed to postpone the MOT twice and they sorted me out without any fuss or bother.
Annual MOT
Very good service, MOT was carried out on time with no problems, very helpful and pleasant staff.
Booked MOT- apart from drop off, everything was smooth
Booked MOT. Halfords messed up the booking but honoured the day it was booked and all sorted quickly. Wait to drop the car off was not great since stuck behind another customer who the staff were having some difficulty with booking. Rest was sorted very quickly.