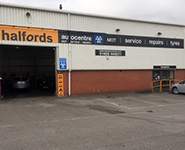 Halfords Autocentre Warrington (Hawleys Trade Pk)
Unit 2 Hawleys Trade Park Hawleys Lane Warrington , WA2 8JP
What customers are saying about us
MOT at Hawleys Trade Park, Warrington.
Have had my cars MOT'd here for the last 7 years. Good price, always seen at the time booked, ring you when it's done and give an honest check-out of the car.
M.O.T.
Easy on-line booking. Great price Dropped car off 15 minutes before booked appointment and was ready after a short time. Car was as it was when left in a clean condition. Manager was cheerful & helpful.
As always excellent
As always , staff helpful and efficient and an overall excellent service .