CTEK Time To Go Battery Charger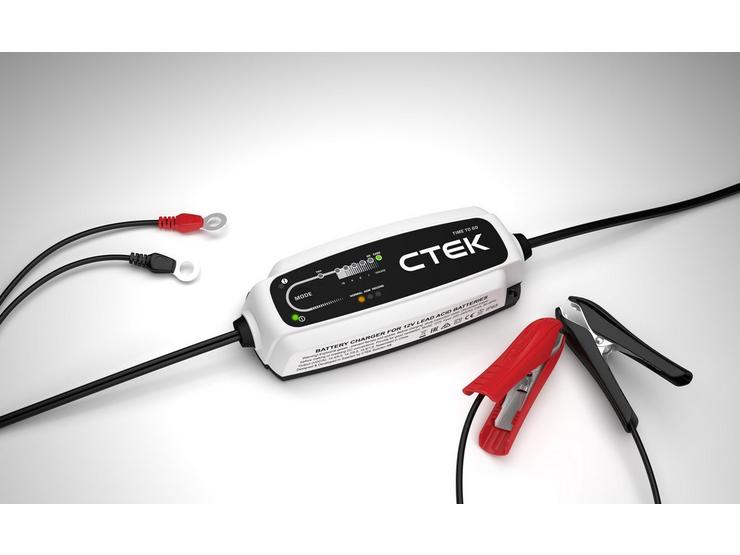 10 people are viewing now
5 purchases during last 48 hours
CTEK Time To Go Battery Charger
Charge Speed : Standard
Start Stop Compatible : Yes
Charge Rate : 5A
CTEK Time To Go Battery Charger
The first battery charger in the world to show you exactly when your battery will be charged and ready to go. The groundbreaking CT5 TIME TO GO battery charger and maintainer is a world first because it answers the question 'When will my battery be fully charged?' This means you can plan your day around your battery charging because the CT5 TIME TO GO gives you an accurate prediction of the remaining charging time in hours. Not only that, it'll also tell you when you can safely try to start your vehicle before the battery is fully charged. The CT5 TIME TO GO uses advanced technology to give you three charging and maintenance programs – Normal, AGM and Recond. It's easy to use and fully automatic, so it can be connected directly to the battery indefinitely, if required, and it won't over or under charge.
Features & Benefits:
The charger that tells you when you're ready to go
Shows you exactly how long in hours until the battery is fully charged
AGM program
Recond program for reconditioning deeply discharged batteries
Fully automatic charging
Input: 220–240VAC, 50–60Hz, 0.6A max
Output: 14.4V/14.7V/15.8V, 5.0A max
Insulation class: IP65
Voltage temperature compensation according to ambience
Practical and easy to use
'Try' indicator shows when it's possible to make ONE start attempt
Tests and restores battery capacity
Normal program for medium sized lead acid batteries
AGM program for medium sized lead acid AGM batteries
Suitable for all types of 12V lead acid batteries
Non sparking
Reverse polarity protected
Short circuit proof
Application:
Suitable for all types of 12V Car and Bike batteries
Warranty Information:
Additional Note:
Included in the box:
1PC Charger
1PC Connect Clamp
1PC Connect Eyelet M6
Please Note:
Suitable for use on vehicles with Start/Stop batteries.