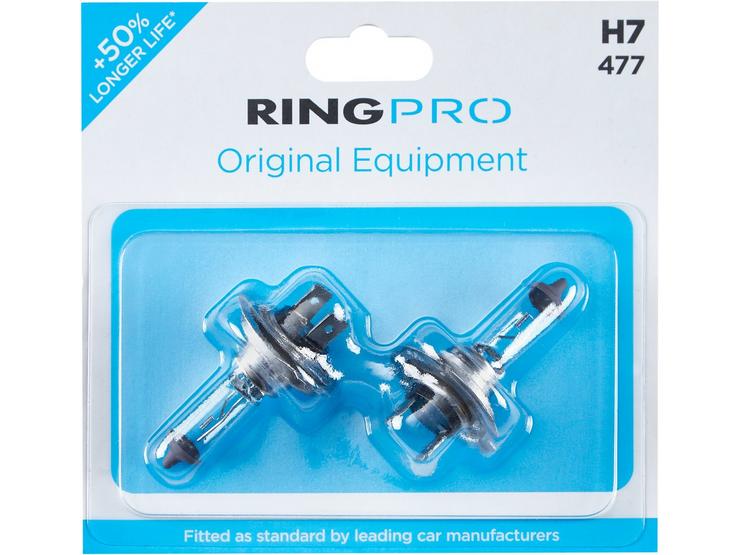 10 people are viewing now
5 purchases during last 48 hours
Lasts 50% longer than a standard bulb
Fitted as standard by leading car manufacturers
Expertly fitted in our stores and garages
Ring Pro H7 477 Car Headlight Bulb Twin Pack
Ring Pro bulbs combine the quality expected from world-leading lighting and automotive brand Ring with an affordable price.
Manufactured to Original Equipment (OE) standards, the Ring Pro H7 477 Car Headlight Bulb Twin Pack provides a precise beam pattern and excellent illumination, making it a popular choice among motorists. The bulbs are E-marked and road legal, and comes in a twin pack.
Premium H7 headlamp. The precisely engineered filament, high-quality materials and compact glass envelop all combine to give a superior beam pattern and longer life. Designed to minimise discolouration of headlight components and to maintain performance over the life of the bulb.
Replacement car headlamp for H7 fitment vehicles including cars, 4x4s, vans, motorhomes and more. Suitable for use with plastic headlamps.
Bulbs degrade at similar rates and if one fails then it's highly likely that the other is also nearing the end of its life. Halfords, therefore, recommends replacing all car bulbs in pairs to save time and money.
Features & Benefits:
OE Ring Pro H7 477 car headlight bulbs
Precise beam pattern for better light distribution on the road
E-marked and road legal
Suitable for 12V vehicles
Twin pack
Always replace in pairs
Lasts 50% longer than a standard bulb
Fitted as standard by leading car manufacturers
Expertly fitted in our stores and garages
Precisely engineered filament
Maintains performance throughout the life of the bulb