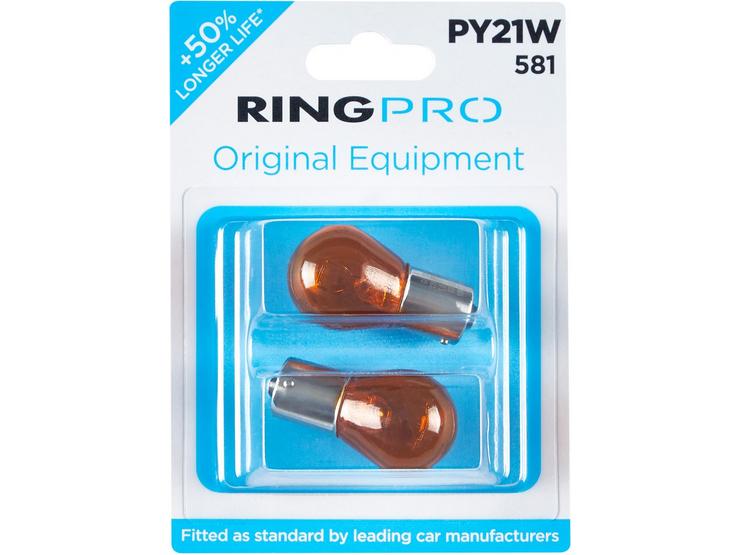 10 people are viewing now
5 purchases during last 48 hours
Lasts 50% longer than a standard bulb
Fitted as standard by leading car manufacturers
Expertly fitted in our stores and garages
RING PRO Small Bulb 581 PY21W x2
Ring Pro bulbs combine the quality expected from world-leading lighting and automotive brand Ring with an affordable price.
Manufactured to Original Equipment (OE) standards, the Ring Pro 581 PY21W Car Bulb Twin Pack provides excellent illumination and is a popular choice among motorists. The bulb is suitable for indicator lights. It's E-marked, road legal and comes in a twin pack.
Ring R581 X2 Silver Enigma PY21W Indicator - Silver Amber. Designed as a premium upgrade for your standard amber 581 bulbs. Its blue mirrored silver coated chromed effect glass creates a clear integrated look when unlit removing that orange effect from your indicator bulbs when fitted behind a clear lens.
The Ring Vision 24 bulb is constructed with improved filament technology which allows it to last longer than a standard bulb. It is also much more resistant to any voltage variations you get with an old or poorly charged battery.
Flashes amber. Direct replacement and upgrade to the standard OE bulbs fitted at the factory. They are completely road legal and will pass an MOT.
Bulbs degrade at similar rates and if one fails then it's highly likely that the other is also nearing the end of its life. Halfords, therefore, recommends replacing all car bulbs in pairs to save time and money.
Features & Benefits:
OE Ring Pro 581 PY21W car bulb
Indicator
E-marked and road legal
Twin pack
Suitable for 12V vehicles
Always replace in pairs
Lasts 50% longer than a standard bulb
Fitted as standard by leading car manufacturers
Expertly fitted in our stores and garages
Flashes amber and provides
a clear integrated look when unlit
Ring is interchangeable with conventional bulbs
Lasts up to 3 x longer than a standard 581 bulb
Improved filament technology
Improved resistance to voltage variations