So you think you know number plates
UK Number Plate Law Statistics Explained
It's likely you'll see dozens of number plates every day - on buses, cars, motorbikes, vans and everything in between on your morning commute.
Though drivers regularly buy personalised plates (also known as 'private number plates' or 'cherished plates'!), UK road law is fairly strict over what a number plate can be - from letter sequencing to styling. Ignoring it can result in heavy fines of up to a whopping £1,000.
We're an inquisitive bunch at Halfords and wanted to put the public to the test, so, we conducted a survey of 2,000 UK drivers from all across the country, to see how the nation's reg plates awareness really stacks up.
The vast majority of UK drivers are unsure of what makes a number plate illegal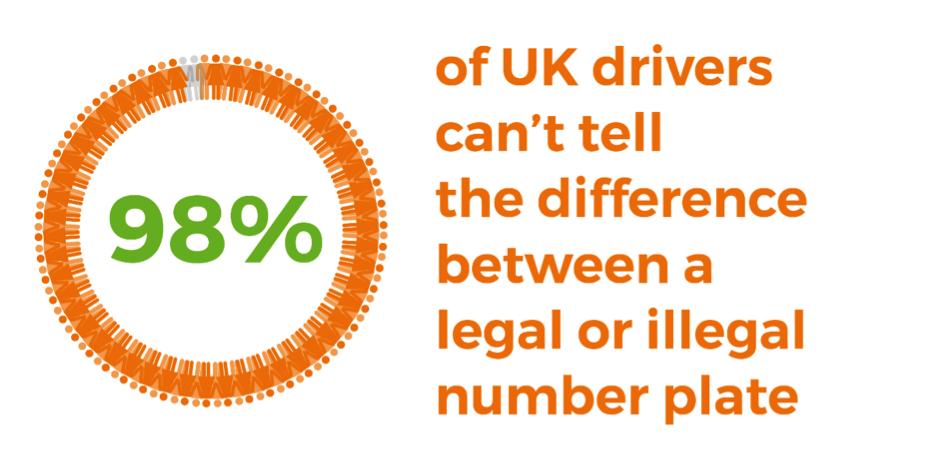 Share this Image On Your Site
Unsure about what should or shouldn't be on your number plate?
If so, you're in the majority. We found that 98% of all UK drivers can't identify what does and doesn't qualify as a legal UK number plate.
We gave respondents a set of twelve mock-up car number plates and asked them to confirm which were roadworthy. Some were more obviously incorrect than others: one illegally sported a football club logo, while another was cracked down the middle!

Overall, we found a high amount of variation in the number plates that respondents deemed roadworthy. While only one in ten drivers thought they could mistakenly use a plate featuring a football club badge (like the one above), 15% thought their reg plate could use an unconventional font (like the plate below). In reality, there's only one font that plates can use: the Government's standard approved font. In addition, 25% of drivers thought a plate could use the Northern Irish flag, two in five said a cracked plate was legal, and 36% believed a plate could have a custom pattern.

Young drivers are far more likely to purchase illegal plates than drivers over forty-five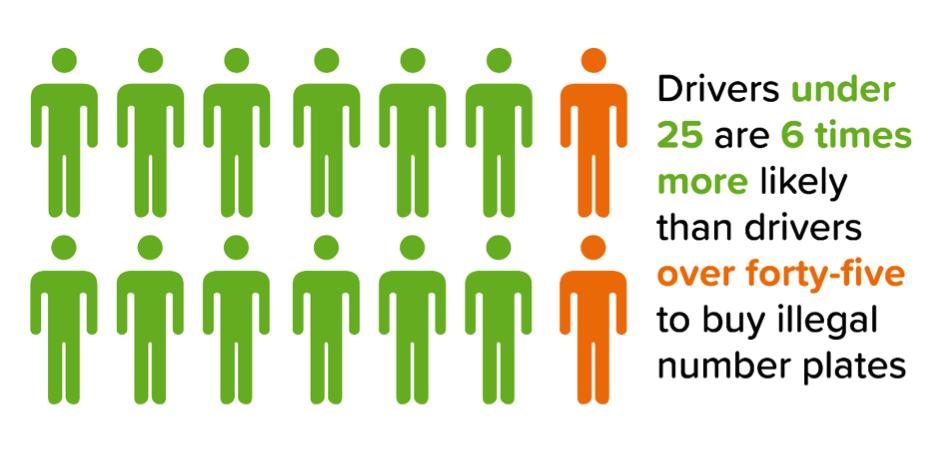 Share this Image On Your Site
We unfortunately discovered that young drivers aged 16-24 are six times more likely than drivers over 45 to have previously bought illegal number plates from an unlicensed number plates supplier.
Number plates can only be purchased legally from DVLA certified garages or manufacturers, which can be easily located with the DVLA's helpful online tool. Doing otherwise can land you in seriously hot water.
However, more than 10% of our survey respondents under the age of 25 confessed that while they're now aware that they need to buy number plates at DVLA registered suppliers, they've previously bought plates from an unregistered one. This contrasts hugely with drivers over the age of 45 - just one fiftieth (less than 2%) of this age group admitted to having done the same.
Already, number plate crime looks to be a big problem among the UK's younger drivers -and one that can lead to enormous fines. However, do drivers know how costly these can be?
Over three quarters of UK drivers are unaware of how big number plate fines can be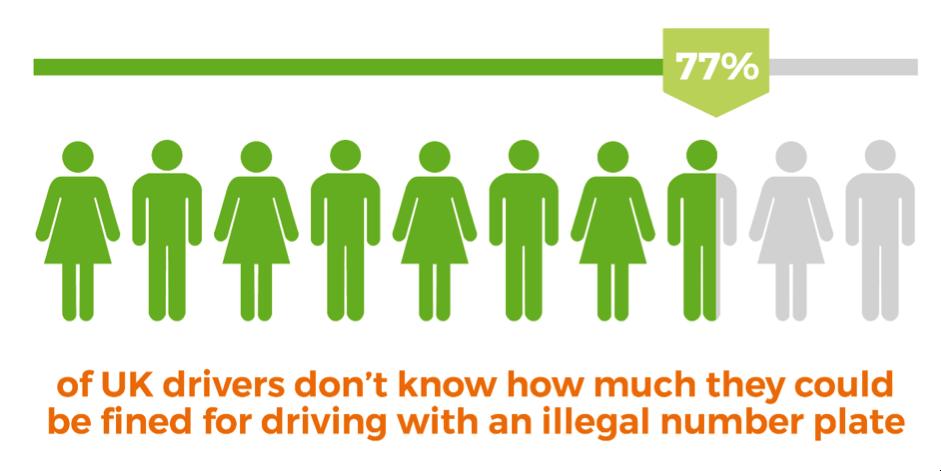 Share this Image On Your Site
We found that the majority of UK drivers are unsure of how much they could be fined for driving with an illegal number plate.
Police are able to impose penalties of up to £1,000 for number plate related offences, so it's crucial to make sure your plates are roadworthy.
Many drivers thought the fines were much lower than they are in reality, with 5% guessing £50, and 24% answering £100.
While only 29% responded correctly, the majority said that they simply had no idea, with 47% of drivers failing to give an answer.
The number of illegal plates identified by UK police is on the rise
Alongside the survey, we got in touch with UK police forces (using Freedom of Information requests) to find out how many drivers are penalised for having unroadworthy plates per year.
The number of illegal number plates rose by 18% between 2016, and 2017, according to data provided by UK police forces. They detected 7,876 non-roadworthy plates in 2016, which increased by over 1,000 to 9,031 last year.
Several areas in the UK showed particularly dramatic rises. Warwickshire, Dorset, Gwent and Northumbria were all the highest, increasing by 179%, 161%, 96%, and 94%, respectively.
By contrast, other areas went in the opposite direction. Hertfordshire, Thames Valley and Lancashire were all areas with significant decreases. However, the two largest were in Scotland: Argyll and West Dunbartonshire's statistics fell by 43%, and the Forth Valley's dropped by 80%.
In fact, England differed to Scotland dramatically across the board. While figures for England rose by 22%, Scotland's increased narrowly by just 3%. While the general rise indicates a knowledge gap throughout the UK, it's clear that the issue is more pertinent in England.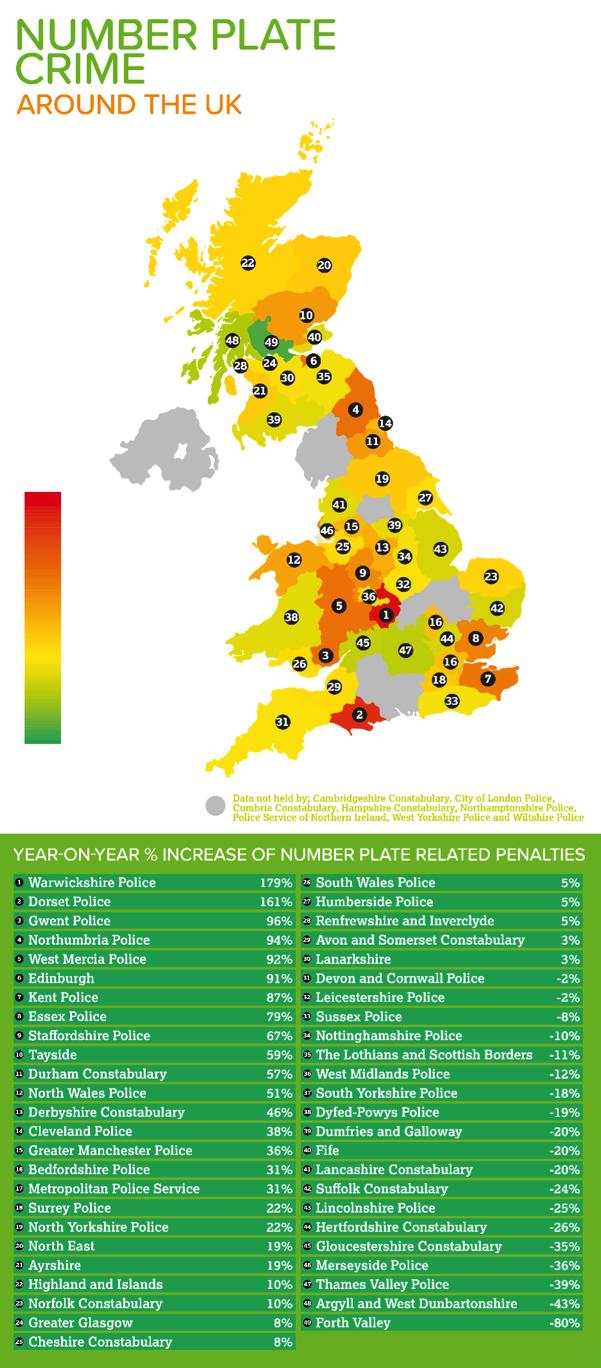 Share this Image On Your Site
Almost half of experienced drivers can't remember when they last brushed up on the Highway Code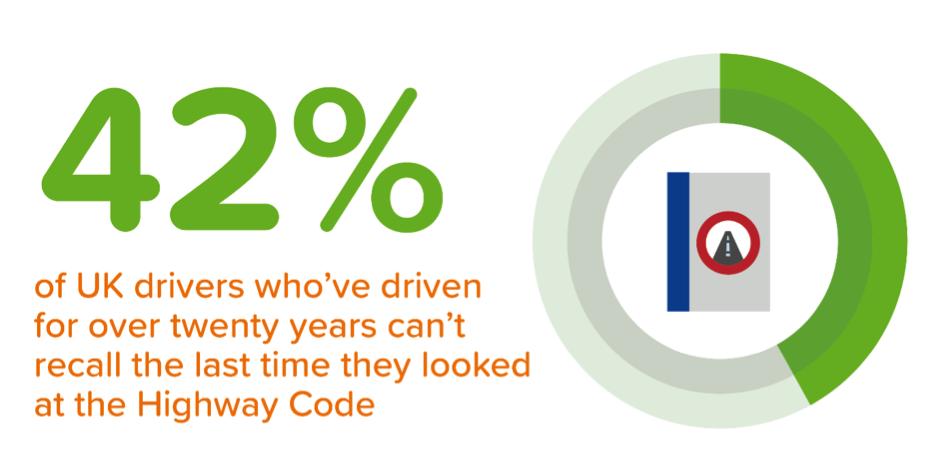 Share this Image On Your Site
Although the over 45's proved they had the greatest number plate knowledge, we found that 42% of them could not remember the last time they read up on their road law.
This has far-reaching implications that extend beyond just number plates. In order to make the roads as safe as possible for drivers, cyclists and pedestrians alike, all drivers should have a thorough and up to date knowledge of the Highway Code.
This has far-reaching implications that extend beyond just number plates. In order to make the roads as safe as possible for drivers, cyclists and pedestrians alike, all drivers should have a thorough and up to date knowledge of the Highway Code.
The Highway Code changes incredibly frequently - there have been nine updates to it in 2018 alone! With that in mind, it's crucial to keep your knowledge up to date.
Conclusion
Overall, it's clear that there's quite a lot that UK drivers still need to learn about number plate law. They're unsure about how a plate can meet or fail legal requirements, are unaware of how big a fine they could face for breaking them, and many drivers may have unknowingly broken the law by purchasing from illegal suppliers.
As a leading UK
number plate maker
, we've written up everything you need to know about DVLA number plate law, to ensure all car and motorbike number plates alike are ready for life's journeys.