Find what's right for your vehicle
Enter your registration number and we'll only show you appropriate products.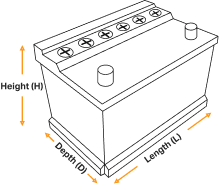 Check which battery is right for my car
The engine mounts in your vehicle are made of rubber and metal, with both materials equally as important and playing a huge role in keeping the engine fixed in place. The metal is valuable for withstanding extreme torque, forces and temperatures produced by the engine, whereas the rubber prevents the engine from jarring and allows the engine to absorb vibrations. The result is less noise and a more comfortable ride with fewer vibrations. As with all
car parts
, engine mounts are subject to general wear and tear as your car gets old. Also, heat from the engine can cause the engine mount to weaken. Without a solid and sturdy engine mount, you'll experience harsh vibrations, sudden shakes and potentially loud noises coming from inside the engine bay. Cracks in the rubber can also cause these problems, which is why it's important to act on any of these faults as soon as possible. At Halfords, we understand the importance of quality
engine parts
, which is why we offer an outstanding range of engine mounts for all car makes and models. We've also created a lookup tool which automatically pulls relevant products that match your vehicle registration number. Once you've found the products you need, use our convenient click & collect or delivery service to get hold of your products sooner. If you're still unsure which products you need, head down to your
local Halfords store
where one of our team will be happy to help you out.