Find what's right for your vehicle
Enter your registration number and we'll only show you appropriate products.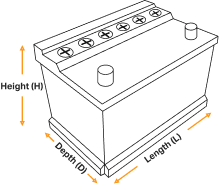 Check which battery is right for my car
About our suspension arms
Providing a link between the frame of your car and the suspension system, the control arm is designed to provide a comfortable ride and is attached with the aid of bushings. Most cars today feature two lower suspension arms, but some have three or four arms - it all depends on the make, model and age of your vehicle.
Suspension Ball Joints
The joints are responsible for connecting the suspension arm and the steering knuckle, and as you drive helps to absorb bumps in the road. And while both the arm and joints are exceptionally strong, they are subject to wear because they are in constant use.
We recommend that you replace your suspension arms and joints every 90,000 to 100,000 miles. Depending on the type of car you own, suspension arms and joints come in a range of shapes and sizes.
When do you need to replace a suspension arm?
Common signs that your suspension arm and suspension arm ball joint need replacing are things like vibrations and loud clunking sounds, especially when driving on uneven surfaces. If you detect either of these problems, you should visit your local Autocentres store as soon as possible. Within our range, you'll find a selection of arms and joints for all car makes and models, and to help you locate the products you need, we've built our very own vehicle registration lookup tool.
Once you've found the products you need, use our convenient click & collect or delivery service to get hold of them sooner. Still unsure which products you need? Head to your local Halfords store where one of our colleagues will be happy to assist you.