Find what's right for your vehicle
Enter your registration number and we'll only show you appropriate products.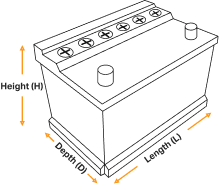 Check which battery is right for my car
About our track rods and ends
Steering systems rely on a fully-functioning track rod, also known as a tie rod, which connects it to the wheels. Composed of two rods - an inner and outer rod, they are both responsible for steering your car. To ensure your car moves in the direction you turn the wheel, the track rods and steering system need to be fully aligned. With the outer rod attached to the steering knuckle, the inner rod connects to the steering rack and pinion.
Track rod ends
The track rod end ball joint connects the track rods to the steering rack. Although they are a small car part, your vehicle won't be able to turn without them. This is because the track rod ends swivel to allow the wheels to turn.
Track rod end symptoms
Intense pressure can cause them to lose lubrication, which can offset your steering and affect the wheel alignment. One of the most common symptoms is vibrations in your steering wheel. Also, faulty track rods are a main cause of worn tyres, where you might see wear on only one side due to an uneven tie rod.
Track rod and track rod end replacement
We recommend that you replace the track rods on both sides at the same time as this will influence equal wear. At Halfords, we offer a range of track rods and ends for all car makes and models. To locate yours, simply enter your vehicle registration number into the tool provided and our system will pull relevant products suited to your car. Once you've found the products you need, rely on our trusted delivery service or collect from your local Halfords store.