Wheel Bearings & Wheel Hubs
Find what's right for your vehicle
Enter your registration number and we'll only show you appropriate products.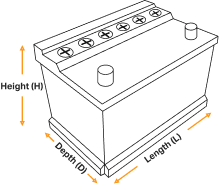 Check which battery is right for my car
Wheel Bearing Information
What is a wheel bearing?
Located within the wheel hub, wheel bearings are a set of steel balls enclosed by a metal ring. They are located on a metal axle shaft and responsible for holding the bolts that attach the tyre and the wheel. They support the balancing of the vehicle's weight when turning, which means they wear down over time. Your car's wheels are mounted on wheel hubs, making it an incredibly important car part.
Wheel bearings noise
If you have a bad wheel bearing, it's likely that your steering is offset and you'll hear growling, chirping or squealing when turning. Needing to steer excessively or moderately is alsoa sign you may need a wheel bearing replacement.
How long do wheel bearings last?
Depending on the vehicle, wheel bearings usually last approximately 85,000 to 100,000 miles before they need replacing.
Wheel bearing replacement
Whether you need a front wheel bearing or rear wheel bearing, at Halfords you'll find a great range of products for all car makes and models. To find yours, enter your vehicle registration into the tool provided and our system will pull relevant products. Once you've located the right products, use our convenient click & collect service to get hold of your products sooner. Alternatively, use our delivery service if you'd prefer to have your wheel bearings delivered to your door.
Still unsure which products you need? Head down to your local Halfords store where one of our team will be happy to help you out.