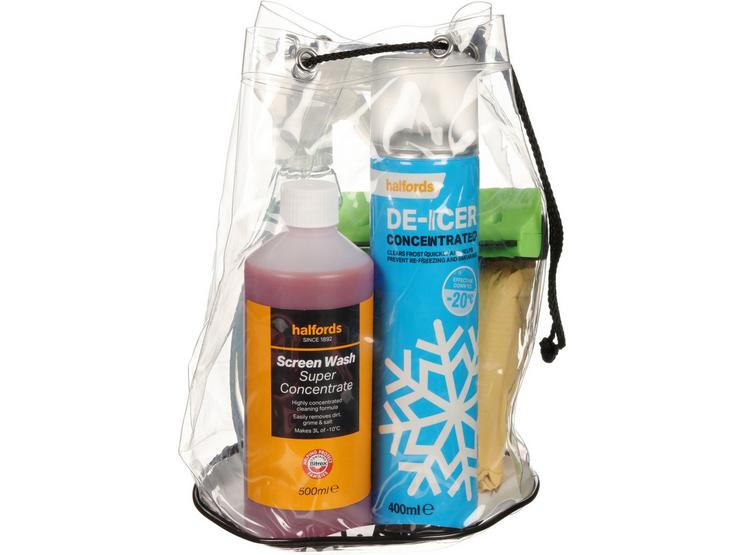 10 people are viewing now
5 purchases during last 48 hours
Halfords 5pcs Winter Kit
The Halfords 5pc Winter Kit is a mix of all the products needed for winter cleaning of your vehicle. The kit contains:
1. The Halfords 2 in 1 Pre-Icer & De-icer
Use this product the night before to help prevent windscreen freezing in the morning.
2. The Halfords Screen Wash Super Concentrate
This formula conveniently gets rid of dirt, grime and salt, giving your screen a lasting shine. Dilute with 2.5 Litres of water to make 3 Litres of -10⁰C screenwash.
3. The Halfords De-Icer Aerosol
It clears frost quickly and helps to prevent re-freezing and smearing. Use by removing any loose ice, snow, sleet beforehand and shake the can thoroughly.
4. The Halfords Ice Scraper, Squeegee & Sponge
It is a great value tool, which has 3 different blades for removal of ice, snow, condensation and water from your car.
5. The Halfords Chamois Demister Pad
It is a great value demister, which is ideal for use in the home or car.
Features & Benefits:
Contains:
Halfords 2in1 pre-icer & de-icer
Halfords Screen Wash Super Concentrate
Halfords De-Icer Concentrate
Halfords Ice Scraper, Squeegee & Sponge
Halfords Chamois Demister Pad
Hazards & Warnings

Danger: Extremely flammable aerosol

Warning: Flammable liquid and vapour
Warning: Pressurized container: may burst if heated

Warning: Harmful if swallowed