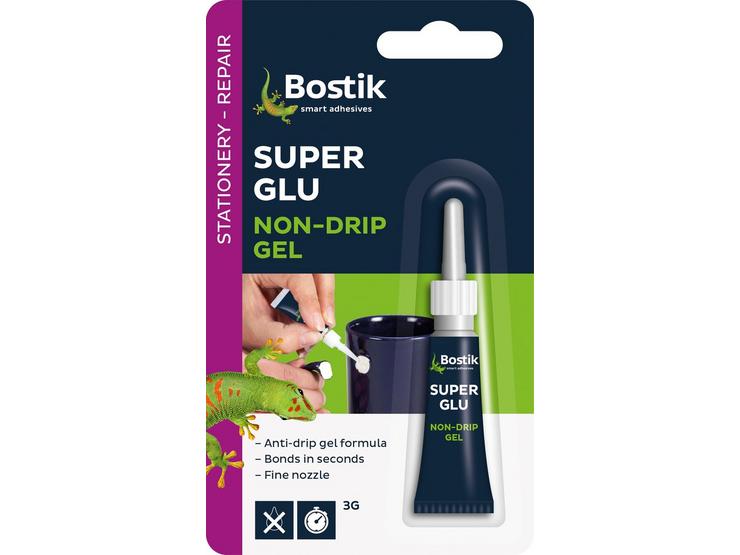 10 people are viewing now
5 purchases during last 48 hours
Suitable For : General repairs
Bostik Superglue Gel 3g
The Bostik Superglue Gel 3g gives an excellent bond within seconds. It is the perfect, quick-fix for household repairs. It is suitable for use with chine, metals, rubber, hard plastics, laminates and many more materials. The gel is designed for a non-drip consistency, meaning less mess and precise application.
The Bostik Super Glue Gel formula is ideal for application to vertical surfaces, porous surfaces and those that are not so well mated. The packaging design allows precise application of the adhesive to small parts. It is ideal for instant DIY repair work in and around the home such as, repairing of figurines, costume jewelry, and toys. It can also be used for handicraft applications and gluing of small parts where clamping is not possible, or for parts that do not fit perfectly together. It is suitable for minor repairs in the car such as a loose rear view mirror or a cracked tail light. It can be used as a thread-lock adhesive to prevent loosening of bolts. It is safe for using in aquariums for fixing of rocks and corals. Use also as a 'temporary fix' to hold things in place.
The adhesive is not suitable for plastics such as polyethylene, polypropylene and Teflon. It is also not ideal for paper, fabrics, glass containing a high alkali content, and expanded rubbers. It is not dishwasher, oven or microwave-safe.
Features & Benefits:
Strong bond in achieved within seconds for quick fixes
Suitable for a wide range of materials
3g tube
Hazards & Warnings

Warning: Causes skin irritation

Warning: Causes serious eye irritation

Warning: May cause respiratory irritation