HALFORDS ROOF BOX FITTING SERVICE
---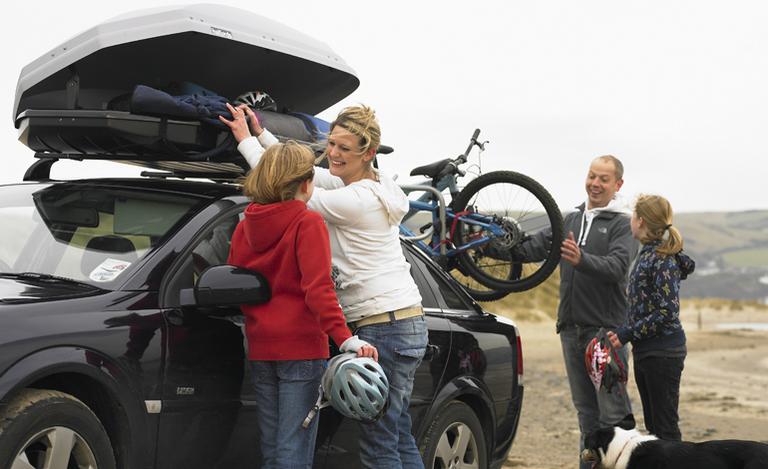 Roof boxes are the perfect solution for long road trips or even just to provide some extra storage space for bags and luggage on your way to the campsite. Choosing the right roof box (and roof bars if you need them) is straightforward once you've used our roof box and bar selector tool and checked the details in our roof bar and roof box buyer's guide, but fitting a roof box can be fiddly, especially if you've never fitted one before.
If you'd rather let us do the hard work, don't forget that Halfords can also fit any roof box for you. As well as fitting your roof box to your roof bars for the first time, we can also show you how attach and detach it yourself, so you'll be able to do it easily next time.
How Do I Get My Roof Box Fitted?
Buying in-store
If you're shopping in-store, just ask a colleague about fitting, and they'll be more than happy to help. Remember that if you're not sure which roof box to go for, they'll happily explain the differences and point your in the right direction.
Buying online
If you're buying your roof box online, then simply select 'add fitting' at the online checkout. You'll then be giving an option to click and collect, so choose a suitable time and remember to head to your chosen Halfords store in the vehicle that you want to fit your new roof bars to!
Shop Roof Boxes Online
How long does it take to fit a roof box?
Roof box fitting varies from vehicle to vehicle, but we're usually done and dusted within the hour. If it's going to take any longer, we'll let you know before we start. Please note that there may be a wait during busier periods, or we may even ask you to come back at a different time.
How much does Halfords' roof box fitting service cost?
If you've already got your roof bars, then we'll fit your roof box for £20/€24. If you need roof bars and would like those to be fitted too, we can do everything for £35/€42.
Is there anything else I need to know about roof box fitting?
Yes - we'll only be able to fit roof boxes and bars bought from Halfords, and all fittings are subject to a pre-fitting vehicle inspection before we start. This ensures the safety of our store colleagues, and that pre-existing damage (if any) is accounted for.

Top tip: while you're at your local Halfords, don't forget to ask us for a free car safety check. We'll give your car the once-over while you're with us us to make sure that you're ready to hit the road happy.

Shop roof boxes online
06/23