Replacement Number Plates
Need some Replacement Number Plates?
If either of your car number plates is cracked, broken, faded or has marks obscuring the letters and numbers, then they're illegal and need to be replaced. Luckily Halfords is here to help - we can make you some shiny new or replacement registration plates* for your car while you wait. We can also make you an extra set of car number plates if you're towing, or using a rear-mount cycle carrier. And that's not all - you can design your plates online too (UK only).
Design your Plates
Pick Your Plate Style
We can supply new standard oblong, square number plates, with different national flags and borders.
We are registered with the DVLA as a supplier of legal UK number plates, which means that all of our new and replacement number plates are completely road legal. Standard number plate prices start from just £18.00 each so if you're looking for cheap number plates, you've come to the right place!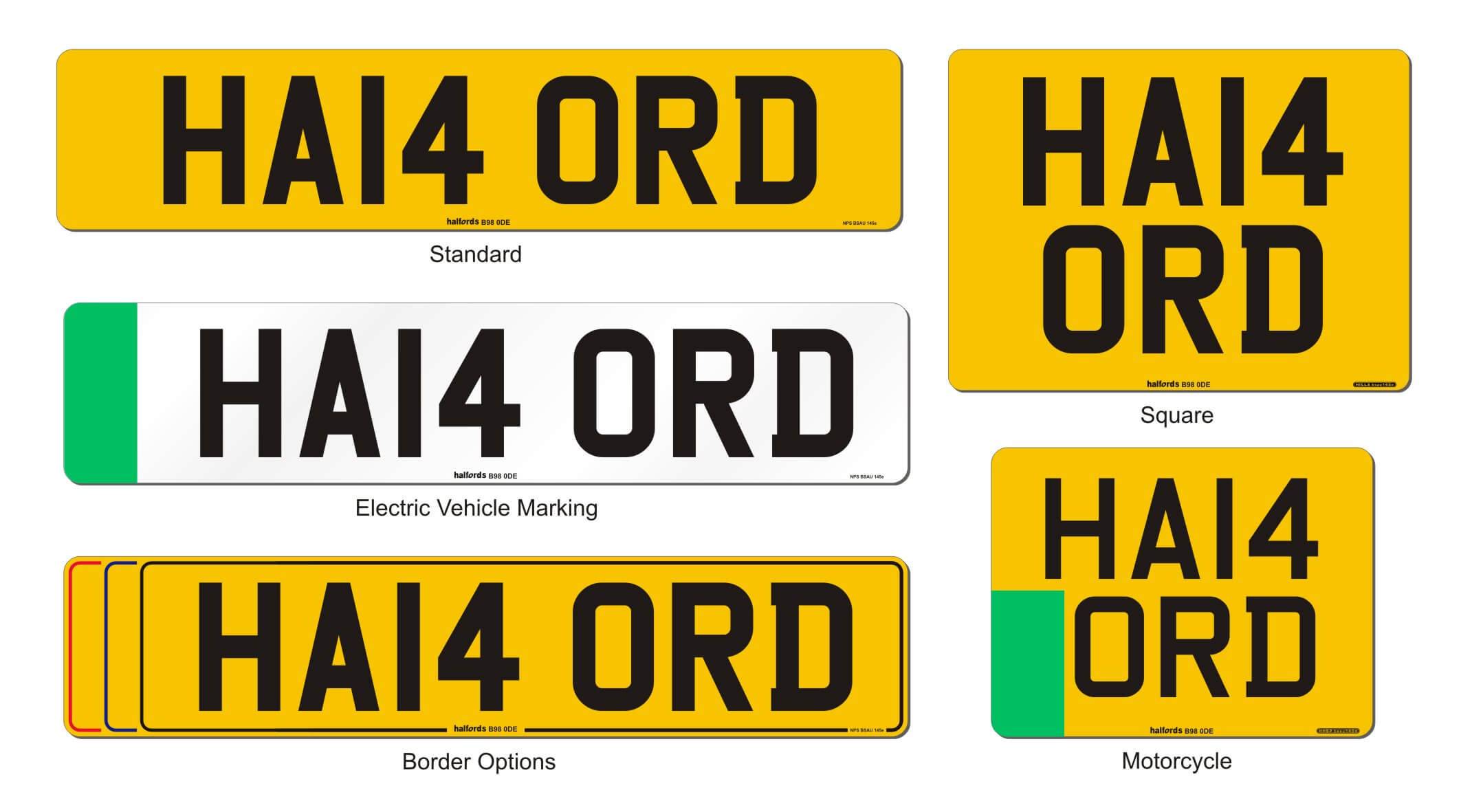 What documents do I need to for Replacement Number Plates?
To get your number plates made you'll need to bring the right documents with you to your local store to get your new plates. The law states that you must provide current proof of identity and proof of entitlement to the registration mark quoted in order to get replacement number plates.
If you reserve your plates online, they can't be made until we have verified your documents instore.
At least one original document from each of the lists below is required for us to supply you with a legal number plate - i.e. you need to bring one document listed under 'proof of identity', and one from the list 'proof of entitlement', required by the DVLA to prove that you are allowed to display the plate. Together, the two documents must let us check your name, address and vehicle entitlement. We only accept the following documents:
1. Proof of Identity:
Driving licence
Bank/Building Society statement issued within the last six months
Current utility, telephone or Council Tax bill issued within the last six months
Passport
National ID card issued by the Government of a state of territory other than the UK
Debit or credit card issued by a bank or building society
Police warrant card
Armed forces identity card
Remember - whichever Proof of Identity document you bring needs to show your name and address!
2. Proof of Entitlement:
A Vehicle Registration Certificate (V5C) (Please be aware only the new red V5C Certificates are accepted, and not the old blue V5 Certificates)
The tear-off slip (V5C/2) from (V5C section 10)
A Certificate of entitlement to a mark (V750)
A Cherished Transfer Retention Certificate (V778)
A Vehicle Licence Renewal (V11)
A Temporary Registration Certificate (V379)
An Authorisation Certificate (V948) from DVLA Local Office with official DVLA stamp, or a downloaded hard copy of the eV948 (Unfortunately we cannot accept forms shown to us on phones.)
A letter of authorisation from Fleet Operators (including a lease/hire company). The letter must quote the document reference number from the V5C
For us to get your registration plates made, you may sometimes need to provide a third document if the two documents brought into store do not show your address. For example, if you bring a debit card and V948 into store, neither document shows where you live - so you'd need to bring in another listed document for proof of address.
Please note: These are legal guidelines imposed by the DVLA, and sadly we can't provide you with new or replacement registration plates without the correct documents!
The eV948
As of March 2015, the DVLA allows you put your personalised number plate registration (PR) number on retention online. You can receive instant confirmation that your personalised number plate has been put on retention, and you'll be told what the replacement registration number for the vehicle will be.
The DVLA also released an electronic version of the V948 certificate, called the eV948. You can download this certificate and present it along with your other paperwork to have your replacement plate made up.
Save Hassle with our Number Plate Fitting Service
It's easy to get number plates made, and here at Halfords we can also fit your new or replacement plates for you - either using adhesive pads to fix the plates to the vehicle, or drilling the plates for you to keep them firmly in place. Our number plates start from £18.00, and we fit your plate for £8.
*Fitting only - price shown does not include number plate cost, only available in the UK.
Pre-booking for fitting may be required. To arrange number plate fitting, please contact your local store. Fitting is subject to vehicle inspection.
Order Replacement Number Plates