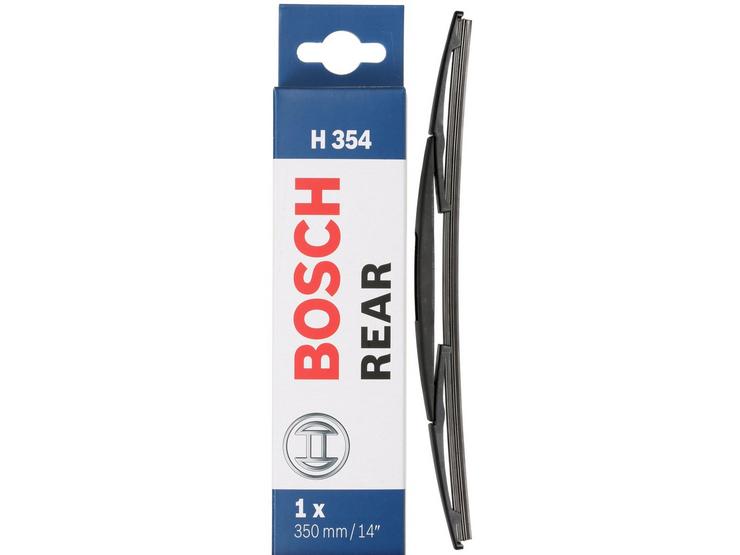 10 people are viewing now
5 purchases during last 48 hours
Manufacturer's quality: Fitted the same as vehicle's original equipment
Expertly fitted in our stores and garages
Bosch Rear Wiper H354
The Bosch Rear Wiper H354 quickly clears any rain and dirt off your rear screen for optimum visibility in bad weather.
Bosch windscreen wipers rely on innovative technology for maximum visibility and optimal safety. Superb wiper performance throughout an extended service life.
The Bosch Rear range of plastic wipers is designed to replace specially designed plastic moulded rear wiper blades. With the growing variety & styles of Estate cars, Hatchbacks, Multi-Purpose Vehicles on our roads, rear screen wiper fitments and styles have become more explicit to each vehicle model.
The Bosch range of rear-screen wipers are not just designed to these exact fitments and styles, they also ensure that your view remains unobstructed with reliable, safe and long lasting high quality.
Features & Benefits:
Manufacturer's quality: Fitted the same as vehicle's original equipment
Expertly fitted in our stores and garages
Designed for safety and visibility
Manufactured to achieve a precise fitment
Dimensions: 350mm
Integrated rear quick clip connections for simplified installations
Natural rubber with graphite coating for quiet application
OE style blade design for best quality
High quality conventional rear wiper blade
Fitted with Bosch's patented quick-clip adapter
Patented metal spring strip for consistent and even contact pressure
Long service life due to wear-resistant double wiper blade edge, and a special graphite coating providing smooth gliding and quiet operation
Blade element with soft flexible rubber spine for less wiper noise
Superb windscreen cleaning thanks to a hard rubber with micro double edge precisely cut for smear-free wiping
Fitting instructions included on packaging for all wiper blades
Compatibility:
HONDA CR-V [RE] 01.07-11.12
HONDA Jazz [GD] 03.02-12.08
HONDA Jazz [GE/GG/GP] 10.08-12.15
HONDA Jazz [GK] 09.15->
INFINITI EX [J50] 04.08-06.14
INFINITI FX [S51] 07.08-12.14
INFINITI Q70 [Y51] 10.13->
INFINITI QX50 10.13->
INFINITI QX70 [S51] 11.13->
MAZDA 2 [DE] 06.07-12.14
MAZDA 2 [DJ] 10.14->
MAZDA 2 [DY] 02.03-06.07
MAZDA 3 Hatchback [BP] 11.18->
MITSUBISHI Galant Fortis Sportback 12.08-12.09
MITSUBISHI Lancer Sportback [CX] 07.08-08.17
MITSUBISHI Montero [V80,V90] 09.06-07.09
MITSUBISHI Pajero [V80,V90] 09.06-07.09
NISSAN Almera [G15RA] 11.12->
NISSAN Evalia [M20M] 01.11->
NISSAN Leaf [ZE1E] 01.18->
NISSAN Murano [Z50] 09.02-12.08
NISSAN NV200 [M20;M20M] 08.09->
NISSAN X-Trail [T31] 04.07-12.14
SCION tC 09.04-08.10
SUBARU Forester [S12] 12.07-12.12
SUBARU Forester [S13] 11.12->
SUBARU Forester [S14] 05.19->
SUBARU Forester [SG] 06.05-11.07 Length: 340 mm
SUBARU Impreza Kombi [GD,GG] 02.04-06.07 For plastic wiper blade only
SUBARU Legacy Kombi [B14] 06.09-12.14
SUBARU Legacy Kombi [BL/BP] 07.03-05.09
SUBARU Legacy Outback [BL/BP] 07.03-05.09
SUBARU Levorg [VM,V10] 06.14->
SUBARU Outback [B14] 06.09->
SUBARU Outback [B15] 03.15->
SUBARU Tribeca [W10] 11.07-01.14
TOYOTA Corolla [E12] 10.02-08.08 5 doors
TOYOTA Corolla Hatchback [E12,JTD] 09.02-12.06