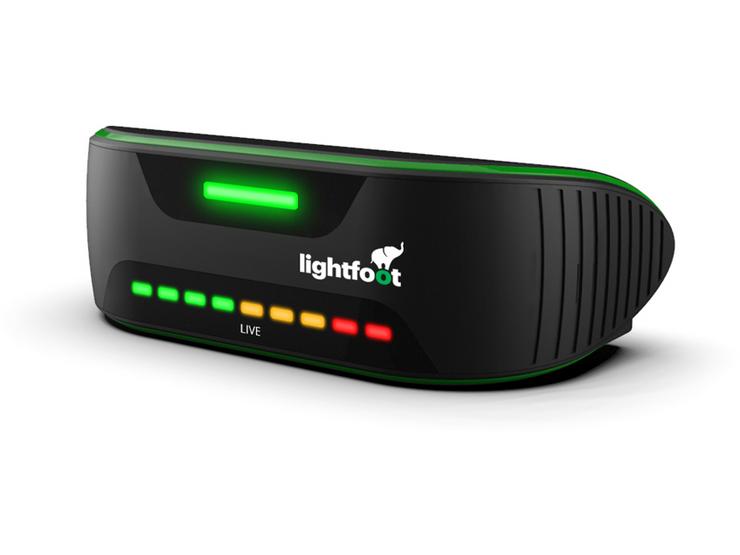 10 people are viewing now
5 purchases during last 48 hours
Smartphone Link : Yes
Dashboard Display : Yes
Lightfoot Private Motorist Edition
Save on fuel (up to 20%)
Reduce vehicle "wear & tear" and maintenance costs
Reduce your emissions
Be one of the smoothest drivers on the road
Enter competitions to win prizes from Lightfoot & sponsors
Earn money for your smooth driving through The Drivers Lottery – all winnings paid securely via PayPal
Lightfoot has been described as the 'Fitbit for cars'. It's the first technology in the world that enables drivers to drastically reduce their carbon footprint, improve their on-road safety and monetise their everyday driving with prizes, discounts and cash in recognition of their smooth driving style.
Lightfoot drivers have access to a unique gamification platform through an intuitive app, meaning users can enter competitions and leagues to win prizes and earn up to £100 cash each week through the 'The Drivers Lottery'. Previous winners have turned their good driving into trips to Paris, Sonos speakers, a year's supply of pies and even meeting and racing against F1 world champion, Nigel Mansell.
Drivers who want the upper hand can even activate Lightfoot's real-time, in-cab feedback to help them achieve the 'Elite Driver' standard. This unique functionality uses F1-style live analytics to help drivers stay within their engine's 'sweet spot' typically resulting in a reduction in fuel costs and emissions by as much as 20% and at-fault accidents by as much as 40%.
Other benefits include: vehicle heath monitoring and fault diagnostic alerts, mileage expense reporting, full system configuration, plus more.
All Lightfoot's data is securely protected.
The potential savings have been proven and demonstrated through over a billion miles of Lightfoot driver data. The environmental savings are validated by the University of Bath. Accident reductions are backed by major UK insurers.

Product Specification:
Device;
Multi-Colour LED feedback light
Auto-dimming to ambient light
Built in SIM (all costs included in monthly subscription)
Built-in GPS for journey reviews
Optional audible feedback with volume control
Plugs straight into OBD2 port*
Internal battery (LiPo)
*All cars from 2006 onwards have an OBD2 port. Some cars from 2001 to 2006 have one.
Fitting Kit (included);
Easy installation guide
Ultra-slim OBD2* plug (no wires to cut or holes to drill)
High grade, UV resistant window clip/bracket
3M die-cut adhesive pad (plus one spare)
Lightfoot sticker (internal or external use)
Cable tidy tool
Cable ties
Smartphone App (iOS & Android)
;
Track & monitor your score
Enter new competitions every week, including The Drivers' Lottery
Claim rewards & discounts
Create leagues to compete with your friends & family
Vehicle health monitoring
MOT & tax reminders
What's in the box:
Lightfoot device
Window clip & adhesive strip
3-step installation guide
On-going service
(free of charge for 12 months, thereafter £3.99 per month) includes
:
Driver App – Gamification and Rewards
Connectivity (integrated SIM card)
Entry to prize & cash competitions, including The Drivers' Lottery
Create your own leagues to compete with others
Vehicle health monitoring (fault diagnostics & alerts)
Business mileage expense reporting
MOT & tax reminders
Ability to adjust your Lightfoot settings
Automatic software updates & new features sent "over-the-air"