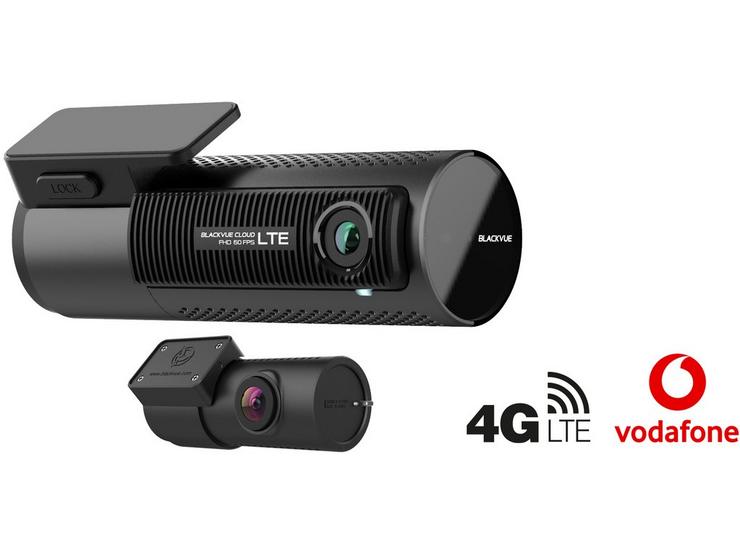 10 people are viewing now
5 purchases during last 48 hours
Resolution: 1080p
LTE: Built in to remote live view footage
Rear Camera Included: Yes
BlackVue DR750 2 Channel LTE
Front/Rear Dash Cam with 32GB microSD Card
Built-in 4G SIM reader for 24/7 Blackvue Cloud connectivity and alerts anytime, anywhere
Dual Full HD 1080p with smooth 60 frames per second video (rear 30fps)
Built-in GPS adds optional location and speed data overlay to recordings
Wi-Fi for wireless connection to smartphone or tablet via BlackVue app
139° ultra-wide viewing angle captures every detail of the story
Intelligent Park Mode protects your vehicle while you are not around
Impact Detection, Motion Detection and Time Lapse Recordings
Enhanced Night Vision for optimal low-light video quality and clarity
32GB microSD memory card included as standard
Discreet stealth design and quick release windscreen mount
BlackVue App for iOS & Android – easily change settings and view recordings
Includes Vodafone V-Sim, 40GB monthly data allowance for only £4.00 per month
4K recording and connectivity
The BlackVue DR750 2 Channel LTE is more than just a dash cam, it is an advanced video surveillance system for your car. It features built-in 4G LTE connectivity, meaning you are always connected, enabling unique features like Remote Live View, letting you monitor your vehicle from anywhere in real time.
With Full HD 1080P performance, the DR750 2 Channel LTE provides class-leading protection via an ultra-wide lens with a 139° viewing angle. A Sony STARVIS image sensor ensures the best possible image quality under any lighting conditions. Also included is GPS logging, Wi-Fi, Cloud-connectivity and impact and motion detection. All this in a stealthy compact design.
4G LTE Built In & Blackvue Cloud
The DR750 2 Channel LTE is also compatible with BlackVue Cloud - a unique suite of LIVE app-based features that remotely connecting you with your vehicle, providing additional functionality including Live View, Remote Video Playback, Video Backup, Realtime Tracking and Emergency Notification Alerts.
The DR750 2 Channel LTE comes with a free Vodafone V-Sim, simply activate your data plan via the Vodafone Smart app and you are up and running in minutes. Take full advantage of the DR750 2 Channel LTE's unique LIVE cloud-based features with a massive 40GB monthly data allowance for an unbeatable £4.00 per month.
Let your BlackVue watch over your car, informing you immediately of incidents such as impacts, via Push Notifications to your smartphone. Connect to your BlackVue dash cam anytime, anywhere, to Remote Live View, play recorded video clips remotely and back-up important ones to the Cloud or your phone.
Parking Mode
BlackVue's Intelligent Parking Mode is ideal if you worry about hit-and-runs, theft or vandalism while your vehicle is parked and left unattended.
The DR750 2 Channel LTE automatically switches to Parking Mode when the ignition is switched off, and will continue to monitor your vehicle, recording and storing events for review later – or alerting you in real time via the BlackVue app.
Add a BlackVue Power Magic PRO to your setup and its power management circuitry will ensure that your camera will never deplete your vehicle's battery when operating overnight, switching-off should the car's battery level drop below a pre-set level. For extended recording times simply add a Power Magic Ultra Battery B-124X.
The DR750 2 Channel LTE supports two Parking Mode options, Motion and Impact Detection, and Time Lapse.
What's in the box
DR750 LTE front camera
DR750 LTE rear camera
Cigarette socket power cord
Rear camera connection cable
Quick-start guide
SIM activation guide
Vodafone V-SIM - SIM card – requires data plan
Adhesive pads for mounting bracket
Pry tool
Cable clips (x8)
32GB microSD card
microSD card reader
SIM card eject tool
How simple is it to set up the DR750X 2 Channel LTE in my car?
The DR750X 2 Channel LTE is powered from your vehicle's 12V socket and the front camera is mounted on the windscreen with a quick-release bracket. The rear camera is then plugged in and run to the rear windscreen.
The DR750X 2 Channel LTE is supplied with a hardwire power cable if you'd prefer to take power directly from the vehicle.
BlackVue's optional Power Magic Pro accessory will power the DR750 2 Channel LTE in Parking Mode while protecting the vehicle's battery from becoming depleted.
Another powering option is the BlackVue Connecta Power Pro cable (sold separately), which simply plugs into your car's OBD port and provides the same Parking Mode functionality.
Alternatively, Halfords provides a cost-effective installation service for anyone who would like a tidy install with discreet wiring. Simply select the fitting option when you add the dash cam to your basket.
How much recording time can I expect from the supplied 32GB SD card?
Recording capacity is dependent on the camera's quality setting. In 'Highest' resolution mode for example, the DR750X 2 Channel LTE will record for 2 hours 50 minutes before beginning to overwrite the oldest files.
Any EVENT files held on the card (clips of incidents, accidents, etc.) are locked and protected and won't be overwritten.
Larger capacity SD cards can be purchased if longer recording times are required. Make sure that you only use BlackVue branded cards due to compatibility issues with cards that don't meet the required performance requirements.
When in Parking Mode and recording overnight, won't the DR750X 2 Channel LTE run down my car's battery?
The addition of the optional BlackVue Power Magic Pro to your setup means that power to your DR750 2 Channel LTE will be cut-off when the car battery reaches a pre-defined voltage, ensuring that it will never become depleted.
Alternatively add a BlackVue Power Magic Battery B-124X battery pack to your system and your DR750X 2 Channel LTE will record overnight without ever needing to draw power from your vehicle.
Do I need a 4G data SIM to use the DR750 2 Channel LTE and is there a monthly cost?
The DR750 2 Channel LTE is supplied with a Vodafone 4G data SIM card, and BlackVue has negotiated an extremely cost-effective data plan, providing 40GB of monthly data for only £4.00 per month. Simply activate the data plan via the Vodafone Smart app and you'll be up and running in minutes.
Why would I want my dash cam to be 4G connected?
By having a dash cam that's always connected to the BlackVue Cloud, you can enjoy a host of Live connected features including Remote Live View and Real Time Tracking.
Feel safe in the knowledge that if anything happens to your car, you'll receive a live notification through the BlackVue Cloud app on your smartphone, allowing you to view and download footage of the incident remotely.
What's the warranty period on a BlackVue dash cam and how can I access technical support for my device?
BlackVue dash cams carry a one-year manufacturer's warranty. For support, warranty or product queries, BlackVue UK operates a dedicated telephone support line for Halfords customers on 01555 709725. This service is available on Monday to Friday between 9.00am and 5.30pm.
Alternatively, a Live Chat service is available at www.blackvue.uk or email enquiries can be sent to support@blackvue.uk.