Halfords Car Audio Fitting & Installation Service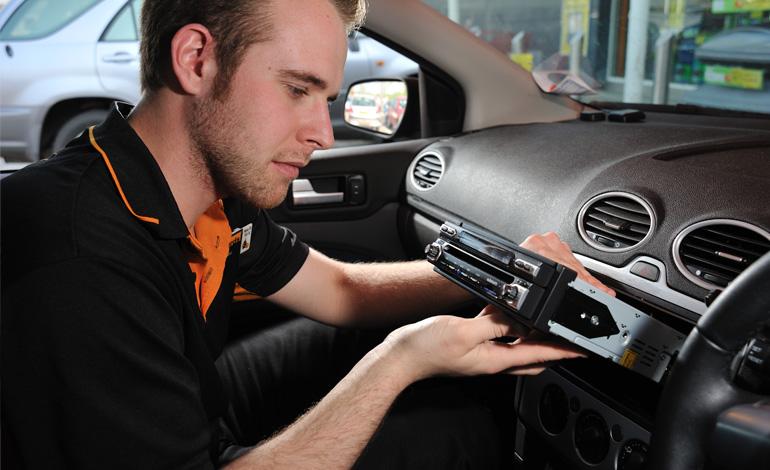 IIf you fancy a new sound system in your car, you can rely on Halfords to get the job done! We can install your new car stereo, DAB radio, speakers, subwoofers or amplifiers*.
Car Stereo Fitting
Our car audio experts can fit brand new stereos into over 95% of car models. We can swap your factory-installed car stereo and replace it with an after-market stereo from our wide range, including replacement fascia plates to complete the look!
How much does car audio fitting cost?
All of our car stereos come with a fully fitted option, so when you buy your stereo you've got the option to get everything fully fitted as part of the total price. This will vary depending on the purchase price of the stereo itself. Along with the fitting, we'll also give you a full demonstration, so you know exactly how to use your new stereo system.
We guarantee a secure and reliable fit for 12 months after we've installed your new audio system, so if anything does goes wrong, we'll happily fix it for you.
Car audio fitting carried out by fully qualified fitters
Our car audio experts have completed hundreds of thousands of installations and are fully certified too, so your car will be in safe hands!
How Do I Get My Car Stereo Fitted?
If you've already purchased your stereo at Halfords and would now like it fitted, please contact your local store to arrange a fitting appointment at a time convenient to you.
If you're buying your stereo in-store, speak to one of our car audio experts who'll be more than willing to help you out!
If you're buying your stereo online, you can also choose to have it fitted by following this process:
Choose a stereo and click on its product page.
Under 'Step 1: Add Fitting Assessment', choose the 'Fitting Assessment' option.
Under 'Step 2: Check Availability', choose a date, time and location that suits you for your fitting assessment. Then click 'book selected slot' to add the stereo and fitting to your basket.
Complete the checkout process.
Your fitting assessment will last about 30 minutes. During this time, one of our experienced technicians will double-check that the stereo you've chosen is suitable for your car, that it can be installed seamlessly, that it will work with your existing controls and that we have the correct parts to complete a high-quality installation.
Once the assessment is complete, the technician will be able to advise you on next steps and book you in for a full fitting appointment on a day and at a time that suits you. The full fitting should take about an hour or so and then you'll be on your way with a brand-new stereo to enjoy!
In-car entertainment advice at Halfords
At Halfords, we can provide as much free help and advice about in-car technology as you need. Something caught your eye? Not sure if a certain sound system is compatible with your car? Just ask us and we'll happily explain.
*Our fitting service is only available on products purchased from Halfords.
Due to safety reasons, we are currently only able to carry out interior car fitting on vehicles that have an Air Re-circulation System. This includes air conditioning systems, heaters or air vents. If you are unsure whether your vehicle meets this criteria, please speak to one of our experts.
Shop Car Audio