Road maintenance spending: which councils are spending the most?
A 2021 study into local road maintenance across the UK found that councils faced £400m in cuts last year—the equivalent of fixing or preventing more than 9.5 million potholes. Of course, the Covid-19 pandemic is partly to blame, causing countless cancellations to key planned work. But is the recent belt-tightening of council coffers a true reflection of expenditure over the past decade?
Halfords submitted an FOI request for 36 metropolitan and London borough councils to find out. We sought to analyse how much these regions have spent on general road maintenance, determining which councils have prioritised public necessities like street lighting, electric vehicle support, drainage, cycle lanes, and green recovery. You can see our findings, below.
Top 10 councils that have spent the most on road maintenance over the last decade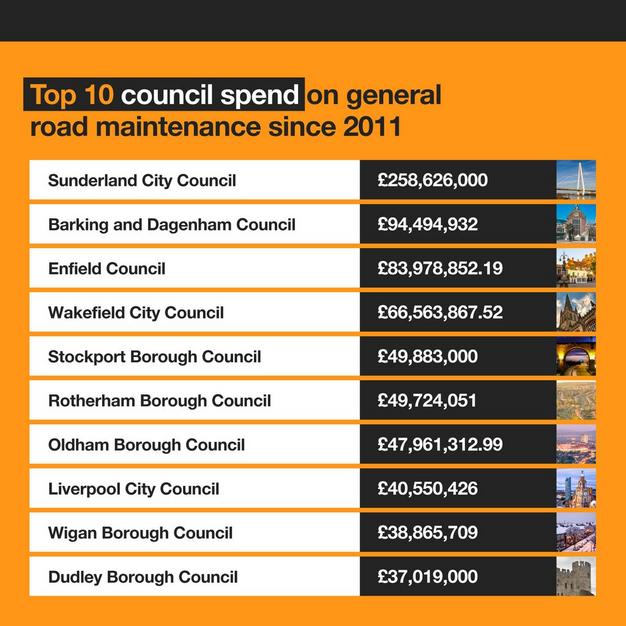 When it came to researching regions with the highest road maintenance expenditure over the past decade, there was one clear winner: Sunderland City Council. Over the past ten years, the northeast city has spent 173.7 per cent more on average than the second most free-handed region, Barking and Dagenham Council. And there are no signs of this changing. The port city recently allocated £8.74 billion towards building 243 highways and maintenance projects across the area. Our statistics also show that Sunderland invested more than any other council on road maintenance in 2016-2017, totalling £42,913,000.
Top 5 councils that have spent the most on drainage investment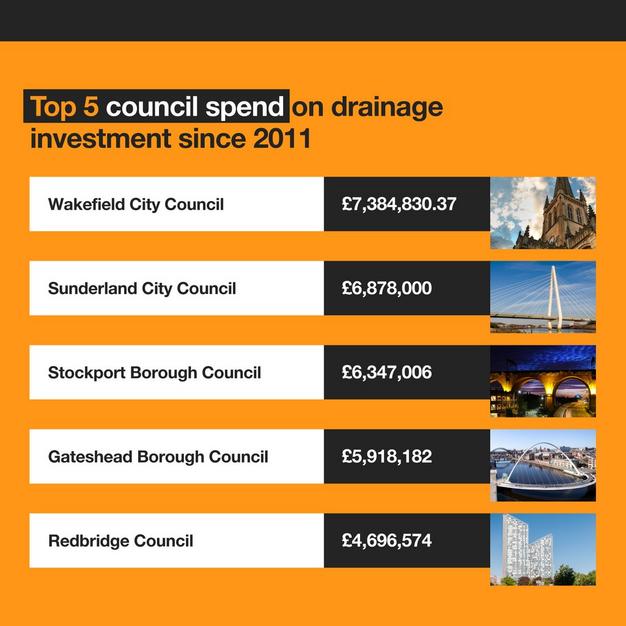 It's no secret that West Yorkshire has experienced its fair share of flooding over recent years, with recent reports suggesting that thousands of homes are still at risk from heavy rainfall. For that reason, Wakefield City Council, one of the worst affected areas, tops the charts for drainage expenditure. The cathedral city based on the east edge of the Pennines spent more than any other council in 2012, investing £1,228,351.57 into gullies and more resilient highway networks—and continues to do so. Followed closely behind is Gateshead Borough Council, which boasted the most considerable drainage spend in 2015-2016, putting £1,944,842 towards similar preventative measures.
Top 5 councils that have spent the most on lighting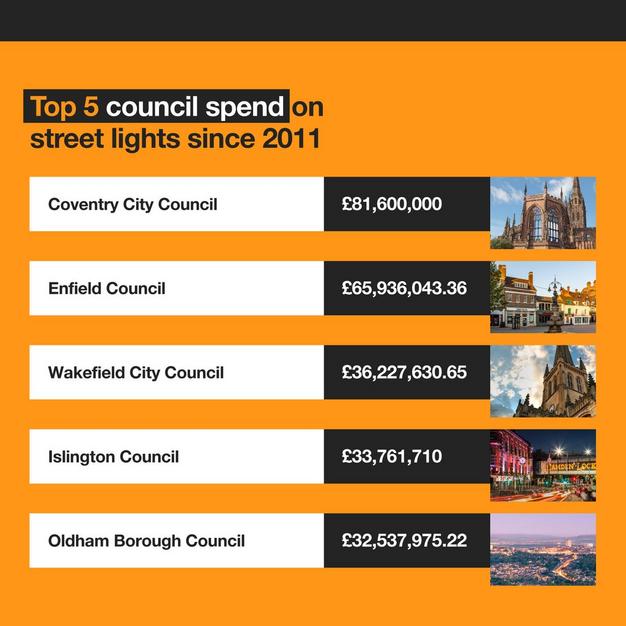 As the table shows, Coventry City Council has led the way for lighting expenditure over the last decade. That's thanks to the multi-million-pound 'Lighting Coventry' initiative, which commenced in November 2010 as part of an operation to replace thousands of columns with new modern equipment. Implementing low wattage LED lights and energy-efficient lanterns across the city has contributed to the £81,600,000 spend we see above. Similarly, Islington Council has spent £29,504,112 on street lighting over ten years, including a £4,257,598 investment in more efficient LED bulbs. Looking at 2020-2021, Enfield Council parted with the most money — around £9.5 million on lighting projects alone.
Top 5 councils that have spent the most on EV investment since 2016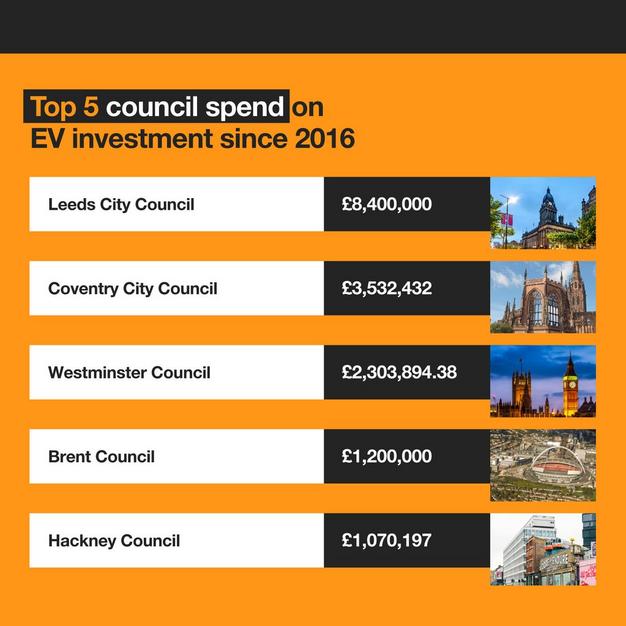 Over the last 5-10 years, the UK government has pushed local councils to invest in electric vehicle infrastructure as part of their ongoing net zero-emission targets set for 2030. These strides towards green economic recovery have culminated in sizeable grants. As we can see, one such region that has taken advantage of this allocation is Leeds City Council. They have spent around £8.4 million since 2016, of which £2.9 million came from the government. The money has supported LCC fleets (£5,319,000), public charging ports (£1,076,500), and other EV related projects (£2 million). Likewise, Coventry City Council is doing its part to forge a greener future for residents, having invested £1.8 million into electric vehicle initiatives during 2019-2020—more than any other council during that time.
Top 5 councils that have spent the most on green recovery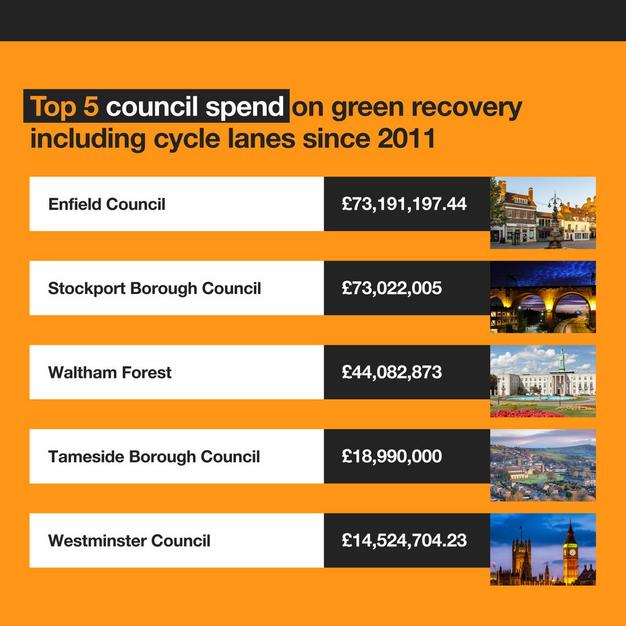 Enfield Council is on a mission to make the region's road networks greener and more accessible for cyclists. One such project is Cycle Enfield, an initiative set on transforming the borough's high streets by promoting more active forms of travel to improve health and reduce pollution. But the installation of semi-segregated cycle lanes, pedestrian crossings, and improved pavements hasn't come cheap, having eaten into a considerable chunk of the £73 million spent over the last decade. That's despite several rounds of funding from the government's 'active travel' scheme. Our data also showed that like-minded Tameside Borough Council invested around £18,000,000 in 2017-2018 on green spaces and cycle paths —more than any other council that year.
Methodology
Halfords submitted an FOI request in November 2021 seeking information relating to council spending on road maintenance between 2011 and 2022. Thirty-six metropolitan councils and thirty-six London borough councils were contacted in total, including the City of London itself. This data was collated and analysed in February 2022 following participation from thirty-eight of the aforementioned councils. The information related to the following data points:
General road maintenance
Drainage investment
Street lighting
EV investment
Cycle lanes and green recovery
Data is available on request.