Back to results
Camping Cooking Tips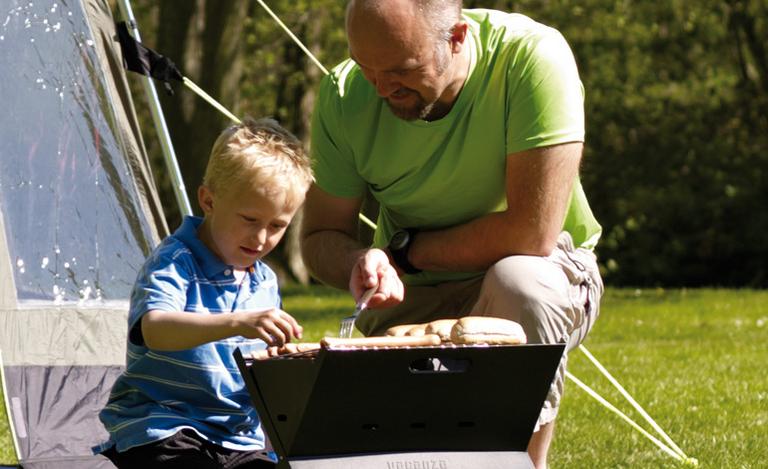 If you fancy rustling up some delicious grub on your next camping trip then be sure to read our camping cooking tips.
Camping Cooking Tips
Cooking and eating in the great outdoors is one of the most enjoyable parts of camping, so we've put together some camping cooking tips to help you rustle up some tasty al-fresco cuisine on your holiday - no more living off tins of beans in the campfire!
Outdoor Cooking Equipment
Be sure to take these camping cooking essentials:
A gas stove or BBQ. Check what your campsite allows first. Don't forget the fuel or gas!
Pots and pans. Buying a camping cookset is a great way to get all the basics in one go.
Tin foil - perfect for keeping food warm, or for wrapping up jacket potatoes and popping them into the fire.
Cutlery, plastic cups and plates, a chopping board, cooking utensils, a tin opener, and a corkscrew/bottle opener. Kitchen roll, scourers and tea towels are also vital.
A coolbox to keep your food chilled - Halfords sell handy electric coolboxes that you can plug into your car's 12v lighter, as well as a mains adaptor.
A water carrier to save you trekking to the tap and back every few minutes.
Cooking while Camping - Top Tips
Do as much food prep as you can at home - chop up vegetables and store in zip-locked bags until you need them.
Take an empty ice-cream box and fill it with small bags of salt, pepper, sugar, dried herbs, spices, stock cubes etc. - then add to dishes for a bit of a flavour boost.
Pack lemons and limes - great for squeezing over fish or salad, they can also be used for cleaning a chopping board.
Dried food such as pasta, rice or noodles can be added to dishes to bulk them up - perfect for feeding a group of hungry campers.
Keep drinks in a separate chiller to avoid constantly opening the food coolbox. A bucket of cold water is a great way to keep cans and bottles cool.
Very important safety tip - never ever take a smouldering or lit BBQ into your tent - even after you've finished using it. The BBQ will carry on giving off carbon monoxide fumes for several hours, which can cause lethal carbon monoxide poisoning. It's always safer to cook outside your tent!
Camping Cooking Equipment at Halfords
We've got plenty of camping cooking and dining equipment to help you whip up some tasty grub on your holidays. Reserve camping cooking equipment online and collect from your local store, or click and collect online for home delivery. Don't forget we also have plenty of camping furniture, sleeping bags and air beds, and handy camping accessories - pretty much everything you could ever need for camping success!
See all Camping