Camping with Kids is Easy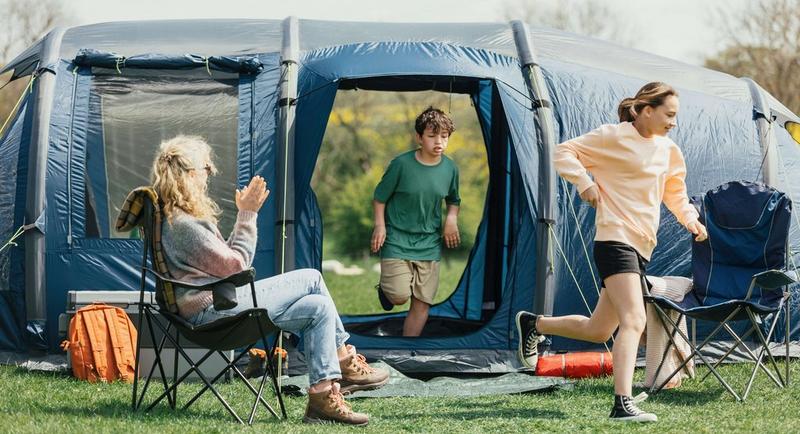 Camping with kids in the great British countryside is a fantastic way for them to get outdoors and have some fun together as a family. Camping in the UK can also be a cheaper option than costly trips abroad, as well as providing a great adventure.
However, knowing what to take when camping with kids can be a challenge. It's essential to be well prepared to ensure they have everything they need, as well as keeping them well occupied.
We've put together some tips for camping with kids to help you have an enjoyable family camping trip.
Camping with kids checklist
Child-friendly campsites
It may seem obvious but try and choose a campsite that has facilities for children, such as a playground, kids club or swimming pool, so there's lots to keep them entertained on-site and keep boredom at bay.
Family tent
Consider whether you all want to stay together in a large family tent. For older kids, it may be more fun to let them sleep in their own pop-up tent.
Plan your route
When camping with kids, it's important to plan your route well to avoid taking any wrong turns and creating an unnecessarily lengthy journey. Try to arrive as early as possible so you have plenty of daylight to set up. You could even get the kids involved in helping to set up to keep them occupied.
Toys and games
Take plenty of outdoor toys and games for when the weather's good, as well as books, tablets, portable DVD players and games consoles to keep the entertained when in the car or during rainy days.
Camping rules
If you haven't been camping with the kids before, explain to them the rules of the countryside and the campsite, such as closing gates and being quiet after dark. This will help keep them safe and make the trip more enjoyable for all campsite guests.
Things to do when camping with kids
Camping is great for discovering the great outdoors, so take the opportunity to let the kids do some activities that they might not get to at home.
Hiking
Hiking is a great way to explore the area, get some fresh air and take in the picturesque scenery. Physical activities are also likely to help them get a good night sleep in the evenings!
Fishing
Many campsites in the UK have fishing nearby and is a great activity to do as a family. Keep kids engaged by explaining different fishing methods and the kinds of fish they might find.
Canoeing
Canoeing is a great adventurous activity for little ones and to get out on the water together. If they are apprehensive, try and incorporate other things for them to look forward to afterwards such as a picnic.
Horse riding
If your little one is an animal lover, they'll love an afternoon of horse riding. It's a great way for them to bond with animals as well as experiencing the local surroundings.
Archery
Archery is a great activity for helping kids improve their hand eye co-ordination, confidence and patience. This fun activity will help enhance life skills whilst keeping them engaged.
Day at the beach
A day at the seaside is a great way to let kids let off some steam. There are plenty of beach activities to keep them entertained from building sandcastles to paddling to enjoying a cheeky ice cream.
Setting up
Try to involve the children in the whole camping experience, such as helping to pitch the tent, set up any camping equipment and prepare meals. Hopefully they'll learn new skills that they can carry on into their adult life.
Camping equipment from Halfords
It's important to take the right gear when camping with kids so that everyone is warm and comfortable. The basics are a decent tent that will shelter you from the weather, sleeping bags, camping mats or airbeds, pillows, and a few torches for night-time trips to the loo.
Halfords has a massive range of camping equipment online - why not let the kids choose some products to help them get excited about their camping holiday?
For a full list of everything you should take, check out our essential family camping checklist most of which you can get from your local Halfords store. Simply reserve your camping gear online and collect it in-store, or have it delivered straight to your home.
View all Camping