Back to results
The Best Bike Lights For Darker Nights
Find out how bike lights work, and which things to look out for when choosing the best bike lights.
The Best Bike Lights for Darker Nights
---
Longer nights shouldn't prevent you from putting some miles in, or taking the bike to work. Bike lights make cycling in the dark safer and are a good idea on overcast and dark days too, especially when the weather reduces visibility for both riders and other road users. This guide explains how bike lights work and which things to look out for when it comes to choosing the best bike lights.
How do bike lights work?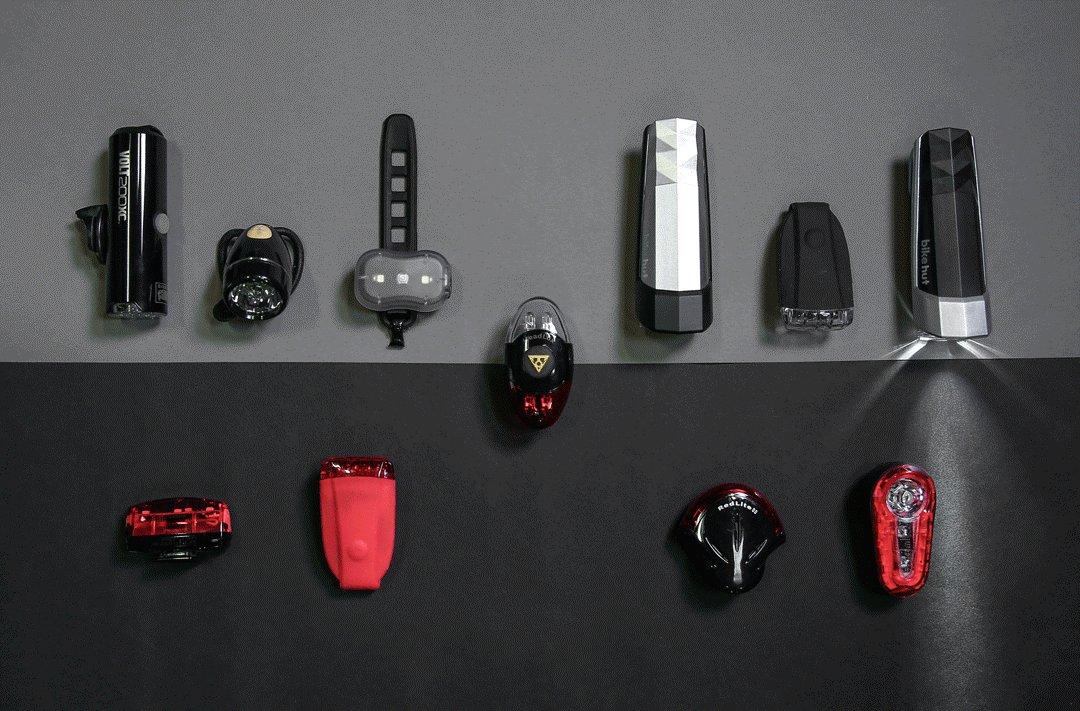 Just like car headlights, bike lights have several functions. As well as lighting up the route ahead, bike lights also make other users aware of your presence and will even act as a reflector if a car headlight or other bike lights shines on it.
Most bike lights now use LED technology rather than conventional bulbs that aren't as bright and don't last as long. More powerful LEDs will let you see further, but they may end up draining your battery much quicker.
Bike lights attach to the front or rear of the bike, either on the handlebar or seat column with the help of a specially designed bracket or straps. Bike lights are usually switched on with a small button on the light itself, but cyclists can make things easier with the help of a bike light remote control. Halfords can even install this brilliant piece of kit which means your bike lights can be switched on without the need to stop.
Are bike lights a legal requirement?
Bike lights have been a legal requirement since 1988 and riders can face a fixed penalty notice of up to £50 if they don't have them. Lights also need to be 1500mm off the road and need to be fixed to the bike, so a helmet light isn't a substitute for a front light. You'll need a white light at the front of the bike, and a red light at the rear. Any additional lights that face forwards will need to be white and those facing backwards red. Blinking lights are legal too, but the current status of bike light legality is confusing. The BS6102/3 standard is what the police will refer to if they want to take a look at your bike lights, but in reality, the only thing they'll really be bothered about is that you've actually got lights in the first place.
It's also worth remembering that pedal reflectors are also a legal requirement, so make sure your pedals have amber reflectors and that you have a red reflector on the back of your bike. All Halfords bikes come with pre-installed reflectors and many rear lights will reflect even when they aren't switched on, but if you're building your own bike you'll need to remember to install or re-attach your own bike reflectors.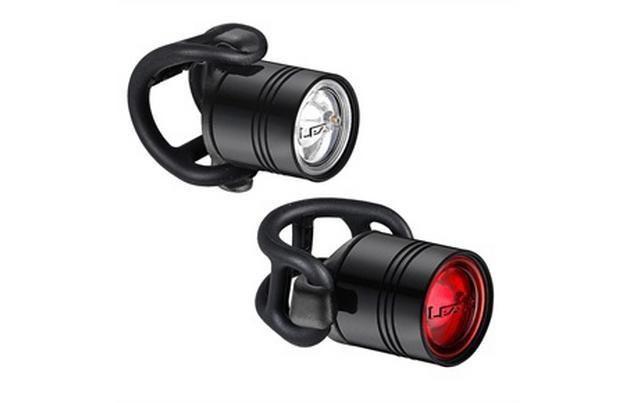 The Lezyne LED Femto front and back light kit is a quick and easy way of getting your bike road legal without spending a fortune. You'll get both lights for £13 and the clip-on strap makes attaching them to the saddle post or handlebars very easy.
How bright do bike lights need to be?
Bike light output is measured in Lumens, with a higher number of Lumens meaning your bike light will be brighter. There are a lot of choices when it comes to brightness, but between 100 and 300 Lumens will be enough to light up an unlit road and allow other vehicles, cyclists and pedestrians to see you. If you want to achieve summer evening results in the dead of winter however, you'll need to look at something like the Bikehut 1600, with a massive 1600 Lumens (car headlights on full beam are usually around 1200 Lumens) meaning you'll be able to see further and make out more details on the road in front of you.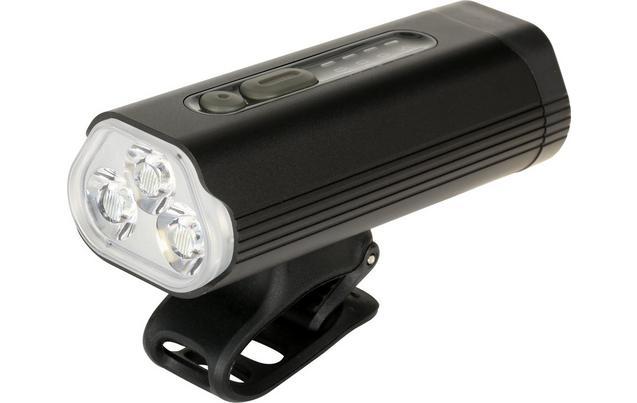 The Bikehut Lumen 1600 is just as bright as a high-beam car headlight and will shed some serious light on the road ahead.
How do I attach bike lights?
Most bike lights can be attached to the bike, using a specially designed bracket that comes with the light itself or by straps that wrap around the bike seat column, front handlebar column or around the handlebars themselves. Many bike lights come with instructions inside the box or on packaging too, so there isn't a standard way of fastening lights to your bike.
Some bike lights may need to be fastened to the bike or tightened using screws or a spanner set, so check the packaging or description before buying if you don't have access to tools. Alternatively, you could splash out on a bike multi-tool kit that will allow you to keep everything tight and properly attached.
Who makes the best bike lights?
There are lots of bike light manufacturers in the market, all offering products with varying battery lifespans, LED bulb power and additional safety functions. At the top end, you'll find products from Cateye and Lezyne, who both focus on powerful bike lights that are all about performance.You'll pay a little bit more, but theinvestment is worth it, as you'll be able to see much further on darker nights. Bikehut and Halfords own brand bike lights are also a great option, as you'll get fully compliant bike lights that are great value for money.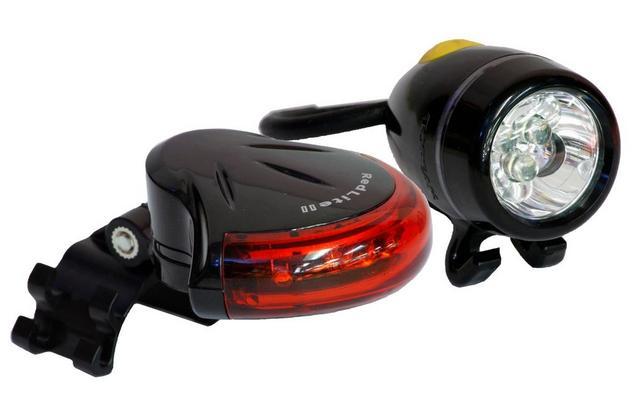 If you're looking for a great all-rounder that will keep your bike legal for under £20, then a Topeak bike light set is a good shout. As well as being super-lightweight, you'll get 60 hours of use, ideal for early morning starts and evening rides home.
Bike Light Batteries
You'll find one of two types of battery inside most bike lights. Traditional single-use cell batteries (often AA or AAA) are still popular, but you'll need to throw them away and buy new ones once the power has been drained. The more cost-effective and environmentally friendly option is to get a bike light with a rechargeable battery, with bike lights that plug into a USB outlet the most convenient option.
It's also worth checking how long each charge will last, so you can plan how often you'll need to charge. It could end up being worth buying a light with a longer lasting built in battery if you put in lots of miles each week.
Top Tip: Don't forget to check the waterproofness rating (also known as an IP Rating) when buying a new bike light. The Great British weather means your bike lights will inevitably end up getting wet at some point, so check just how water-resistant bike lights are, if you aren,t put off by rain or snow!
The Best Helmet Lights
Helmet lights aren't a replacement for a front light, but they're another great way to prevent accidents by making you even more visible out on the road. You can get lights that simply clip onto helmets, such as the great value Halfords helmet light for only £10, but there are also bike helmets with built-in lights.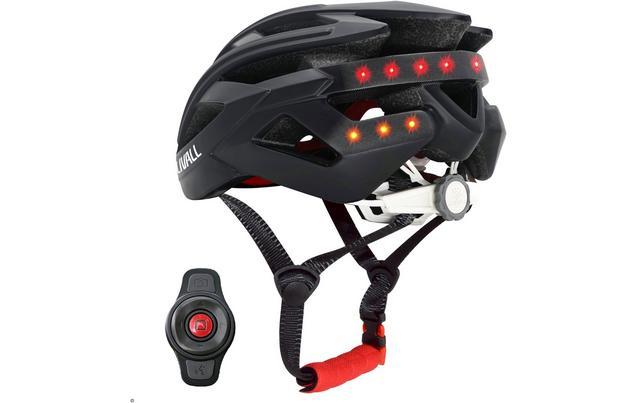 The Livall BH60SE Bluetooth Enabled Smart Helmet has rear facing red LED lights, as well as innovative indicators that show the car behind you exactly where you're planning to turn. It even has a built-in microphone and speakers too, so you can safely take calls hands-free.
If you're going to be riding on particularly dark roads, then wheel lights and wearable lights may be a good idea. These small lights clip onto things like clothing or backpacks, or even wheel spokes, lighting you up like a Christmas tree, and letting everyone else on the road know exactly where you are!
It's definitely worth wearing high visibility clothing when you're cycling at night too. You can keep the whole family safe with a High-Vis Vest Family Pack for less than what it costs to feed them!
Thanks to bike lights being a legal must-have, you'll definitely need to invest in a set if you're planning on cycling anywhere between 5pm and 8am in the middle of winter, or between 8pm and 8am in the summer. With such a huge selection of bike lights in the Halfords range, you'll be able to get the perfect light for your needs.
Are you ready for darker nights? Check out our huge range of tips, tricks and products that will keep you safe on the roads once the clocks go back.