Back to results
Buyers Guide to Roof Boxes + Video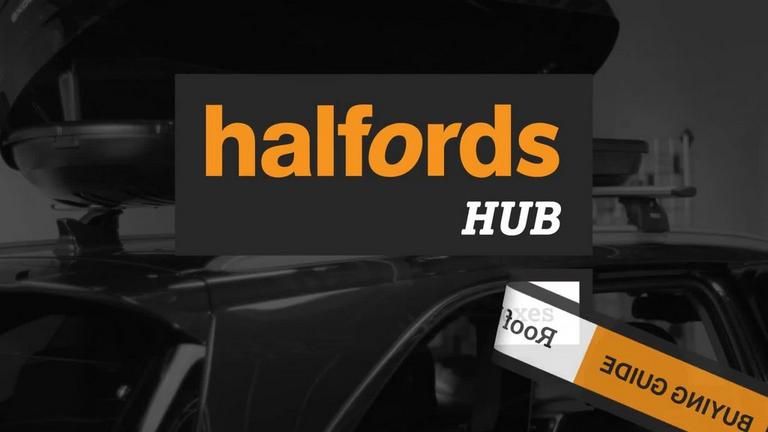 Roof boxes are great if you need to carry more stuff than you can fit in your car. Read our guide for the lowdown on what you should consider before buying one!
Even if you've got a huge people carrier, there's always that one item that has to be left behind because the car is just too full! If you're having serious space issues when it comes to packing everything for your staycation, then a roof box may be the perfect solution. We'll take you through the most important bits when it comes to roof box designs and functionality and help you to choose the right roof box for your camping, caravanning or general travelling needs.
What is a roof box?
---
A roof box is a large box that can be attached securely to the roof of your car. Roof boxes are designed to offer additional storage space for things like sleeping bags, suitcases, sports bags, outdoor or camping equipment or even the odd bit of sport equipment!
Why are roof boxes useful?
---
The beauty of having a roof box is that you'll be able to create extra space in the car for a more comfortable journey, or just take even more stuff with you! One of our favourite roof box benefits is being able to store the important stuff that you'll need fast access to in the boot, with the less important things packed away in the roof box. No more rummaging around at the side of the road for that phone charger or all important soft toy!
Over-filled cars can be a safety hazard too. Storing your luggage in a roof box will prevent the driver's view suddenly obstructed by an item moving around, and you'll still be able to see through your rear-view mirror with everything cleared off the parcel shelf and into car roof storage!
How do roof boxes attach to cars?
---
Unfortunately, you can't just buy a roof box and start fitting it to the top of your car. The starting point for any roof box purchase is a roof rack system, so if you've already got a roof rack, great news! If you don't have a roof rack system, then we'd suggest heading over to our Roof Bars Buyer's Guide first, or heading in-store to speak to one of our roof bar experts.
If you've got your roof rack installed and ready to go, then you'll need to check the mounting system that the roof box uses and see if it's compatible with your roof rack system. The three most common roof box mounting systems that we stock are:
U bolts
Taking around 10 minutes to fit, this solution uses U-shaped bolts that fit around the cross-pieces of the roof bars, with screw caps inside the roof box that hold them in place. Roof boxes with u bolt mounting system will fit all types of roof bars, however if you choose Thule wing bars then you'll need to purchase a t-track adapter to ensure it fits to these roof bars.
Power click mount
The quickest system to fit in around five minutes, a pre-installed 'claw' grips the roof rack bars. This system is found on our Exodus and Thule roof boxes.
Top tip: Take extra time when attaching your roof box to make sure everything is attached properly and nice and tight. If you're taking your roof box off, store any loose attachments with or even better inside the roof box so nothing important goes missing! Remember that Halfords will happily fit any of our roof boxes to your vehicle for a small charge, so you can drive off safe in the knowledge that your new roof box has been fitted by the experts.
Find your local store »
If you aren't sure if the roof box you're looking at will fit your vehicle, then just use our roof carrying system selector tool. All you'll need is your vehicle's registration number, and we'll show you a selection roof bars and roof boxes that are compatible with your vehicle.

Which is the best roof box?
---
Getting the best car roof box is down to personal preference. Considering the following factors will help you to choose the best roof box for your needs.
Capacity
If you're a lone ranger who loves getting lost in the countryside, then a small, lower-capacity roof box may do the job for you. If you're taking the whole family away for 2 weeks, then go for the biggest size you can find! As mentioned, if you only need a bit of extra space and fancy taking a bike or two away, then consider a half-sized roof box so you can fit a roof mounted cycle carrier on the other side.
Build materials
As strange as it sounds, what the roof box is made of will affect its performance. Cheaper roof boxes made from thinner plastic may vibrate in the wind, creating extra noise, or may not last as long as sturdier roof boxes made from tougher plastics. Simply put, the more you pay, the more durable the materials. All of our roof boxes are made from strong scratch resistant ABS materials which are UV protected, preventing cracking or brittleness over time.
Type of fitting
As mentioned earlier, roof boxes use a variety of fittings, so it's worth checking firstly that they're compatible with your roof rack system, and secondly that they'll make life easier for you. If you don't fancy standing in the rain trying to take your roof box off after a tiring weekend of camping, consider quick release fasteners like the power click mount in our Exodus and Thule roof boxes.
Type of opening
The way your roof box opens is important, especially if you want easy access to items that may be obstructed by other luggage. For example with a side-opening roof box, you'll only be able to load from one side, whereas a dual opening or hinged roof box will allow you to access from either side of the vehicle.
Roof box brands
---
Our own range of roof boxes are durable, easy to fit and offer great value for money. You'll also get a guarantee with all of our Halfords roof boxes.
Halfords 470L roof box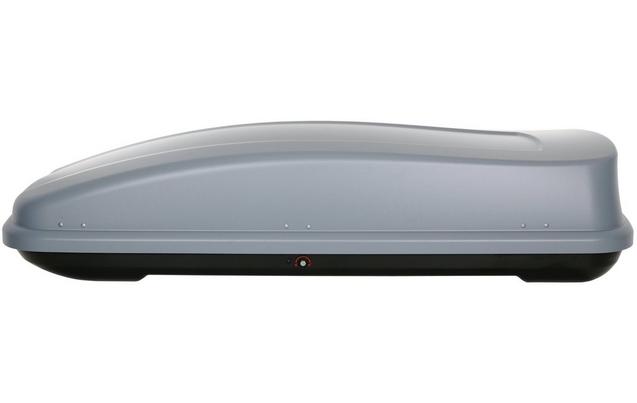 Shop now »
Halfords 320L roof box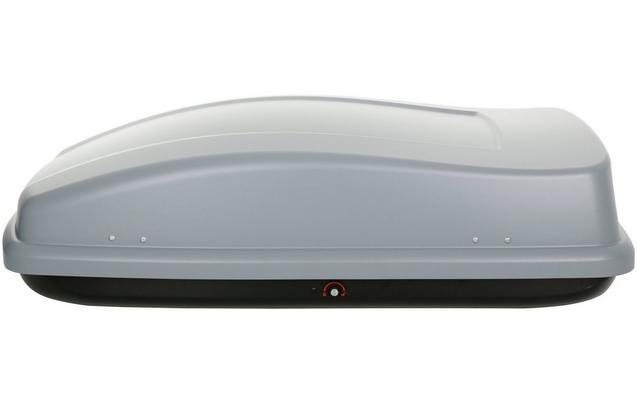 Shop now »
---
Thanks to ultra-light build materials, Exodus roof boxes are a good choice if you're looking for extra storage space without your roof box being too bulky or heavy. Some of our Exodus roof boxes are our best-sellers, thanks to the mix of quality and value.
Exodus 580L black roof box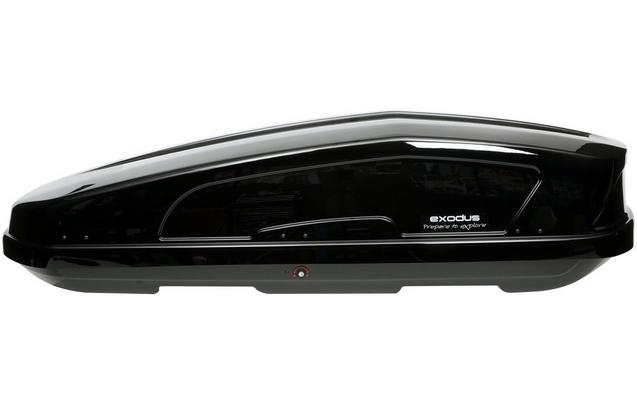 Shop now »
Exodus 360L black roof box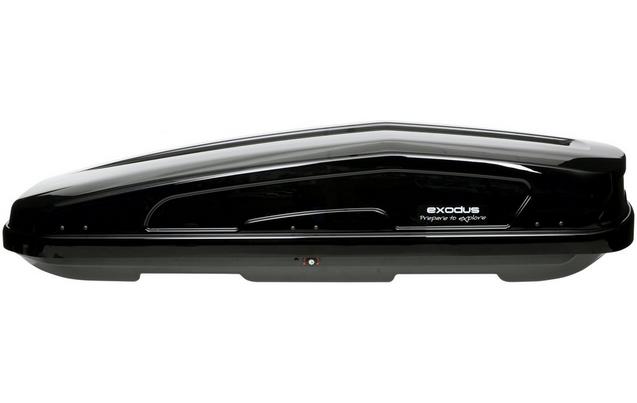 Shop now »
---
Thule are recognised around the world for providing high quality roof boxes as well as other car accessories. You'll get a high quality roof box packed with additional features such as streamlined design and super-quick fitting and removal.
Thule Motion XT XL touring roof box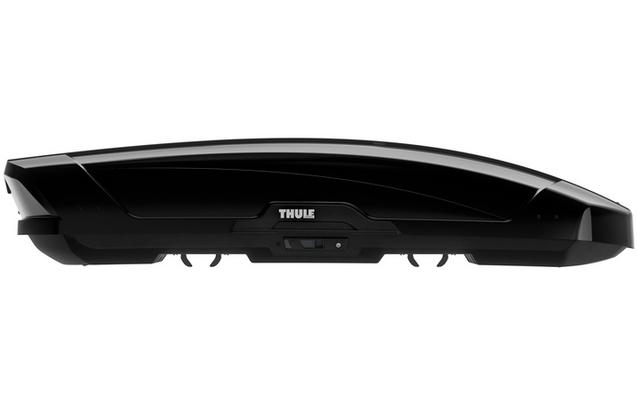 Shop now »
Thule Touring 200 roof box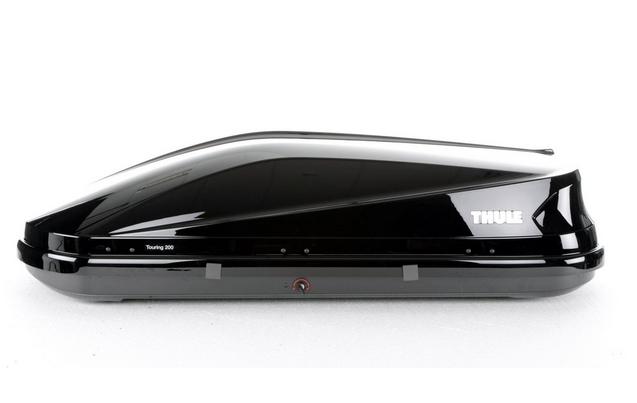 Shop now »
---
Are roof boxes bad for fuel economy?
---
Thanks to the changes in aerodynamics that roof boxes cause, you will see a slight increase in fuel usage if you use as a roof box. As well as the extra weight of both the box itself and the stuff inside it, you'll also be creating extra drag - also known as air resistance - which will force your engine to work harder to maintain speed. Couple that with a car full of family members and your fuel bill will skyrocket, right?
Well, no not really. Yes, there'll be an increased load on your engine through both additional weight and additional real estate on the roof, but most manufacturers reckon your fuel economy won't plummet too badly. Thule, one of the biggest manufacturers on the market, estimate a 5% increase on fuel consumption, which is barely noticeable, so you won't be stopping more regularly to fill up. Roof boxes are designed to be efficient when it comes to air resistance, with tapered fronts that cut through the oncoming air and lightweight builds that are insignificant compared to the weight of the car and additional passengers. The only way a roof box could affect fuel consumptions would be if they were packed full of extremely heavy items, so if you're only transporting a few bags or some camping equipment, you really don't need to worry about the effect on your car's fuel consumption levels.
Now that you're clued up on roof boxes, it's time to pick the one that's perfect for your trip! Don't forget that out in-store auto experts will be able to help you with any questions or suggestions, plus we'll be able to fit your roof box for you, saving you from what can be a tricky job!
Learn more »