Back to results
Halfords Oil Check & Top Up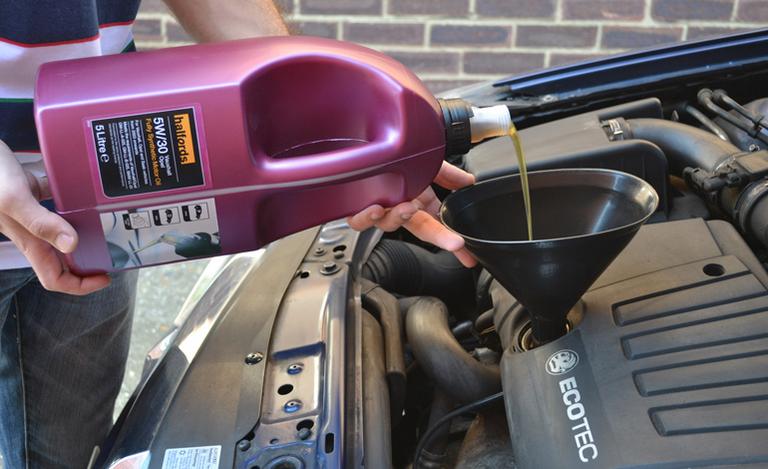 Take the hassle out of oil changes with Halfords oil check and top up service.
Halfords Oil Check & Top Up
---
Sometimes it can seem daunting trying to find what type of oil you need. This is why we offer a Halfords oil check and top-up on demand for £5/€5. With most of our stores now open from 9am-8pm, and at weekends too, you can pop in at a time that suits you.
Halfords also offers plenty of other services to keep your car running smoothly. Have a read below to find out more about what we can do for you and your vehicle, while helping you avoid expensive dealership prices.
*Motor oil purchase required for service fulfilment.
Halfords Oil Check
It's always important to make sure you're keeping an eye on your engine oils & fluids to guarantee that your car is running at optimum condition. A quick oil check could make the difference between a hefty engine bill and a trouble free car.
Our free oil level check helps to give you a peace of mind when getting back on the road. If you're looking to have a more extensive service done to your vehicle, it may be worth taking a look at our 5-point health check.
Our trained professionals will check your:
Car Battery
Wiper Blades
Bulbs
Engine Oil Levels
Screenwash Levels
If you need any of our services it's easy to pop in at a time that suits you. Most of our stores are now open 9am-8pm weekdays, and at weekends too. It's never been easier to drop into your local store
Completing Oil Checks and Top Ups
---
Our useful look-up tool is great for making sure you're choosing the right oil for your vehicle. And remember, if you need a helping hand then just pop into your local Halfords store and we'll be happy to help you out!
Shop all oil