Car Seat Glossary
When searching for child car seats online, understanding the various sizes can quickly become confusing. If this sounds familiar, then don't worry! Our glossary breaks down all child car seat sizes, helping you make an informed choice when purchasing the right car seat for your little one.
R44
R44 sizing groups are defined by a child's weight, so you can simply pick a child car seat that matches how heavy they are - some seats are also designed to span multiple groups. Here's a breakdown of the R44 sizing groups:
| | | |
| --- | --- | --- |
| 0 | Birth up to 10kg/22lb | Birth up to 6 to 9 months |
| 0+ | Birth up to 13kg/29lb | Birth up to 12 to 15 months |
| 0+ & 1 | Birth up to 18kg/40lb | Birth up to 4 years |
| 1 | 9-18Kg / 20-40lb | 9 months to 4 years |
| 1 & 2 | 9-25kg / 20-55lb | 9 months to 6 years |
| 2 | 15-25kg / 33-55lb | 4 to 6 years |
| 1, 2 & 3 | 9-36kg / 20-79lb | 9 months to 6 years |
| 2 & 3 | 15-36kg / 33-79lb | 4 to 12 years |
R129/i-Size
R129/i-Size is the new legislation which is slowly replacing R44. i-Size car seats conform to EU safety legislation, R129. This will be the mandatory legislation as of 2024.
i-Size child car seats are selected by using your child's height, encourages rear facing for longer until the child is at least 15 months old.
i-Size seats come in three different sizes, each of which has a rough equivalent within the R44 sizing system:
0-85cm

(approximately G0+ in weight-based system) – rear-facing baby carrier or baby seat using a harness

0-105cm

(approximately G0/1/2) – rear-facing baby seat until your child is at least 76cm, then forward facing

100-135cm (UK)/150cm (ROI)

(approximately G2/3) – forward-facing child seat
What is ISOFIX?
ISOFIX is a universal system for fitting car seats that uses attachment points built into the car rather than a seat belt which makes it easier to fit the car seat securely by reducing the risk of error. All R129/Isize seats are ISOFIX compatible.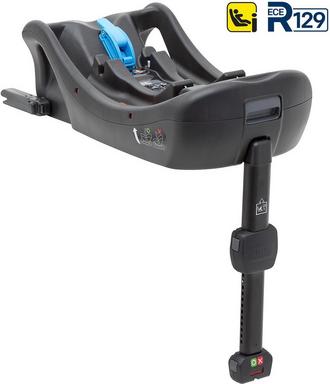 Impact Shield Technology
Otherwise known as safety cushions, impact shields fasten around the front of your child while they're in their child seat. They act like a pre-inflated airbag and help to spread the forces generated during a collision over a wider area. This reduces the strain on key areas of the body and helps to keep your child safe during an accident.
Group
Your child will fall into a child seat group based on their weight or height i.e. Group 0+ = Birth - 29lbs/13kg or 0-85cm in isize.
Rotating seat
360 rotation allows for extended rear and forwards facing but also makes it much easier for getting your child in and out of their car seat.
Multistage seats
These seats grow with your child and can be used throughout multiple stages of your child's development. These seats can be suitable from birth up to 4 years for example whereas other seats are only suitable from birth to 6/9 months.
Top Tether
The top tether is another anchorage point that some child seats have. It is a strap which is attached to the back of the child seat, with a hook on the end. The top tether strap must have a green indicator on it to show when it has been pulled tightly enough. The top tether point will either be in the boot, on the back of the vehicle seat, or it may be in the roof of the car. This should be indicted with an anchor logo.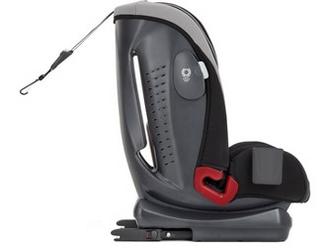 Support Leg
Most ISOFIX and some belt fitted seats have a support leg to prevent the seat from rotating in a crash, and a brace for rebound protection. The support leg extends until it rests securely on the floor of the vehicle, between the back and front seats (if installed on rear seat).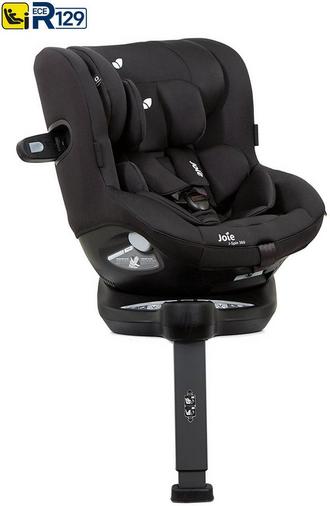 What are the different types of car seats?
Carrycot
These seats allow the baby to lie flat in the car. They are sometimes called side-facing or lie-flat child seats. They combine the safety of a child seat and the sleep comfort of a carrycot.
Infant Carrier
These seats are rear facing and lie your child in a semi lie-flat position. They are designed to be removed from the car with your child in it for easy travel. They are often compatible with pushchairs.
Car seat bases
These work by fixing into the car's ISOFIX anchor points, the infant or child car seat then simply clicks into the base. Bases are typically compatible with Group 0+ and group 1 seats. Although some seats fix directly into the isofix point without a base, make sure you check when purchasing if you also need to purchase a base.
Toddler seat
Designed as the next stage child seat after an infant carrier. However, with multistage options some can be used from birth. The seats can either be forwards facing or rear facing, or do both.
Child seat
Designed for children that have outgrown a toddler seat. They help give your child a boost to help raise them up so they can safely use the car's seatbelt.
At Halfords, we stock a wide range of child car seats from renowned brands such as Joie and Cybex. Take a look online to discover the right car seat for your child.