Stunt Scooters Buyer's Guide
Stunt scooters are a great option for older kids who are looking to wow their friends at the local skate park or on the school run. These scooters are specifically designed to support tricks and stunts, with heavier and more resistant frames that help to protect against the impact of jumps. They don't fold and they're also not adjustable, which makes it even more important to find the right one for your child.
We've got a great range of stunt scooters to choose from at Halfords. So, what do you need to look out for when you're buying a stunt scooter for your child?
Stunt scooter sizing
Unlike with standard kids' scooters, stunt scooters should be chosen based on the height of your child and not their age. If the handlebar is too high, it could prevent the skater from completing tricks successfully. As a general rule of thumb, you should aim to get a scooter where the top of the handlebar reaches your child's waist.
We recommend stunt scooters for ages 8 and above due to the level of coordination and motor skills required.
ABEC rating
One of the most essential aspects of a stunt scooter is its ABEC rating. ABEC stands for Annular Bearings Engineers Committee and a higher ABEC rating implies a smoother ride and better tolerance for jumps and precision movements.
Choosing the right stunt scooter
Another factor that determines what stunt scooter you should buy is your child's level of experience.
Beginner
For beginners, we recommend our X-Rated range. These entry-level scooters have got all the basics a young skater needs and are also great value for money.
Intermediate
For intermediate riders, we'd recommend a Mongoose scooter. These have a higher spec to compensate for a higher level of tricks and stunts, with reinforced steel forks and ABEC 7 bearings or more.
Pro
If your child's a regular intermediate-level rider or on their way to becoming a real pro, then we suggest our Invert range of stunt scooters. Our Invert models include elements that you'll find in professional-level stunt scooters and feature stylish designs that'll leave a lasting impression.
The best stunt scooters
Invert FS2 Stunt Scooter (Neo Chrome)
There's so much to admire about the Invert FS2 Stunt Scooter. Not only does it have a stunning jet fuel finish, but it also comes with 110mm neo chrome wheels, a lightweight aluminium boxed deck, 25mm grind rails, ABEC 7 bearings, a Hi-Ten T-bar with matching grips, a slick stack IHC headset and a rear flex brake. It's one of the best stunt scooters on the market and excellent value for money, all in one eye-catching package.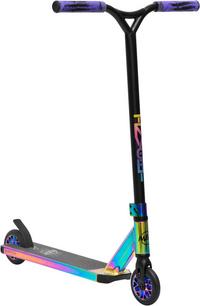 Mongoose Stance Pro Multi 2021
Turn heads at the skate park with the Mongoose Stance Pro Multi 2021. Featuring ABEC 7 bearings and CNC alloy wheels, this scooter provides both speed and durability to ensure kids get the most out of their scooting practice.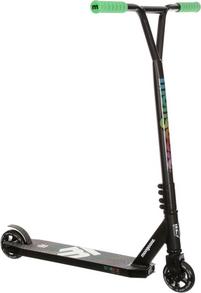 Invert FS2+ Ano/Splat Stunt Scooter
The Invert FS2+ Ano/Splat Stunt Scooter is perfect for kids who are keen to master new tricks. The 110mm PC core wheels feature holographic stickers, while the marble handlebars ensure kids stand out from the crowd. Each deck is unique as the design is applied using a hyrdo-dipping technique.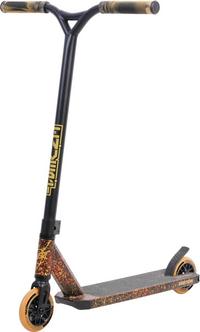 Invert FS 1.5 Red Chevron Stunt Scooter
The Invert FS 1.5 Red Chevron Stunt Scooter is ideal for kids looking to build their scooting confidence. This eye-catching scooter features a new 110m x 495mm Alu angled deck as well as a two bolt handlebar clamp to provide greater control.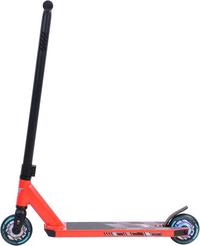 X-Rated Gameover Stunt Scooter
For those first stepping into the world of stunt scooting, the X-Rated Gameover Stunt Scooter is a fantastic choice. There are lots of impressive features including the cool deck and ABEC 7 bearings which allow your child to ride further in just one push.
Nitro Circus Ryan Williams Rep Scoot Gold/Black
The Nitro Circus Ryan Williams Replica Pro Stunt Scooter replicates the signature rode by the Nitro Circus and X Games gold medal pro rider Ryan Williams himself but is especially designed for younger riders. This is a perfect option kids getting to grips with tricks and stunts and provides a smooth ride with the strong outer rubber on the alloy core wheels.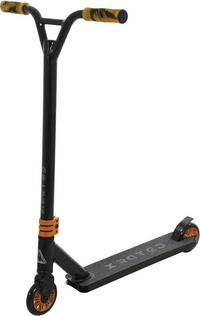 X-Rated Joker Stunt Scooter
The X-Rated Joker Stunt Scooter is a great choice for beginners and will have them showing off their tricks in no time. The threadless headset reduces scooter rattle to provide kids with a smooth ride, whilst the cool design on the underside deck will wow their friends.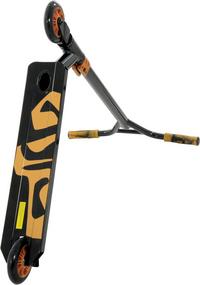 Invert FS1.5 Mini Glow Stunt Scooter
The Invert FS1.5 Mini Glow Stunt Scooter is especially designed for little riders with a shorter deck while the hi-ten steel 'T' handlebar provides greater control. Complete with glow in the dark grip tape and wheels, your little rider will love scooting around the park and wowing their friends.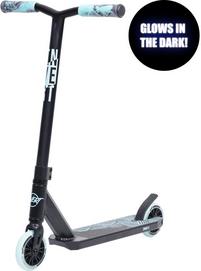 Mongoose Stance Stunt Scooter 2021 - Blue/Black
The Mongoose Stance Stunt Scooter offers fantastic value for money, packed with features you would ordinarily see on scooters with a much higher price tag. The wide stance alloy deck and Y handlebar and push on grips provides a smooth ride while the ABEC 7 bearings and steel flex brake, offers greater control.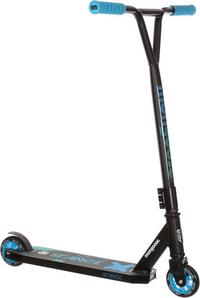 Mongoose Stance Elite Stunt Scooter 2021 - Red/Black
Kids will feel like a pro with the Mongoose Stance Elite Stunt Scooter. With a slim aluminium deck, threadless headtube and lightweight HIC aluminium forks, your child will certainly look the part at the skatepark!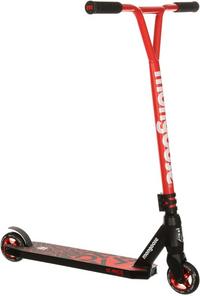 Shop all stunt scooters
Stunt scooter accessories
Helmet
It's really important to ensure that your child stays safe and protected when they're practising tricks and jumps. We'd always recommend that they wear a helmet, particularly a skate-style one as this type has a hardwearing shell and provides greater coverage around the back of the head.
Shop scooter helmets
Protective pads
Protective pad sets will help to protect knees, elbows and wrists from any unexpected impacts as your child perfects their tricks and jumps.
Shop scooter pads
Customisation
Why not help your child to bring their own personality to their stunt scooter with some customisation accessories like stunt pegs or coloured grips?
Shop customisation accessories
Scooter carry straps
Stunt scooters aren't foldable, which can make them a little tricky to carry. That's why we reckon it's worth investing in a carry strap, so that your child can easily transport their scooter to the skate part and save all their energy for performing tricks.
Shop scooter carry straps