Why Halfords Kids Bikes Make the Perfect Gift
We all remember the excitement of receiving our first bike as a child and, with the festive season fast approaching, a shiny new kids bike can make the perfect present for your little ones.


Why choose Halfords kids bikes?
Halfords are the number one retailer for kids bikes in the UK, so you know that when you buy with Halfords, you're buying from a brand you can trust.
There are many benefits of buying a brand-new bike or scooter with us and numerous reasons why our bikes make such a great present.
Our wide range
Halfords stock a wide range of bikes for kids of all ages from balance bikes, all the way up to stabiliser bikes, mountain bikes and BMX bikes. We cover popular character themed bikes such as Disney Frozen and Batman, to some of the bestselling bike brands in the UK including Carrera and Apollo.
Carrera and Apollo bikes are sold exclusively by Halfords, each having a solid history of providing exceptional value and performance to cyclists of all ages across the UK.
We also have a huge range of kids scooters, electric scooters and stunt scooters to suit all ages. Head on over to our kids bike hub to discover our full range.
Our price match promise
At Halfords, we pride ourselves on offering excellent value to our customers, which is why if you find a bike cheaper elsewhere, we'll match the price! Find further details of our price match promise here and make sure you get the best value this Christmas.
Built ready to ride
Although our bikes arrive unassembled, you can take advantage of our handy bike building service and have them delivered to your door fully built. Our expert technicians will not only build your bike, they will also carry out the necessary safety checks so you can be assured your child's bike is safe and secure. We have a selection of fantastic kids bikes that can be built and delivered to your home for a price of just £20.
Lowest price guaranteed
This Christmas, we guarantee that you'll get the lowest price on all our kids bikes. If we change the price of your bike from 30th September to 24th December, we'll refund the difference back to you on a Halfords e-gift card.
CycleCare
When you buy a shiny new bike with Halfords, you can take advantage of our £10 Kids CycleCare plan to ensure your bicycle stays in perfect working order. CycleCare covers a range of services from unlimited puncture repair to free bike part and accessory fittings. The plan is available for one year, so you can be assured that all your bike needs are covered during this period. At the end of the year, you can also take advantage of our silver service, which guarantees bike labour and workmanship for 6 months.
Personalisation
At Halfords, you can customise your child's bike by adding their name for just £5. We also have a handy bundle during the Christmas period, where you can also add a cool bike gift bag to help you wrap the bike and a large bow, all for £10 to make your gift look extra special.
Christmas Bike Club
This Christmas, we're also giving you the opportunity to set up a Christmas Bike Club e-gift Card. Customers can go in-store and top up the balance of their Christmas Bike Club Card whenever they like, up to a maximum balance of £1,000. You can then put your balance towards a bike of your choice - all bikes subject to availability.
Bike services
We pride ourselves in keeping our customers on the move, which is why we offer a range of bike servicing options. We're always here to help ensure your bike remains in tip top condition by offering free bike health checks which you can book online at a time to suit you.
Our expertise
With nearly 130 years behind us, you know your bike will always be in safe hands with Halfords. We have over 3,000 fully trained colleagues to carry out bike checks and repairs. Our in-store experts are always available to offer advice to help you pick the best bike for your child.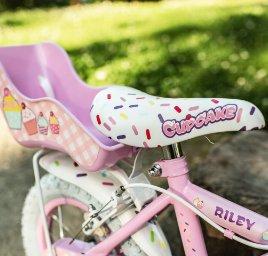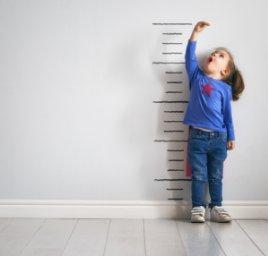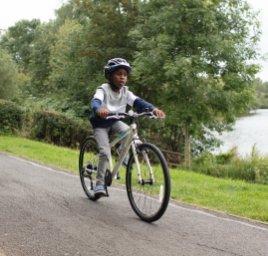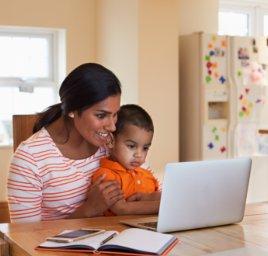 Why are Halfords kids bikes and scooters such great gifts?
In addition to the many benefits of buying a kids bike with Halfords, there are also many other reasons why they make the perfect gift, whether it be for Christmas or birthdays.
Here are some of the primary reasons why buying a bike for your child can be so rewarding:
Make memories

Whether you're teaching your child to ride a bike or cycling together as a family, buying a bike for your child can allow you to create wonderful family memories. Taking them to the local park can help build their confidence by practicing in a large, open space. If your child is already an experienced cyclist, why not try a more complex family trail such as a national park?

Learn valuable skills

Riding a bike is an excellent way to help your child learn valuable life skills from building strength to gaining independence. Keeping up with their bike practice can also teach kids the importance of determination and not giving up.

Be more active

Being amongst the great outdoors, breathing in fresh air is beneficial for our health both physically and mentally. Cycling is a brilliant way to help relieve anxiety and can help children let off steam, particularly after a challenging day at school. Riding a bike also helps boost muscle development and cardiovascular fitness, helping children keep healthy and active.

Excellent stocking fillers

It's not just the bike itself that makes the perfect gift. Kids bike accessories also make excellent stocking fillers, helping add some extra fun to your child's cycling experience.
The best bike accessories for kids
At Halfords, we have an excellent range of kids bike accessories, including some of their favourite characters, guaranteed to put a smile on their faces.
We've compiled a list of our favourite kids bike accessories:
Bike baskets
Bike baskets are the perfect accessory to any children's bike, adding a touch of fun and allowing your child to carry any belongings on their bike rides.
Dolly seats
Your child's favourite toy can now accompany them on their cycling adventures with our dolly carrier seat. A seatbelt is included to ensure their precious doll or teddy remains secure throughout their journeys.
Number plates
For kids who love to customise, our bike number plate stickers are just the ticket. The stickers can easily be placed onto the handlebars, allowing your child to release their creativity and make the perfect personalised bike.
Bike bells
Bike bells are the ultimate accessory and make a perfect stocking filler for Christmas. Available in a variety of colours and characters from Peppa Pig to Batman bike bells, there is something to suit every child. As well as making your bike stand out, bells are useful for making others aware that you are riding nearby.
Bike helmets
Safety is the number one priority when your little ones are cycling, which is why we stock a wide variety of kids bike helmets. Whatever your child's style, we have the right bike helmet to suit them from pink confetti to blue camo helmets.
In addition to bike helmets, we also stock a range of other bike safety accessories including gloves, knee and elbow pads to help protect your child while cycling.
---
When you buy with Halfords, you can be assured that you are purchasing a high-quality bike with excellent service to match. For a full range of our fantastic kids bikes, explore Halfords.com today and let us help you find a brilliant bike during the gift giving season.