Which Bike Check Is Right For You
A regular service is the secret to keeping your bike smooth and safe to ride. At Halfords, we offer a range of affordable bike checks and service packages for men's, women's and children's bikes.
If your bike needs some TLC or you want some expert help to tackle a specific problem, then book it in for a cycle service. We offer expert servicing for road bikes, mountain bikes, hybrids, electric bikes, and folding bikes. With over 300 locations across the UK, there's sure to be a Halfords close by.
In this expert advice guide, we explain what's included in each of our bike services and checks, what they cost and how you can book one.
---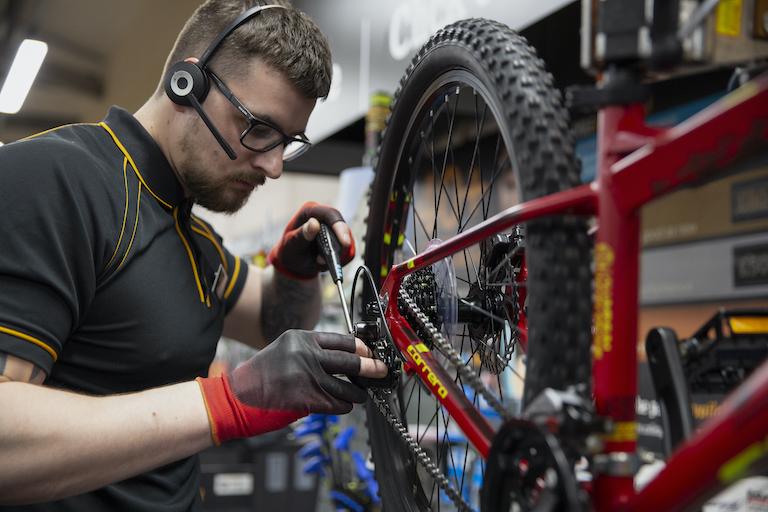 Why should I get my bike serviced?
It doesn't matter if you cycle 10 miles a year, or 10,000, a regular bike service is essential. At least once a year you should have your bike checked over by a professional.
Over time, the components on bikes can wear out, cables can become frayed, bolts work loose, and lubricants dry out.
During a Halfords service, a trained technician will go over your bike your bike from top to bottom. They will identify and fix any problems they may find. They have access to all the specialist tools, components and consumables they need to do the job properly.
Once your service is completed, your bike will be handed back to you in tip-top working order and ready for the road. Your gears will shift properly, both brakes will work and you will receive a full update on the condition of your bike.
---
Free Bike Health Check
Every Halfords service begins with a Free Bike Health Check. During the free check, a qualified mechanic will perform a 32-point inspection of your bike.
They will check your bicycle for damage and wear and ensure that its essential components are in good working order.
This initial review covers everything from the frame, wheels, drivetrain and brakes. At the end, the mechanic will understand precisely what parts and work your bike needs to run perfectly. They can advise you on what service you require and how much it will cost, keeping you in charge.
You can book a Free Bike Check at your local Halfords.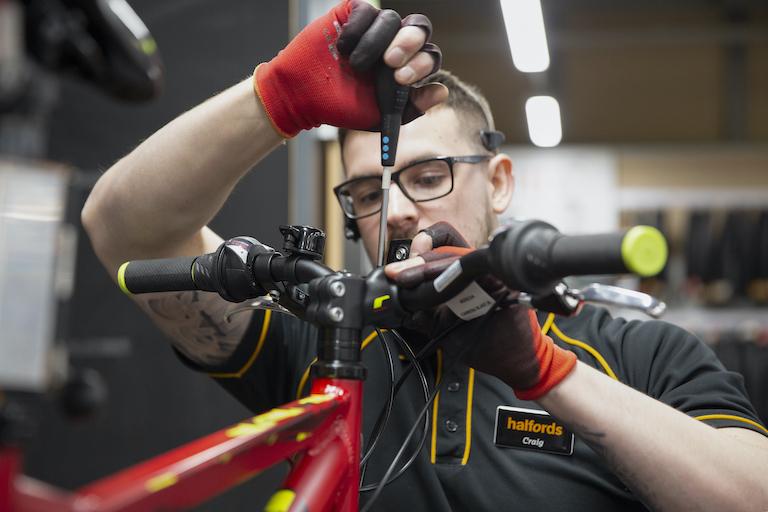 ---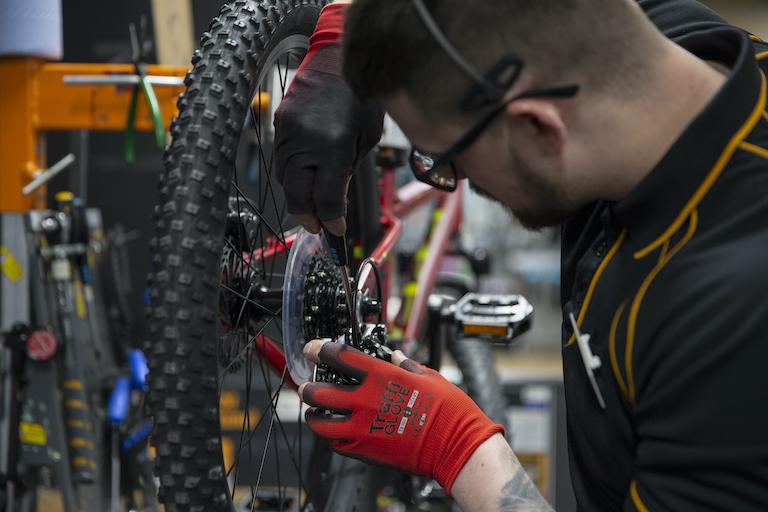 Bronze Service
If you're confident your bike is in good mechanical shape but just needs a tune-up, then our Bronze Service is for you.
After a 32-point check, a qualified mechanic will adjust and align your gears, lubricate the drivetrain and ensure your brakes are working perfectly too.
Silver Service
If you've clocked up a decent number of miles on your bike, or its been left unloved for a long time, a Silver Service will bring it back to life - from &pound50.
As well as everything you get as part of the Bronze Service, all brake and gear cables will be replaced, and your wheels will be checked and trued.
If your bike has hydraulic (disc) brakes, we'll bleed them with new fluid and adjust them before you hit the roads or the trails.
Gold Service
During a Gold Service, the bike is stripped back to the frame before being rebuilt. Every part is inspected, cleaned, re-greased and cables replaced. All replacement parts are included for only £80.
If you've got an electric bike, we will re-grease all electrical connections too.
It's the perfect choice for the frequent rider, heavy commuter or for the bike that hasn't been used for years!
---
Other Bike Servicing
As well as our range of complete packages, we offer a variety of specific services for brakes, gears and drivetrains at low prices.
Cable Brake Service
If your brakes are sticking, squeaking or not working at all this is for you. Both inner cables are replaced, outer cables lubricated, pads checked, aligned & replaced. This must be booked with a service.
Hydraulic Brake Service
If your disc-brake bike is running correctly, but the brakes need some attention, we can take care of them. The brakes will be bled and the fluid replaced before they're adjusted and aligned.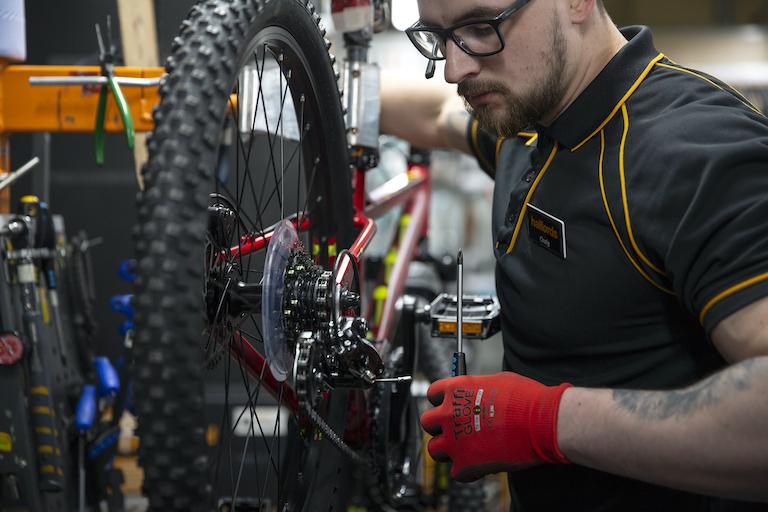 Gear Service
One of the most annoying jobs on a bike is getting the gears running smoothly, so let us take care of it. We will replace all inner cables and lubricate cable outers before adjusting and aligning your gears before finishing with a high-quality lubricant.
Drivetrain Service
Our Drivetrain Service will have your gears degreased, re-greased and running well. Our technicians will remove the bottom bracket, lubricate the drivetrain, plus fit and adjust all components. This must be booked with a service.
---
Cycle Care
For total peace of mind, if you buy a bike from Halfords then invest in a Cycle Care Plan.
For one affordable price, we will maintain and service your bike for the duration of the agreement.
You'll get a free bike check whenever you please, a full Bronze Service six weeks into your plan, and a further Silver Service which includes a brake bleed every six months.
---
Slime Service
Sick of punctures on your commute or regular rides? Then get some puncture protection in the form of green slime.
For £6 a wheel, we'll treat your wheels with our special slime, making them puncture-proof for at least two years. As well as bikes, it works for buggies, prams, lawnmowers and more!
---
Accessory Fitting
If you're fitting accessories, don't' struggle with a spanner - leave it to someone with the tools and the training.
Our Accessory Fitting Service will install your new bike components and add-ons for a £5. (Child carriers, mudguards and luggage racks cost £8 to fit.)
Single Services and Repair List
We offer a range of single bike repairs and services, which are ideal if you don't want a complete bike service but need our help.