Plantronics
A global communications company, Plantronics power authentic human communication and collaboration through their products.
Plantronics are finding new ways to inject audio and video communication into lives to replicate the face-to-face experience, without having to be face-to-face.
To nurture the simplicity and beauty of human connection, Plantronics Headsets work to give you more than just a call or a video conference.
Explore the range of Plantronics Headsets below from Halfords.
Plantronics Explorer 55

This Plantronics Explorer 55 Headset is a lightweight, comfortable Bluetooth device.
Easy to set up with any smartphone, the Plantronics Explorer 55 allows you to stream music from your device and gives you GPS directions when you want help navigating through a new location.

Designed to comfortably fit in either ear, this Plantronics Bluetooth Headset reduces background noise when you're walking down a busy street so you can still hear calls easily.
The hands-free package allows you to take calls on the go whilst you're doing other activities, helping you be productive and also get incredible sound experience.
With up to 11 hours talk time, this Plantronics Bluetooth Headset is the perfect on-the-go companion.
Find out more about the Plantronics Explorer 55 online here.
Shop Now
Plantronics Voyager 5200 Bluetooth Headset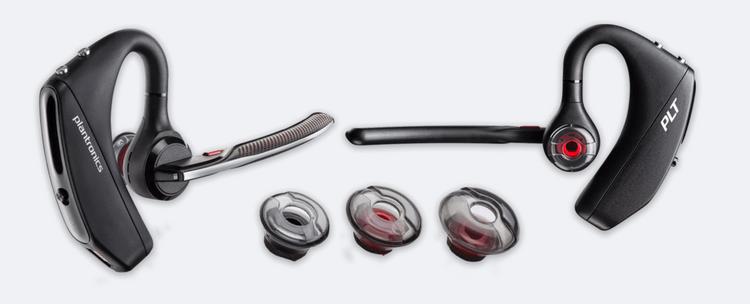 Get crystal clear sound on the go, with this Plantronics Voyager 5200 Headset.
Discover the comfiest Plantronics Bluetooth Earpiece, with the Plantronics Voyager Legend.
Smart Sensor Technology allows you to choose when to take calls with a simple voice command, and a separate button allows you to mute, change the volume and power down your Plantronics device.
You're also able to check the battery life of this Plantronics Wireless Headset on your smartphone using the Plantronics app, letting you know when the Plantronics Bluetooth Voyager needs charging.
The magnetic, snap-fit connection allows easy charging, and also comes with a car charger and USB cable so you can charge your Plantronics Voyager Legend on the go if you need to.
Discover more about the Plantronics Voyager Legend online here.
Shop Now
Plantronics ML15 Headset

The Plantronics ML15 Headset is designed to fit comfortably in either your left or right ear, and delivers incredible sound for users.
Easy to use and set up with smartphones, this Plantronics ML15 Headset can be controlled with a single-button, meaning you can go hands-free with ease.
Backed by a premium warranty with global customer service and support if you need it, this Plantronics Bluetooth Earpiece also has an earloop clip for extra stability in your ear if you need it.
Find out more about the Plantronics ML15 Headset at Halfords today.
Shop Now
Plantronics BackBeat FIT 3100

Embrace the outdoors, with these Plantronics Bluetooth Earphones for a true wireless sporting adventure.
The "Always Aware" ear tips of the headphones allow you to still hear your surroundings for a safer training environment, whilst the flexible and secure earloops give you maximum comfort and stability for those extra-tough workouts.
These Plantronics Bluetooth Earphones are sweat and waterproof, with five hours of listening time and personalisable features to make the workout adaptable for you so you never lose focus.
Set a timer, start a stopwatch or select your favourite playlist using the BackBeat app directly through your earbuds, these sport headphones will ensure you'll never have to interrupted workout again.
Explore more incredible features available with the Plantronics Bluetooth Earphones online here.
Shop Now