STANLEY
Since its founding in 1843, STANLEY has been committed to providing professionals and amateurs alike with products to enable them to complete any task.
For over 170 years, STANLEY have been responsible for creating new levels of performance for customers, by innovating some of the most useful tools and accessories for at-home and at-work use.
STANLEY continue to be an industry leader 170 years after its founding, with Halfords working to offer a range of STANLEY Tool Storage solutions for the jobsite and at home.
Explore the range of STANLEY products available at Halfords online below.
STANLEY Tool Bag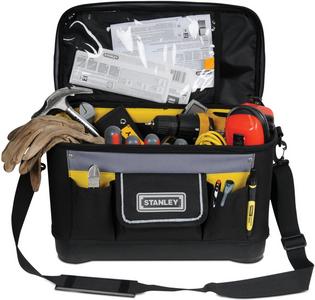 The STANLEY Tool Bag 16" is the perfect heavy-duty tool bag for getting your tools from A to B.
Designed for longer life, the STANLEY Tool Bag is constructed from extra-tough 600x600 denier fabric, and a waterproof plastic base, ideal for worksite use and withstands most weather conditions.
The large side pocket allows you to store those tools you need easy access to, and a covered front pocked within the STANLEY Tool Bag allows secure storage for personal items like your phone and wallet.
The adjustable padded shoulder strap provides you with soft cushioning when you're transporting your kit.
Explore more features of the STANLEY Tool Bag 16" online at Halfords today.
Shop Now
Made from galvanised metal, this rust-resistant STANLEY Tool Box allows you to store longer and smaller tools in the same box, but still keep them segmented.
The small tote tray within this STANLEY Metal Tool Box is removable, and allows you to keep those smaller items separated, allowing you to access your tools quickly and easily when you need them.
The soft grip carrying handle allows you to comfortably pick up your STANLEY Box when needed, and the heavy-duty metal latches ensure that nothing falls out when you're on the move.
Find out more about the STANLEY Metal Tool Box 26" online at Halfords today.
Shop Now
With multiple internal and external compartments for tools and possessions, the open-mouth element of the STANLEY FATMAX Tool Box allows you to organise your tools and access them with ease.
The padded STANLEY FATMAX Dual Access Tool Bag allows you to keep the contents of your bag safe against the workplace environment, and the plastic injected base protects against moisture and damp.
The rubber grip handle and shoulder strap allow you to carry your STANLEY FATMAX Tool Box with ease.
Find out more about the STANLEY FATMAX Tool Bag online at Halfords.
Shop Now
STANLEY Rolling Tool Box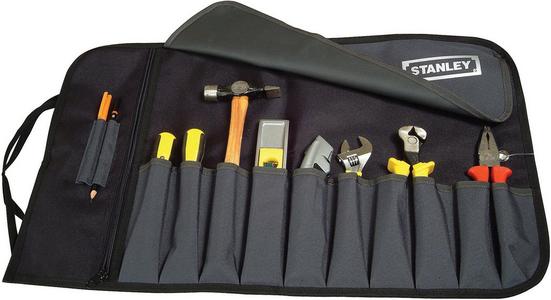 The STANLEY Rolling Tool Box allows you to store your tools in a quick, easy and accessible way.
With separate compartments, this STANLEY Rolling Tool Box allows you to store up to 12 tools for convenient and safe storage.
If you need only a few tools during your day, this STANLEY Rolling Tool Box is an ideal solution, rather than carrying around a larger tool box on your everyday journeys.
Find out more about the STANLEY Rolling Tool Box online at Halfords today.
Shop Now
All your angled tools, like hammers and drills, will fit perfectly into the STANLEY Organiser Box thanks to the unique open-ended corners.
The removeable dividers allow you to configure your organiser however you'd like, with up to 1024 different configurations possible!
The lid lock of the STANLEY Organiser Box keeps all your smaller elements secured inside and allows you to store a combination of both tools and small parts without losing anything.
Find out more about the STANLEY Organiser Box SortMaster online at Halfords today.
Shop Now