Tru-Tension
After huge success on Dragons' Den five years ago, Tru-Tension is putting motorcycle care on the map.
Tru-Tension is an innovative manufacturer of tools and care products for motorcycles, with unique tools and lubricants transforming the way riders and mechanics alike are looking after their bikes.
The truth is in the name - tension is at the forefront of all of the brand's chain and belt products, providing precise and accurate tension to ensure the optimum performance of your bike.
By providing this excellent care and attention to their products, Tru-Tension work to extend the life of the chains used on your motorbike.
All of the Tru-Tension lubrication and cleaning products work to provide the highest quality care possible for your motorbike, ensuring you and your bike have the best care possible when you're taking to the road.
These products are designed for all levels of motorbike lovers; whether you're an inexperienced rider, a regular commuter or a competitive racer, these products are easy to use and affordable for all riders.
Discover our favourite Tru-Tension products below.
Tru-Tension Tools

Maintaining the health of your bike couldn't be easier with the assistance of Tru-Tension tools.
From the ever-popular Tru-Tension Chain Monkey to the Tru-Tension Laser Monkey, these aptly named tools are easy enough for an animal to use!
Discover our favourite Tru-Tension tools at Halfords over on the right. below.
Tru-Tension Chain Monkey
As seen on Dragons' Den, the Tru-Tension Chain Monkey tool is the world's first precision chain tensioning tool.
The Tru-Tension Chain Monkey uses unique, patented technology to provide an efficient and simple application that ensures precision chain tension on your bike
Shop Now
Tru-Tension Motorcycle Laser Aligner
If you're looking to do it yourself, the Tru-Tension Laser Monkey is the tool for you.
The Tru-Tension Laser Aligner is a unique tool, providing users with precise wheel alignment for both the chain and belt of the motorcycle - regardless of sprocket or pulley material.
Shop Now
Tru-Tension Lubricants & Cleaners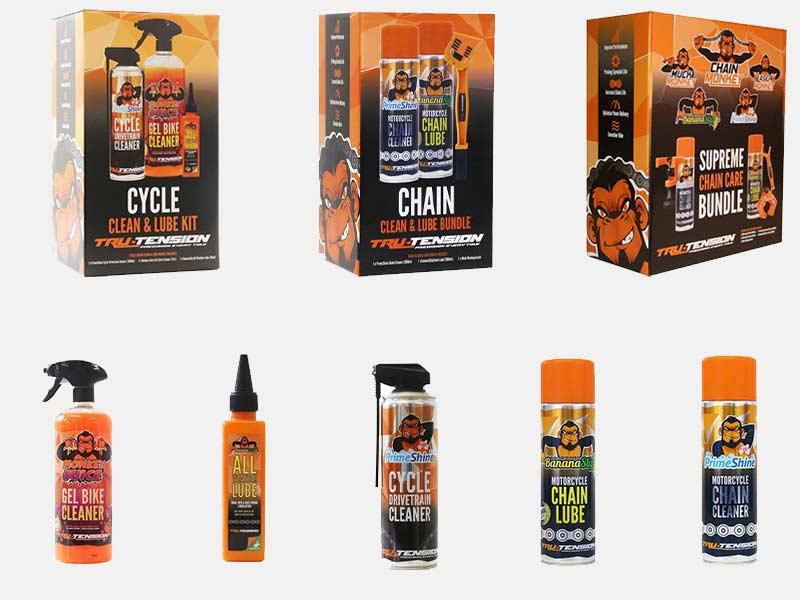 For both the amateur riders and the Hells' Angels among you, there's nothing wrong with getting your hands dirty when you're cleaning your bike.
Tru-Tension cleaning products and lubricants make it easy to keep your bike clean and riding to the best of its ability.
From Tru-Tension Bike Cleaner to Chain Lube, these products are essential to keep your bike in immaculate condition and they even come with a fresh banana scent.
Discover our favourite Tru-Tension lubricants & cleaners over on the right below.
Tru-Tension Bike Cleaner
The Tru-Tension Monkey Juice Bike Cleaner is especially formulated to lift and remove stubborn road grime generated by daily riding.
The innovative science behind this product allows the Micro Foam to effortlessly remove dirt from any part of your motorbike.
Shop Now
Tru-Tension BananaSlip Motorcycle Chain Lube
Specially formulated, this Tru-Tension dry chain lubricant has been developed to work exceptionally under intense use and in all weather conditions.
Providing long-lasting protection, this product is suitable for high-performance motorbikes that are taking to the track, street or even racing, partaking in aggressive or fast riding.
Shop Now
Tru-Tension Chain Clean & Lube Kit
For the best of both worlds, discover Tru-Tension's Chain Clean & Lube Kit.
The perfect combination, this kit provides you with a two-step cleaning and lubricating process in order to ensure your bike is running smoothly and stays cleaner for longer.
Shop Now