BRILLIANTLY LIGHTWEIGHT, EXCEPTIONALLY GREAT.
Giving kids the confidence to control and progress. Wiggins premium quality, lightweight bikes are designed to inspire kids to get out cycling, speeding up the transition from a wobbly tot to a future Tour de France winner.
ABOUT WIGGINS
Combining sheer enjoyment with exhilaration and freedom of cycling, this exclusive new range from Gold Olympic and Tour De France winning cyclist Bradley Wiggins brings a series of lightweight bikes with considered details throughout – from smaller grips for tiny hands through to stable and comfort improving tyres.

BALANCE BIKES / 3+ YEARS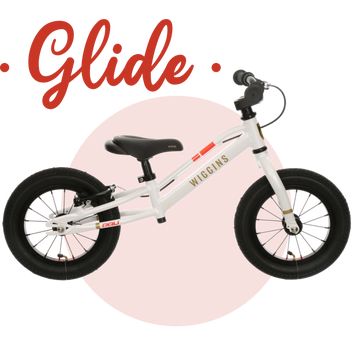 Shop Now
BALANCE BIKES / 3+ YEARS
Built for every toddler that's dreamt of flying, on a Wiggins lightweight balance bike – you'll glide to the top. Combining unique, stylish and lightweight frames with a wealth of safety and confidence improving features, Wiggins balance bikes are certain to give your child the confidence they need to learn.

Ultra-lightweight aluminium frame making it easier for younger riders to control.

One piece aluminium handlebar helps keep weight down.

Narrow diameter grips and short reach brake lever designed to fit smaller hands.
BALANCE BIKES / 3+ YEARS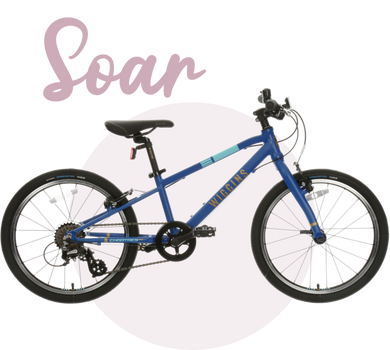 Shop Now
HYBRID BIKES / 5-12 YEARS
Filling your child with confidence every mile, Wiggins junior bikes combine speed, control and comfort – for a whirlwind adventure both on and off-road.
Featuring ultra-lightweight frames, child-specific components and a choice of road and off-road tyres as standard, your child will be racing ready whatever their preferred cycling discipline.

Ultra-lightweight aluminium frame making it easier for younger riders to control.

Components designed to ensure they are perfectly sized.

Vee Tyre Co multi surface tyres reducing both weight and rolling resistance, whilst also improving comfort.
ROAD BIKES / 8-12 YEARS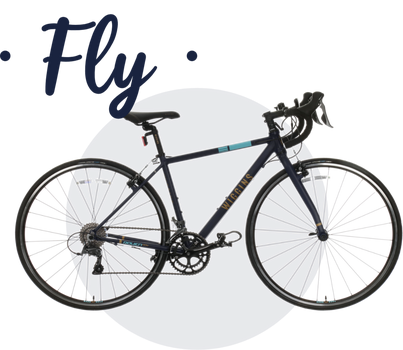 Shop Now
ROAD BIKES / 8-12 YEARS
Designed for any child making the transition to a bigger bike, Wiggins bikes feature modern componentry and ultra-lightweight double butted aluminium frames – all of which have been specially tailored.
Getting to grips with gearing is effortless, thanks to Shimano's Altus gearing and easy-action trigger shifters. And with a short squeeze of the Tektro aluminium V-brakes, stopping is smooth, powerful and reliable too.

Ultra-lightweight aluminium frame making it easier for younger riders to control.

Tektro cantilver brakes provide reliable and responsive breaking power.

16 speed Shimano Claris gears with combined Shimano Claris gears levers for smooth shifting.



BRILLIANTLY LIGHT,
EXCEPTIONALLY GREAT
A huge focus has been placed on the importance of weight throughout the entire range, making Wiggins bikes the pound for pound lightest bikes in the UK. All bikes feature an ultra-lightweight aluminium double-butted frame and the signature Wiggins reversed curve fork.
The ultra-lightweight frame is easy to handle, allowing the rider to manoeuvre their bike comfortably and confidently. Being lightweight also makes them easy to transport, whether you're carrying a balance bike home from the school run, or loading a junior bike for a weekend away.
OUR HERITAGE
Created out of a desire to get kids cycling, Wiggins bikes have been designed with every child in mind. Each bike has been built with considered details throughout, and tailored for an incredible cycling experience – whatever the chosen cycling discipline.
This exclusive new range celebrates the sheer enjoyment, exhilaration and freedom of cycling.
In Bradley's own words:
"A Wiggins bike can take you wherever you want it to. From the garage to the gate, or even the greatest. You can fly."

If you're unsure what size bike frame and wheel size would be best suited for you or a loved one, your local Halfords team can offer support and guidance on which bike is suited to your needs and wants from your Wiggins Bike.
We offer a lifetime guarantee on all Wiggins bikes and free bike build instore, you'll also be entitled to unlimited lifestyle safety checks when you purchase your Wiggins from Halfords.
When it comes to designing and building our Wiggins bikes, we place a lot of focus on testing and customer feedback.
We know they are built to the highest standards and that's why we can offer a lifetime guarantee on the frame and rigid forks of all Wiggins bikes.
This means we will replace the frame and / or forks free of charge, for the entire time you own the bike if there is a manufacturing defect, giving you and your little one that extra piece of mind.
With 450 stores across the UK, your local Halfords store and their expert cycling team is never far away, ready to support you whenever you need it.
With a purchase of any Wiggins bike, you'll also receive free lifetime safety checks – therefore if you're ever stuck wondering about any element of your Wiggins bike, bring it in-store and we can take a look at it for you, free of charge.