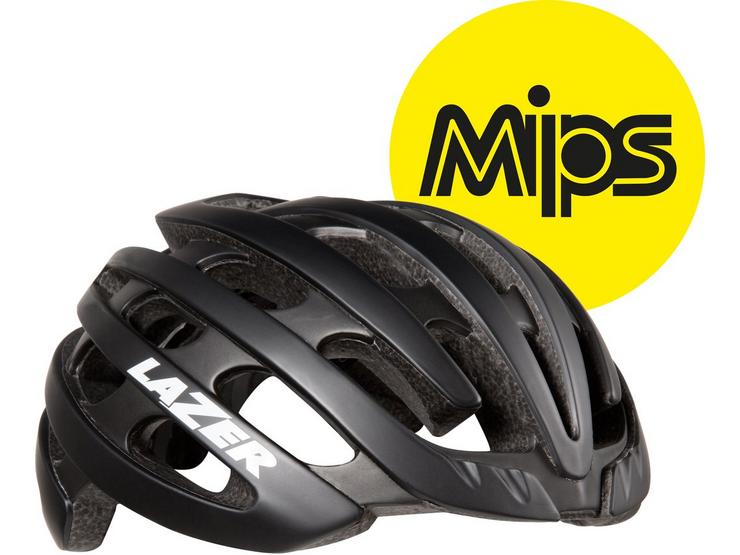 10 people are viewing now
5 purchases during last 48 hours
Type: Road
Additional Protection: MIPS
Lazer Z1 MIPS Helmet
The
Lazer Z1 MIPS,
Lazer's most advanced road helmet to date with an addition of Lazer's patented industry leading safety technology, setting a new standard for helmet safety. The secret behind the MIPS patent comes from the study of the brain.
MIPS imitates the brain's way of protecting itself by giving the helmet its own low-friction layer between the outer shell and the liner.
Lazer Z1 MIPS Helmet Extra Info
MIPS or Multi-directional Impact Protection System adds an additional safety aspect to the helmet. It outfits a helmet with a low friction layer that reduces rotational forces in case of a crash. This replicates the brain's own protection system.
How it works: The shell and liner of the helmet are separated by a low friction layer. This means the shell of the helmet can move relative to the liner. In case of an impact the low friction layer will rotate and help to absorb a part of the impact, thereby reducing the rotational forces to the head. MIPS doesn't interfere with helmets existing protective properties – it only adds an additional way to counter the most common type of impacts and helps protect against the most severe type of brain injuries. Lazer has developed this technology in collaboration with some of the largest universities in Sweden and has tested its efficiency with computer models and real life testing, so you don't have to.
The MIPS patent was developed by some of the world's leading researchers in biomechanics and neuroscience
MIPS is setting a new standard for helmet safety
The secret behind MIPS patent comes from the study of the human brain
The brain is surrounded by a low-friction cushion of cerebrospinal fluid
MIPS imitates the brain's way of protecting itself by giving the helmet its own low-friction layer between the outer shell and the liner
In the event of a crash this layer absorbs much of the energy created by a blow to the head
The combination of the brain's own protection and MIPS enables maximum protection for the rider
Weighing in at 232g for the medium size
Size: S 52-56cm, M 55-59cm, L 58-61cm