Muc-Off Pressure Washer Bicycle Bundle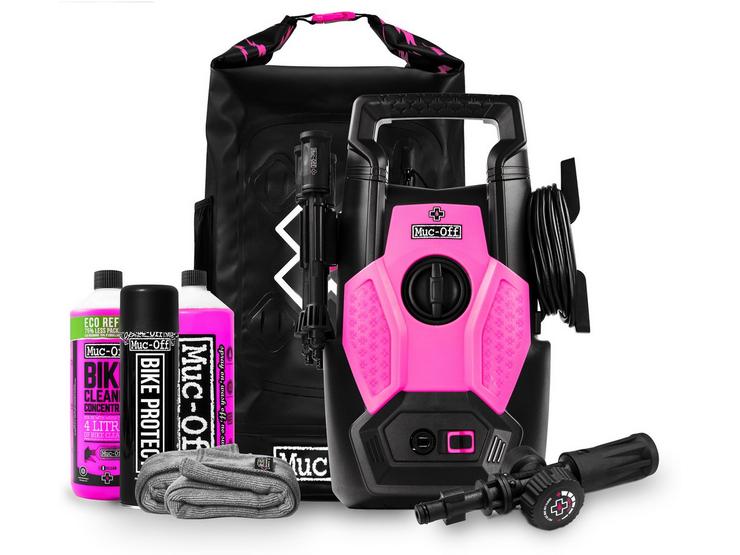 10 people are viewing now
5 purchases during last 48 hours
Muc-Off Pressure Washer Bicycle Bundle
7 pieces
Can be used on bikes and motorbikes
Muc-Off Pressure Washer Bicycle Bundle
Introducing the World's first pressure washer designed and built purely for cleaning both bicycles and motorcycles.

The Muc-Off Pressure Washer Bicycle Bundle includes all you need to get your bike back to that factory fresh look while also looking out for those delicate bearings, surfaces and suspension parts. Our 11-in-1 bundle features three lances to cater for specific cleaning needs, as well as a Snow Foam Lance to transform your bottle of Nano Tech Bike Cleaner into the ultimate dirt destroying snow foam.

A waterproof Dry Bag is also included, as well as a 1L bottle of Nano Tech Concentrate, Bike Protect and Microfibre Cloth. All you need is a power source and water supply and you'll be able to give your pride and joy the ultimate deep clean it deserves!

Whats included..

PRESSURE WASHER: Specifically designed to be safe for use on your bike, so you can get all the benefits of a thorough clean with far less effort!

PRESSURE WASHER DRY BAG: The custom waterproof dry bag carry case is designed to easily store the Muc-Off Pressure Washer and keep available peripherals within easy reach and safe from tripping over in your garage!

SNOW FOAM LANCE: To go alongside the pressure washer, we've designed a specific low-pressure snow foam lance that won't damage any delicate parts but transforms your bottle of Muc-Off Nano Tech Bike Cleaner into thick snow foam for the ultimate and efficient deep clean.

BICYCLE CLEANING LANCE: A bicycle specific cleaning lance that's powerful enough to blast dirt and grime from your bike, while still being safe to use on bearings and suspension parts.

MOTORCYCLE CLEANING LANCE: A motorcycle specific cleaning lance with a slightly higher pressure, safe to use on motorcycle bearing and suspension parts.

ADJUSTABLE CLEANING LANCE: An adjustable cleaning lance allowing you to adjust the pressure for heavier grime on your tyres and anything else that you care about that needs cleaning with a bit more pressure.

1L NANO TECH CLEANER: Using our state-of-the-art Nano Tech formula, Muc-Off cuts through grime quicker than you can say "OMG!" regardless of the weather or riding conditions. This classic pink Bike Cleaner has incredible cleaning power because it contains revolutionary Nano Technology that breaks down dirt and grime on microscopic levels, while also caring for your bike's delicate finish. Because we use the finest ingredients and surfactants, our Muc-Off formula is a closely guarded trade secret.

1L NANO TECH CONCENTRATE: The Bike Cleaner Concentrate has arrived! That's right; our relentless R&D team made our Nano Tech Bike Cleaner that much better by creating a handy refill pouch! It's the same award winning cleaner but in concentrate form! Just one 1L bottle will make four 1 litre bottles of Nano Tech Bike Cleaner!

BIKE PROTECT: The ultimate liquid bicycle protection. Preserve and freshen your bike with Bike Protect's incredible water dispersing action! It's a perfect 'all over', after-wash corrosion inhibitor due to its extremely high oil content. This increased oil content creates the finest bike protection spray on the market.

2X MICROFIBRE POLISHING CLOTHS: Our Premium Microfibre cloths aren't just cloths – they're a gateway to effortless cleaning, drying and polishing power at your fingertips! Muc-Off Microfibre cloths contain an amazing 'split-fibre' technology, that vastly increases surface area absorbency to easily eliminate smears and blemishes. As well as this, our microfibre's trap dirt deep in the pile of the cloth – which helps to avoid the chance of swirling, which could ultimately lead to damaged paintwork. Because our cloths are made up of very small fibres, you'll be cleaning at a much deeper level, meaning that whether it's interiors or exteriors, bikes or cars, you can be sure you are removing the dirt and grime!