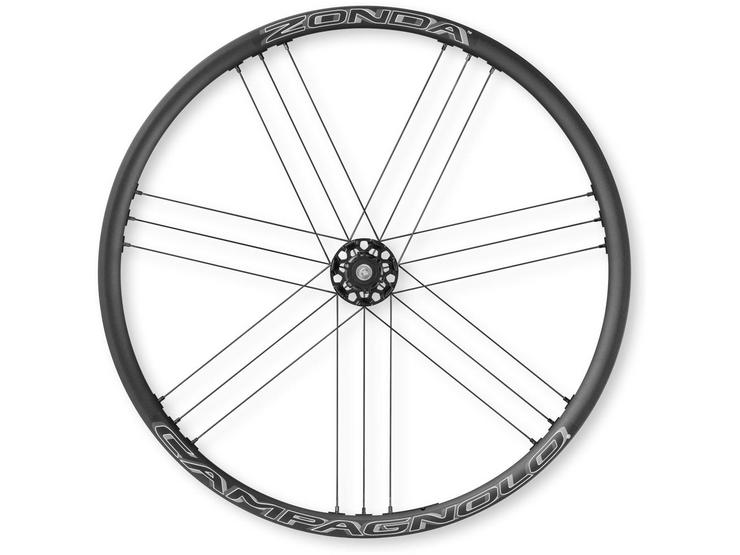 10 people are viewing now
5 purchases during last 48 hours
Campagnolo Zonda C17 DB Qr AFS Wheelset 700c, Campagnolo
Features:
RDB (Rim Dynamic Balance) exclusive technology engineered into the rims, assures perfect balance even at high speeds
Asymmetric rim profile, 26mm to 28mm
Disc Fitment: AFS/Centre-Lock (Lockring included) / 6 Bolt (Bolts not included)
Axle Fitment: 9mm Quick Release Levers (QR)
(Front hub can be converted to 110x12mm Bolt-Thru by simply removing the pre-installed axle end plugs)
MOMAG: the external rim profile is free of holes, so the structural integrity of the wheel is increased and there is no need for rim tape
Adjusting lockring with micro setting, for accurate adjustment of the hub
Aluminium hub & aluminium axle for low weight and high stiffness
Oversized flange for increased torsional stiffness
Aerodynamic spokes with black anodized self-locking nipples
Modified versions of the famous Mega G3 Spoke pattern on both the front and rear wheel, for equal spoke tension, stiffness and increased braking torque resistance
Weight: 1675g Clincher, (CA) for Campagnolo, (SH) for Shimano
Assembly
The Zonda C17 Disc Brake Wheel is entirely hand built by a specialised Campagnolo technician and is checked in every tiny detail with electronic tools. This ensures that every wheel conforms to the high standards that Campagnolo pride themselves and will have unbeatable reliability.
Tech Specs
Spokes
Spoke Count: 16 variable-section stainless-steel radial aero spokes (front) / 21 variable-section stainless steel aero spokes (rear) with a 2:1 spoke ratio on the drive side
RDB - Rim Dynamic Balance
Exclusive Mega-G3 spoke lacing pattern
Anti-Rotation system
Self-Locking nipples
Rims
Rim Profile: Differentiated - 24/27mm (front) / 27/30mm (rear)
Width: 22mm
Material: Aluminium
Hubs
Aluminium hub with black finish
Steel Bearings
Width: 100mm Front / 135mm Rear
Oversize flange
Cup-and cone bearing system
Disc Fitment: AFS/Centre-Lock only
Freehub: CA 9/10/11/12x, SH 11x or 9/10x with spacers
In The Box
Quick Release Wheel locks (QR/QR version)
User Manual
Warranty Booklet
Campagnolo Wheel Identification Card
The very first Campagnolo branded wheelset developed specifically for disc brake equipped road bikes comes at a time where the market has plenty of solutions for road disc wheelsets but lacks solutions that offer a level of performance, reliability, safety and integrity that has always been associated with Campagnolo wheels.
The
Campagnolo Zonda C17 DB Qr AFS Wheelset 700c, Campagnolo
disc brake wheelset is not only more reactive when compared to the rim brake version but it is also 25g lighter than its closest competitor. The new C17 rim ensures a better rim/tyre interface and improved performance especially when using 25 and 28mm tyres.
The Mega-G3 Spoke pattern is a type of spoke assembly that improves energy transfer between the hub, which reduces stress on the right-hand side which in turn increases the rigidity of the wheel. This is achieved by having twice as many spokes as the left-hand side.
Adding more technology to the wheel while increasing its performance, lowering its weight and ensuring that same Campagnolo reliability cyclists have come to expect, a wheelset that should be at the top of the list for any athlete in the market for a serious upgrade.