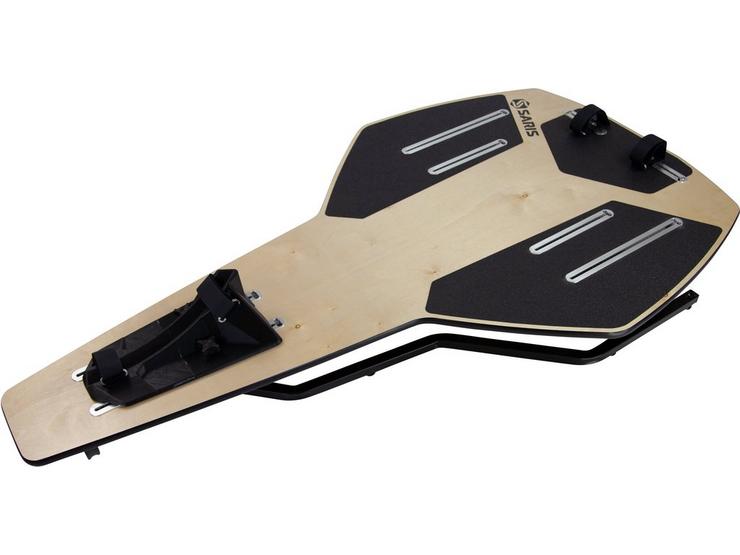 10 people are viewing now
5 purchases during last 48 hours
Multiple Axes Movement : Yes
Fully Assembled : Yes
Weight : 28kg
Saris MP1 Nfinity Platform
Nfinity Technology: revolutionary tech that brings movement indoors
Movement for All: compatible with a variety of training configurations; bikes, desks, and nearly every trainer available
Trailblazing: the MP1 ushers in a type of riding never seen or felt before
Pure Fun: a responsive, immersive and authentic training experience that's anything but boring
Get Comfortable: reduces pressure on touch points so you can put in the miles
Eye-Catching: mix of steel, aluminium and birch compliment most training spaces
Personalized Eco-System: put the MP1 at the centre with your trainer of choice to create your ideal training station.
Weighing 28kg
Arrives fully assembled. Dimensions: 15cm tall x 160cm long x 90cm wide.
Side-to-side movement isn't new, but it also doesn't capture the natural movement you experience outdoors. The
Saris MP1
with Nfinity technology truly moves the way you do because it adds the fore/aft axis to the equation. The
MP1
combines over 20 years of indoor training expertise to not only create the movement platform category, but to perfect it. The result is an unparalleled trainer platform that reimagines the indoor trainer experience altogether. Weighing 28kg, the
Saris MP1
arrives fully assembled in the box, and comes with a built-in front wheel block for road and MTB. Crafted from steel, aluminium, and birch. Compatible with all major brands and models of turbo trainers.
Introducing Nfinity Technology
In order to bring stationary cycling to life, the
MP1
needed movement in multiple axes. The result is an innovative technology combining curves, axes, gravity physics, and mechanical ingenuity. The
MP1
is the only way to experience this revolutionary technology.
Compatible with Nearly Any Bike Trainer
If you can experience the freedom of movement indoors, then why limit access with trainer compatibility? We believe that anyone with a bike trainer that fits should be able to tap into the benefits of Saris Nfinity Technology via a ride on the
MP1
- which is pretty much everyone. So grab your trainer and check our bike trainer fit guide.
Increased Comfort
Riding a bike indoors can be uncomfortable because your movement is typically limited by the trainer. Pressure mapping and motion capture technology shows the
MP1
significantly alleviates saddle and foot pressure compared to riding a static trainer.
Recruit More Muscles
It's true that adding your trainer of choice to the
MP1
engages more muscles than a stationary ride. From engaging the upper body to get through sticky spots to activating smaller, key muscles to stay balanced, the
MP1
is the only way to recruit large and small muscle groups while riding inside.
Adjustable Touch Points
The
MP1
is compatible with a wide range of setups. Complete with adjustable touch points and well-placed grip tape, the MP1 platform can be used with nearly every indoor bike trainer and training footprint.
Our goal was to make the time spent indoors as enjoyable as possible. The movement platform not only enhances the virtual training experience, the
MP1
with Nfinity Technology brings indoor training to life.