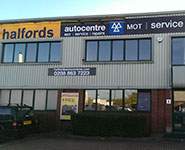 Halfords Autocentre Harrow
Unit 6 Waverley Industrial Estate Hailsham Drive Harrow , HA1 4TR
What customers are saying about us
They are the best as usual
They are the best as usual
Timely, pleasant experience
Timely, quick MoT on a class 4 motorhome. No hassle at all, large service area makes it safe for larger vehicles, and plenty of height.Pleasant mechanic. Highly recommended. All booked and paid for on Read more... line 35
KK
High quality services.
High quality services.
MOT TESTING
Had the MOT - Great welcome, explanations and job done on time and took exactly the time they specified. Very nice people in reception- polite and professional.
First time using their service
First time using their service. It was done ok but a few points lead me to believe that perhaps a few things can be ironed out. When i left my car at their service centre at 10:30 am for a 11:30 am s Read more...lot, i was told that the car will be ready by midday and that i will get a call from them. I did not get a call and only after calling them myself i was told that the car will be ready by 3:30pm. I called again at 3:30pm and was told that i needed new break pads which i agreed to but i wonder if i had not called, they would have not let me know about this or had me wait for another day. I went to pick up my car at around 4:45pm and felt that people were rushing to leave. I asked them if they had stamped my service book and they said they couldn't find it in the car. I got it out and had it stamped. Again, if i had not asked, they probably would have missed that. Finally the receipt only showed the total amount and the cost of breakpads. I wanted to see the full lists of things they did and what the outcome was. Not too much to ask when you paid close to 300. They really should look into these things.
Absolutely fab
Absolutely fab, I turned up a day early for my MOT they fitted me in, thank you guys good service.
Looked at my car straight away
Looked at my car straight away. Helpful and efficient.
Miss Zar
MOT tests
Honest, professional and efficient service for MOT.
Auto centre Harrow
Very easy online booking system, the guys were professional and courteous and kept me informed all through the process. Nice Easy parking and no hassles at all, I would highly recommend.